CHICAGO — A festival for pickle lovers, the Lincoln Park farmers market and a block party in Bronzeville are just a few of the neighborhood festivities happening this weekend.
Here are 16 things you can do around Chicago:
10 a.m.-7 p.m. Friday-Saturday, 10 a.m.-5 p.m. Sunday
 THE MART, seventh floor, 222 W. Merchandise Mart Place
This year's spring show will bring together 300 artists, makers and designers. You can shop accessories, ceramics, home goods, photography, pet products and more. There will also be live entertainment, gourmet cafes, hands-on activities and more. General admission tickets are $15 or $20 with a tote bag. You can buy them online.
1-6 p.m. Saturday
KOVAL Store, 4241 N. Ravenswood Ave.
With a drink in hand, you can shop jewelry, home decor, prints, soap, paintings, candles and other homemade goods at the Ravenswood Makers Mart. There will be 25 vendors at this free and family-friendly event.
7:30-9:30 p.m. Saturday
Johnny's Ice House West, 2550 W. Madison St.
Virg Mazzeo and Jon Wolf, who own Printer's Row Brewing, met playing hockey more than 20 years ago. Now, you can see the brewery staff's friends, coworkers and family square off against each other in its first charity hockey game. There will be PBR on tap, silent auctions, 50/50 raffles and more. Admission is free. All proceeds will benefit The Frankfurt Family Foundation for PKU.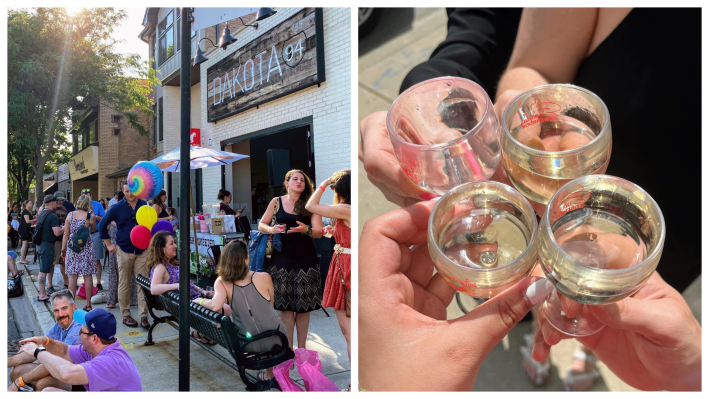 2-5 p.m. Saturday
Start at New Book Joy, 5512 W. Devon Ave., or Edgebrook Cycle, 6450 N. Central Ave.
You can take a walk down Devon and Central to taste French wines and check out art from local artists at nearly 20 Edgebrook businesses. When you check in, you'll receive a tasting glass, map, bottled water, a shopping bag and other goodies. There will be an afterparty at Dakota 94 with live music and more. You can register for $40 online.
8 a.m. Sunday
Hermitage and Wilson avenues
The Ravenswood 5K Run returns to Lincoln Square this weekend for its 27th edition. It will raise money for Ravenswood Community Services' Food Pantry and Community Kitchen, which provides meals, groceries, basic health services and life-skills education to neighborhoods in need on the North Side. Registration is $50 and includes a T-shirt, medal and post-race party. You can sign up online.
11 a.m.-5 p.m. Saturday
Various Wrigleyville bars, including Old Crow, Cubby Bear, HVAC and more
Pickle cocktails and mocktails, pickleback shots, pickle-focused menu items and pickle photo opportunities are just a few of the things you'll get to try at this street-style fest. Your ticket includes admission, a whiskey shot with pickleback chaser, live bands and more. You can also upgrade to VIP for a commemorative T-shirt. Tickets are available online.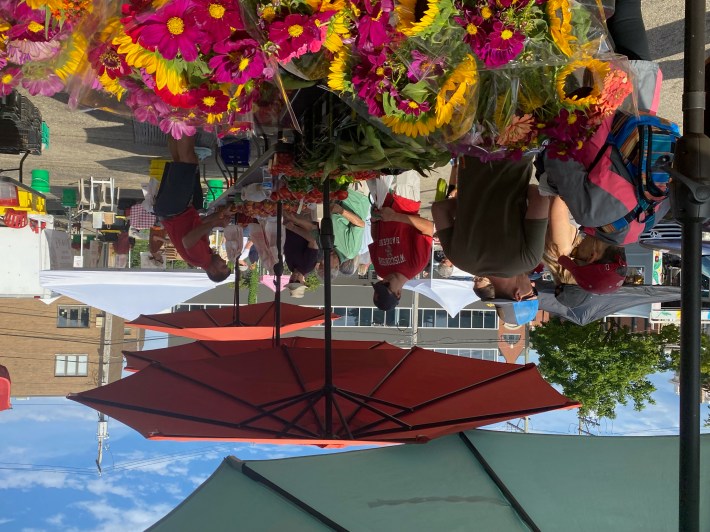 7 a.m.-1 p.m. Saturday
Parking lot of Lincoln Park High School, 2001 N. Orchard St.
The Lincoln Park Farmers Market opens this weekend for its 42nd year, and it will run Saturdays through Nov. 18. The market features farms and local vendors selling locally produced food and beverages, including baked goods and prepared food.
3-6 p.m. Saturday
Haymarket House, 800 W. Buena Ave.
Haymarket Books, a radical, independent and nonprofit book publisher, is hosting a May Day celebration. You can join Haymarket authors and supporters for an afternoon of camaraderie, food and refreshments, including vegetarian and vegan options. The event is free, but donations are encouraged. You can RSVP online.
11 a.m.-3 p.m. Saturday
3900 S. Federal St.
This second Bronzeville Trails Day celebration features a cleanup to imagine what the trail could be, family activities, vendors, food and more. The event is organized by the Bronzeville Trail Task Force, which advocates for the restoration and development of the old Kenwood rail line into a walking, running and biking trail.
1-4 p.m. Saturday
Near The Bean at Millennium Park, 201 E. Randolph St.
The Darkroom, a photo lab specializing in dip and dunk film development, is hosting a Downtown meetup and photowalk. Be sure to wear comfy shoes and bring lots of film.
11 a.m.-10 p.m. Saturday
Pilot Project Brewing, 2140 N. Milwaukee Ave.
A brewery is making its commercial debut in Chicago this weekend through the incubator brewery Pilot Project. Flora Brewing, a contract brewery started by Sarah Flora, will premier four beers Saturday in Logan Square: the Medusa Pale Ale, Blossom Tonic Saison Ale, Burn Out Imperial Red Ale and the Fun with Flagships West Coast IPA. You can also meet Flora 4-6 p.m. at the launch party. Admission is free.
Noon-5 p.m. Saturday
John M. Smyth Elementary School, 1059 W. 13th St.
This one-stop shop for Mother's Day gifts features 20 small businesses, food, fun, raffles and more. Admission and parking are free.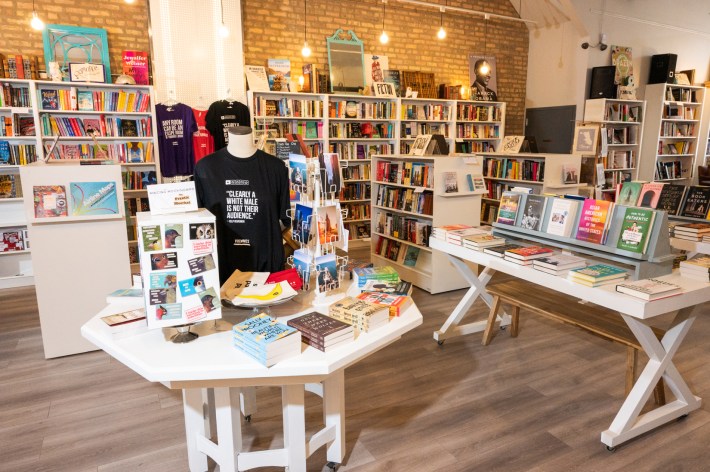 Various times and locations Saturday
In honor of national Independent Bookstore Day, which celebrates indie booksellers, almost four dozen independent bookstores are participating in this book crawl Saturday. Participants can buy a "passport" for $20 at a participating bookstore and win discounts and prizes if they hit enough locations. Purchases beyond the initial passport aren't mandatory, but organizers hope participants buy books or other items for sale along the way. You can learn more about the crawl here and find a map of participating stores here.
3-5 p.m. Saturday
Logan Center for the Arts, 915 E. 60th St.
In celebration of the spring season, Jade Chinese Music Ensemble is performing a free concert of traditional and modern Chinese music pieces. The concert is made possible by the support of the Chicago Chinatown Community Foundation, University of Chicago Center of East Asian Studies, University of Chicago Department of Music and the Logan Center for the Arts. You can get your tickets online.
11 a.m.-3 p.m. Sunday
Pilot Project Brewing, 2140 N. Milwaukee Ave.
Anyone interested in getting more involved in their community can check out the Logan Square Volunteer Fair, which was rescheduled from April 16 due to poor weather. There will be local nonprofits and Northwest Side community organizations that are looking for additional support. Whether you're interested in helping with animal rescue, the environment or literacy, there are plenty of local organizations you can learn more about and connect with. You can RSVP online.
6-9 p.m. Friday
Elephant Room Gallery, 704 S. Wabash Ave.
"Synthesis" is an exhibition by Chicago-based artists Cujo Dah and Dredske. The body of work was created through "an improvised collaborative practice," where the artists exchanged pieces with little to no mapped-out direction. Still, the exhibit has a common thread of nostalgia as the artists explore visuals and memories from their youth. The exhibit will be on display through June 3. Admission is free, and you can RSVP for opening night online.
PLUS: Picks From Our Partners At
8 p.m. Friday
​Epiphany Center For The Arts, 201 S. Ashland Ave.
In the Realm of Senses presents the first ever fully-immersive comedy event featuring a performance of Beethoven's violin piano sonata followed by a live comedy skit paying homage to Beethoven's life and Belushi's comedy skits from the 70's, all paired to stunning visual projections, original scents, and live performances of songs that Beethoven would have written. Buy tickets or enter to win a pair here.
7 p.m. Saturday
First United Methodist Church at the Chicago Temple, 77 W. Washington St.
Miranda July has gained a cult following over the span of her award-winning career as a filmmaker, writer, and artist. Her latest project, Services, is both a sculpture and a book. Chill with July and acclaimed musician, actor, and comedian Carrie Brownstein for a chat about art in all of its many forms. Buy tickets or enter to win a pair here.
1 p.m. Sunday
Chicago History Museum, 1601 N. Clark St.
Artist Regin Igloria's handmade bookmaking projects are presented on mobile pedestals that encourage audiences to scribble their thoughts to various questions and prompts, ultimately assembling a collection of vibrant voices. Join the Chicago native to experience the art of bookbinding and be a part of this participatory community project. Buy tickets or enter to win a pair here.
Listen to "It's All Good: A Block Club Chicago Podcast":