LOGAN SQUARE — A family-owned liquor store that has called Logan Square home for nearly 40 years will serve its final customers this week.
La Caridad at 3575 W. Fullerton Ave. is closing Sunday after serving neighbors since 1984.
The neighborhood staple sells a wide selection of liquor, beer, soda and snacks. The property was recently sold, and the shop's owners weren't able to renew their lease, said employee David Carrera, whose uncle owns the store.
The closure is a blow to neighbors who have frequented the store for years for its friendly, no-frills atmosphere.
"Eighty percent of our customers are in shock," Carrera said.
What's next for the Fullerton Avenue property is unclear.
Cook County property records show the owners of neighboring grocery store Tony's Fresh Market bought the property in February for $900,00.
Attempts to reach the new owners — Tony Ingraffia and Domenico Gambino — were unsuccessful Wednesday.
Rumors have been swirling that the liquor store is being replaced by a McDonald's, but Ald. Carlos Ramirez-Rosa (35th), whose ward includes the property, said there's no reason to believe the fast food restaurant is taking over.
A special-use permit is required for all drive-thrus, and no permit applications had been submitted for the site as of Wednesday, Ramirez-Rosa said.
If the new owners want to change the site's zoning designation, they must get approval from Ramirez-Rosa's office and the city.
"I would chalk up the talk of it becoming a McDonald's up to a rumor. We have no records of a McDonald's being proposed for that site," the alderman said.
'I Go Out Of My Way To Come Here'
La Caridad has a long history in the neighborhood.
As a young man, Carrera's uncle, Ricardo Rodriguez, moved from San Luis Potosí, Mexico, to Chicago and worked in grocery stores, which eventually inspired him to open a few stores of his own in the '80s, Carrera said.
Rodriguez ran a handful of small businesses in the area for several years, including La Caridad, the grocer and taqueria, which was next door, and Carniceria Ricardo, also a Mexican restaurant that sold groceries, his nephew said.
La Caridad, the liquor store, is Rodriguez's last remaining business. Carrera said his whole family helped run the shop, including his mother, who is Rodriguez's sister, and his cousins.
The liquor store and the now-closed grocer was named after La Caridad del Cobre, a patron saint of Cuba, because Rodriguez's business partner was Cuban, Carrera said.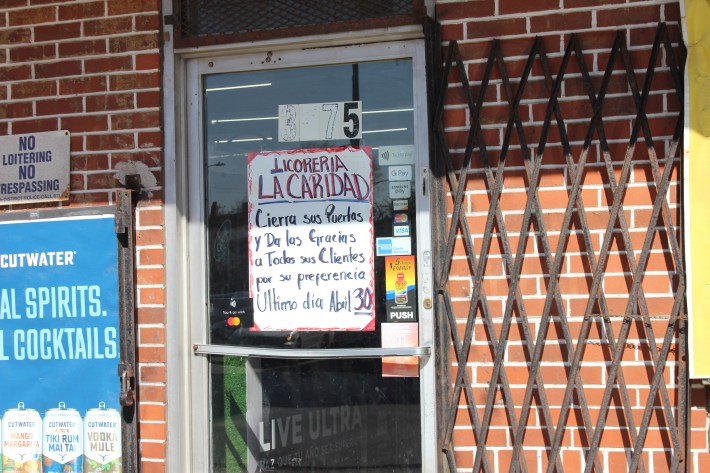 Several customers who stopped in Wednesday afternoon were dismayed to see the closing signs.
Robert Edwards, who has shopped at La Caridad for 20 years, said it's devastating Logan Square is losing another family-owned business, noting that Gillman Ace Hardware also recently closed after nearly 80 years.
"The service here is always good, and they ask about you," Edwards said of La Caridad.
Carrera "calls me teacher because I am a teacher. … I go out of my way to come here."
Another longtime customer who declined to be named said he'll miss "picking up my liquor and talking to my friends."
Carrera said he's not sure what's next for him and his family, though he expects they'll land on their feet. He said his uncle has a warehouse and might opt to open another store down the line.
"It's really sad that we're going, but the good thing is we didn't go because we didn't have any business. It's because they sold the property," Carrera said.
Listen to "It's All Good: A Block Club Chicago Podcast":