PORTAGE PARK — A popular Northwest Side cafe and snack shop is getting a face lift.
Bistro 6050, 6050 W. Irving Park Road, changed hands when founders Chris Touwaide and his wife, Roselle Prisno, sold the business to Mike Wolfgang at the beginning of the month.
Wolfgang, who lives a few blocks away and used to be a regular, is taking the cafe "to the next level" by reopening the dining room, expanding the hours, offering catering and creating a "moody" vibe, he said.
"It's going to be a lot edgier. … It's going to be super moody in here with a plant installation wall and a neon sign that says, 'I licked it, so it's mine' to focus on ice cream," Wolfgang said. "It will be a little more hip and modern."
Wolfgang plans to reopen the 21-seat dining room, which the previous owners closed due to the pandemic, and paint the walls black with accented red floral wallpaper. He'll play music appealing to a younger crowd, like rap and reggaeton, he said.
Once the remodel is complete and the dining room reopens Monday, Bistro 6050 will have the feeling of a "moody Spanish villa," Wolfgang said. The cafe's outside will be painted white. The business also has updated branding and a new Instagram.
"I want to make Portage Park, the Northwest Side in general, more of a destination," Wolfgang said. "There's so much goodness here that's so undiscovered."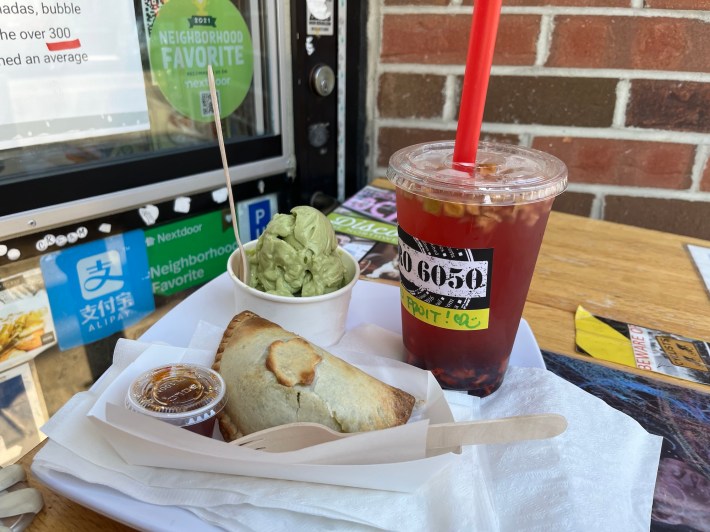 The cafe is known for its award-winning eats inspired by cuisines from all over the world, but Wolfgang is trimming the menu to focus on empanadas, ice cream and crepes, the popular items that gave Bistro 6050 recognition and nationwide accolades.
From Peruvian empanadas to Thai bubble tea and European desserts such as avocado ice cream, Bistro 6050 has been a favorite for Northwest Siders since it opened in 2017.
"It's one of my favorite restaurants in the area," Wolfgang said. "I would eat here all the time."
As part of the sale, the founding owners handed over all of the original recipes and trained Wolfgang for about six weeks on the menu and other business methods, Touwaide said Tuesday.
The new owner has decades of restaurant marketing experience and was formerly a chef. Wolfgang has worked for Downtown and West Loop restaurants such as Velvet Taco and Texas Roadhouse, and he hopes to bring that experience to Bistro 6050, he said.
Wolfgang's thinking of adding items and having featured ice cream flavors and empanadas each month to keep it interesting, he said. The cafe still has its signature shakes and drinks.
With the shop's expanded hours, Wolfgang hopes to make it a community spot and have steadier foot traffic. The takeout window has been eliminated, but the business is still doing takeout and delivery with third-party services.
"The spirit of Bistro is being maintained while elevating Portage Park in the process," Wolfgang said.
Its new hours will be 11 a.m.-2 p.m. and 5-10 p.m. Monday-Friday, 12-11 p.m. Saturdays and 12-10 p.m. Sundays starting next week.
Touwaide is glad fresh energy is being pumped into the business and hopes it brings more people to the area, though it's bittersweet to let the business go, he said.
"I have mixed feelings. I'm sad because I could not achieve what I wanted because of COVID. I wanted to go into catering," Touwaide said. "But Mike can take it to the next step of catering [and] concept."
Touwaide and his wife plan to move to Spain next year and start their next chapter, which could include opening a creperie — but for now, the couple plan to take a break, they said.
Listen to "It's All Good: A Block Club Chicago Podcast":