O'HARE — About 40 migrants, mostly young women and children, wrapped themselves in blankets and tried to sleep Wednesday morning outside a homelessness center inside O'Hare Airport.
The Venezuelan migrants said they crossed the border into Texas and were offered free flights to Chicago while staying at a shelter in San Antonio. They're just dozens of the thousands of migrants sent here from Texas since last summer.
Back then, they were arriving on buses. Now, they're coming on planes.
Upon arriving at O'Hare, the migrants were first directed to Haymarket Center's O'Hare homelessness outreach program, a nonprofit with an office by the airport's Blue Line. A Haymarket spokesperson said in recent days they've been dealing with a "unique and developing situation," are unprepared to handle asylum seekers and "doing what they can" to connect them to appropriate social service groups.
By noon Wednesday, the migrants were escorted by police to a yellow school bus, which will "disperse them to help around the city," one officer said.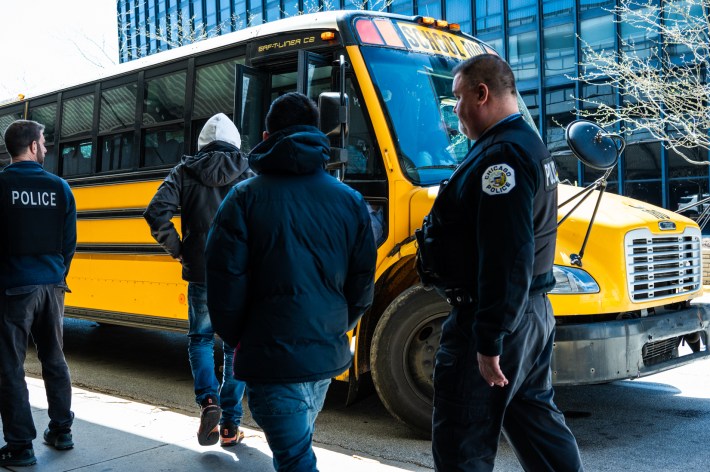 They're the latest arrivals in a growing crisis that has strained city resources and shelters, with migrants accepting one-way flights and bus tickets to "sanctuary cities" by conservative officials and donors in Texas and Florida. Over 3,000 people have called 311 for shelter support in recent weeks, city hall spokesperson Cesar Rodriguez said.
More than 7,000 migrants have arrived in Chicago via buses and planes since August 2022, when Texas Gov. Greg Abbott began sending migrants who crossed the United States-Mexico border into Texas to Democrat-led cities to protest federal immigration policies. Many of them came to the United States from Venezuela, which has struggled with political upheaval and an economic crisis resulting in severe food and medicine shortages, surging inflation and rising unemployment and violent crime. 
RELATED: After The Buses: Meet The Migrants At The Center Of Texas' Manufactured Crisis
As of November, more than 7.1 million Venezuelans have fled their country. The U.S.'s patchwork of immigration policies leaves it unclear if many of them are eligible for asylum or other protections.
City officials expect the number of migrants sent here to continue to grow, Rodriguez said.
Frannier Estrada flew into Chicago from San Antonio Tuesday with her partner and their 5-year-old son and were staying outside Haymarket's office Wednesday after being directed there by a police officer. Estrada said she was "very grateful" to the people who brought her here.
"I find [Chicago] very beautiful," Estrada said in Spanish. "To get off and see this great airport, because I understand that it is one of the largest, it fills you with emotion."
She hopes to get her son in school, find a place to stay and somewhere to work.
"I came for his future," she said.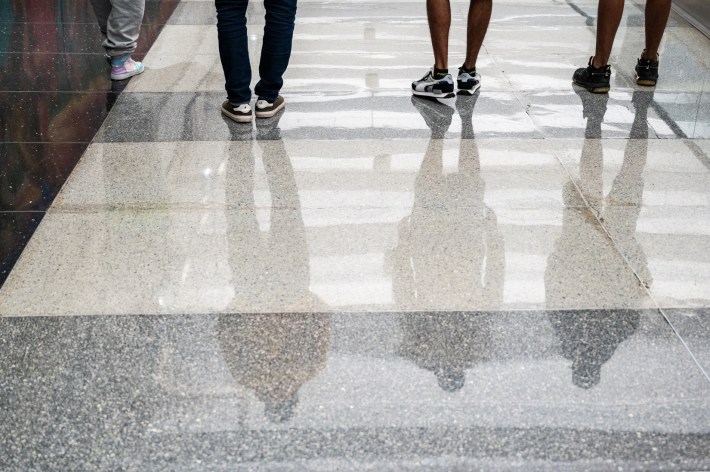 Late last month and again Thursday, the city sent border cities a notice about "capacity strains," Rodriguez said. The city said there is "no coordination" happening right now between the city and government entities or community organizations in Texas, Rodriguez said.
"We do not know if the travel is being sponsored," he said.
For now, the city is transporting migrants to city spaces, including "newly established respite centers," to wait for shelter placement, Rodriguez said. Some migrants have been staying at police stations and libraries. But need will "continue to grow," he said.
Migrants who are in need of shelter placement should call 311.
The large groups of migrants sleeping at the airport comes a month after O'Hare employees said a stronger show of force by Chicago police at the airport had pushed out people experiencing homelessness who had previously taken refugee there during the winter.
The officers left the migrants waiting for help alone.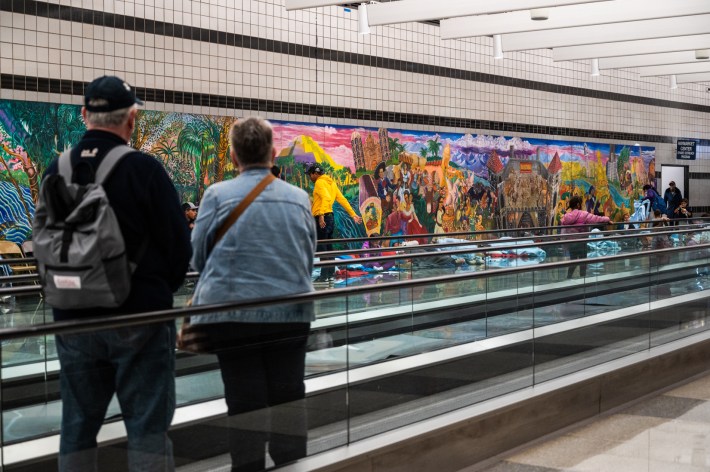 Several Haymarket workers spoke with migrants and provided them with food, water and blankets.
A man working at the airport said the strategy for handling the migrants has been "more low-key," with the Haymarket office being used a "staging area" before people are rerouted elsewhere.
An electrician at the airport said it's the first time he's seen people sleeping at the airport in months.
"I used to know a lot of the homeless people here by name, and now they've been cleared out and I haven't seen them since," he said. "Now we have large groups of people again."
A private security guard contracted by the CTA said teams have recently been deployed more heavily to the airport's Blue Line stop, often a half dozen or more at a time. If someone is seeking shelter at the airport they're trained to tell them to leave and report it to police officers, "who are fed up too," the guard said.
"It's left to us to be the bad guys, because they don't want to invest in dealing with this issue and facing the frontlines," said the guard, who had once experienced homelessness himself. "They get outside security companies and other providers to take care of it. It angers me sometimes."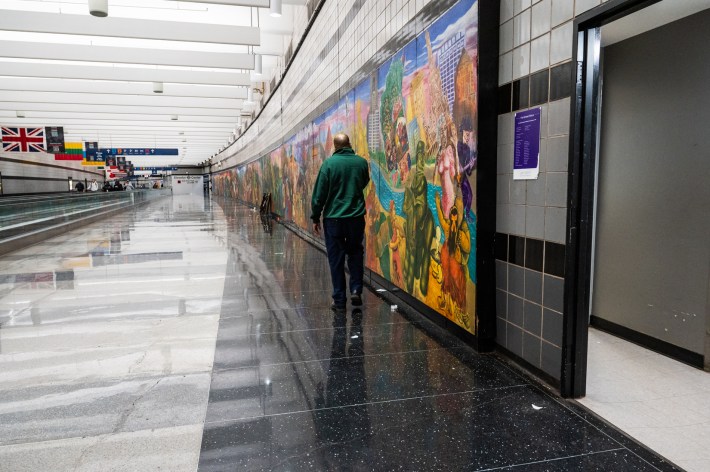 Some travelers asked police officers about the migrants, while most continued to their terminals.
Meanwhile, migrant children played on the airport's moving walkway before being moved Wednesday afternoon.
Richard and Ranses Oropeza, brothers from Venezuela, slept in the O'Hare hallway Tuesday night after traveling through South America, across the U.S.-Mexico border and spending a few days at a friend's home in Texas.
The brothers accepted the yellow bus ride out of O'Hare Airport.
"There are many good-hearted people here," Ranses Oropeza said in Spanish.
Watch our "On The Block" TV show on The U, CW26 and MeTV.
Listen to "It's All Good: A Block Club Chicago Podcast":