NORTH LAWNDALE — An anti-violence advocate is calling on city leaders and West Side residents to find the person who killed 1-year-old Zaiden Collins in North Lawndale last week.
As headlines focused on shootings and large teen gatherings Downtown and on the Near South Side, several young people have been killed on the South and West sides with little attention, Violence Interrupters founder Tio Hardiman said during a Monday news conference.
Key to Hardiman's point: No one is in custody yet in Zaiden's death — or the recent shootings of two other young children.
"Everybody wants to go Downtown to march over what's happening down there, and that was OK. I don't have a problem with that," Hardiman said. "But we need to have the same level of interest here. There should be 500 people marching in North Lawndale until we solve this particular crime."
On April 20, the baby was found in a home in the 1300 block of South Kedzie Avenue with trauma to his body, police said. He was pronounced dead at Mount Sinai Hospital. The investigation is ongoing.
The boy's death was a homicide, according to the Cook County Medical Examiner's Office.
Just days later, on April 22, a 3-year-old boy was inside a home in the 8800 block of South Euclid Avenue when he was shot, police said. He was taken to Comer Children's Hospital in serious condition, ABC-7 reported.
The same day, a 6-year-old girl was inside a home in the 6600 block of South Drexel Boulevard when someone fired shots, hitting the girl in her arm, police said. She was at Comer Children's Hospital in good condition.
No one was in custody in those shootings, police said Monday.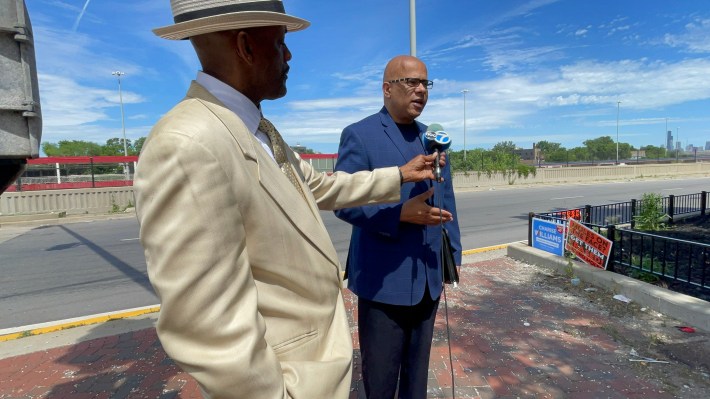 Hardiman said he's trying to reach the families of the young victims.
"No violence should be acceptable. We can never see the death of a 1-year-old boy as normal. We must always send the message that every life matters and every neighborhood deserves to be safe," Hardiman said.
At least 12 children 16 or younger have been killed this year in Chicago, according to a Sun-Times database.
Hardiman — whose nonprofit has worked to deescalate violence since it was founded in 2004 — said police face difficulties trying to stop the violence. Hardiman's Violence Interrupters have had some luck "intercepting whispers on the street," but it's hard to predict when a situation could turn violent, he said.
Another solution is to reopen mental health clinics closed by former Mayor Rahm Emanuel over a decade ago, Hardiman said. The person responsible for Zaiden's death might have been dealing with a mental crises of their own, Hardiman said.
"You need to open up at least 10 mental health facilities, and there has to be a strong public education campaign so that people can know they can find some help right in their community area," Hardiman said.
Opening 10 24-hour recreation centers on the South and West sides — funded with private and public dollars — could also help prevent violence, Hardiman said.
Hardiman said he's also reconsidered his position on the city encrypting police scanners and hopes Mayor-Elect Brandon Johnson will make them public again. Encrypting the scanners — which makes it so everyday people can only listen on a long delay — has impacted how his volunteers are able to respond to incidents in real time, he said.
In the meantime, Hardiman is calling on the public to demand justice for Zaiden.
"You put a lot of media attention drawn to this particular homicide, then somebody's gonna end up talking," Hardiman said.
Subscribe to Block Club Chicago, an independent, 501(c)(3), journalist-run newsroom. Every dime we make funds reporting from Chicago's neighborhoods.