UPTOWN — The city has signed off on a developer's plan to replace a Wilson Avenue retail building with an apartment complex, the third time a developer has tried to build on the site.
The Zoning Board of Appeals on Friday approved plans to replace the single-story retail strip at 1359 W. Wilson Ave. with a 28-unit apartment building. With the vote, the project has final approval after years of developers eyeing the property.
Plans call for a five-story building to be erected at the corner of Wilson Avenue and Dover Street. There will be a mix of one- and two-bedroom units and a first-floor parking garage with 25 parking spots and 18 bike racks.
The project did not need a rezoning, but developers Ayman Khalil and Kareem Musawwir sought zoning variances to build closer to the property lines and increase the maximum height allowed from 60 feet to 66 feet, records show.
The Zoning Board of Appeals approved those variances Friday.
Because the project did not need a rezoning, it will not be required to include affordable units. The city's affordability requirement only kicks in when a rezoning is required, if it was a former city-owned lot or if the project gets financial support from the city.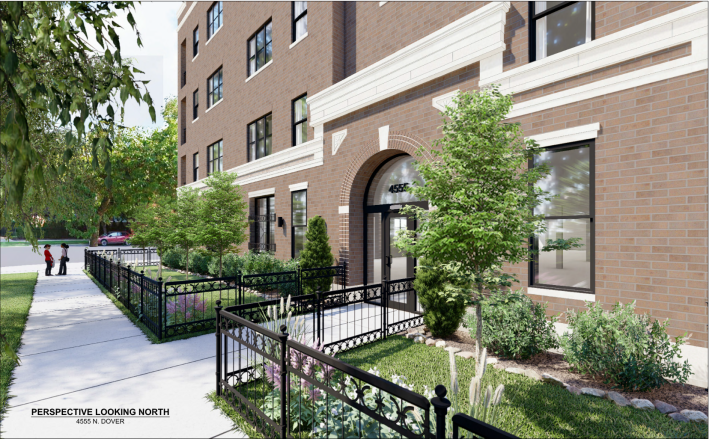 The approved project is the developer's second proposal for the site and follows an earlier move from a different developer to build at the corner.
In late 2021, Khalil and Musawwir unveiled a plan to turn the Wilson Avenue commercial building into two buildings with 34 apartments and 34 parking spaces. The proposal included a second property on Dover Street with four of the units.
It is unclear why that version of the project was abandoned in favor of the new proposal, which includes fewer apartments and more setbacks than the earlier plans.
RELATED: For The 3rd Time, Developers Propose Replace Uptown Retail Strip With Apartments
In late 2019, developer Jody Libman sought to buy and replace the retail strip with a four-story, 40-unit building that had a garden level. Libman's development required a zoning change. The Dover Street Neighbors Association rejected that request, according to Uptown Update, and Libman abandoned efforts to redevelop the site.
Khalil and Musawwir's project was tweaked after input from neighbors, including the removal of wrought iron fencing from ground-floor windows and the addition of an alarm system and mirrors at the planned garage entry off of Wilson Avenue.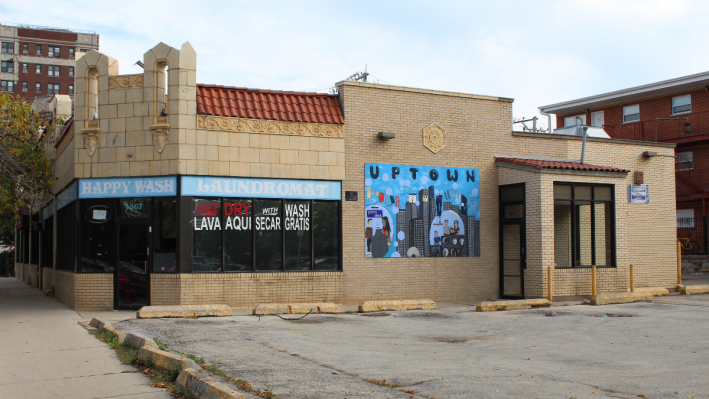 A building permit to construct the apartment complex has been applied for but not approved, city records show.
The existing building at 1359 W. Wilson Ave. — known to neighbors as the Happy Wash building — is home to The Mukase African Restaurant.
Watch our "On The Block" TV show on The U, CW26 and MeTV.
Listen to "It's All Good: A Block Club Chicago Podcast":