WEST LOOP — Several West Loop murals were mysteriously painted over, including two that memorialized musicians Frankie Knuckles and Juice WRLD.
The murals are part of the B_Line, a series of more than 250 murals along the Hubbard Street viaduct in the West Loop. Artists from across the world have contributed to the collection of street art spans several city blocks from Aberdeen to Green streets, including the underpasses, said resident Levar Hoard, its chief curator and managing director.
But last week, the vibrant murals in one underpass were completely painted over in brown paint.
Whoever destroyed the murals did it "intentionally" because its location is well known and attracts tons of people to the neighborhood, said Hoard, who noticed they were missing Thursday. He believes the artists whose work was destroyed should be compensated and he's already contacted attorneys.
"We're trying to get the bottom of it," Hoard said.
Under the Visual Artists Rights Act of 1990, courts can impose statutory damages of up to $150,000 for artists' work that's of "recognized stature" if a property owner destroys it.
In 2018, a New York judge awarded $6.7 million to 21 artists whose graffiti murals were destroyed at the 5Pointz complex.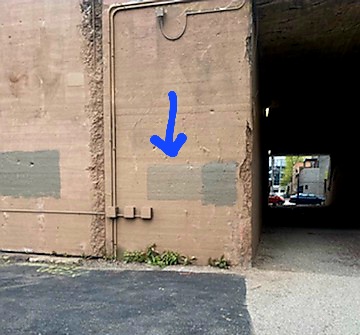 It's not known who painted over the murals. The city's Department of Streets and Sanitation said their graffiti-removal crews aren't responsible.
"[Streets and Sanitation] does not stock or use the paint colors represented today at the location in question. City crews also do not use paint rollers to remove graffiti from large areas but rather paint sprayers to save time and materials," a spokesperson said.
In an effort to prove the city wasn't responsible, Streets and Sanitation sent crews to the site Tuesday to add a sample of the city's paint, which is noticeably darker.
"[Streets and Sanitation] also researched 311 graffiti-removal complaints at 851 W. Hubbard and 810 W. Kinzie. The most recent 311 request at 851 W. Hubbard was on February 2, 2022, and latest for 810 W. Kinzie was on May 31, 2022, Officials said. "Graffiti response times are generally within three to five days."
The viaduct is owned by Union Pacific Railroad. While the company terminated an agreement with a curator to place new murals at specific sites on the walls, Union Pacific did not paint over the murals or authorize anyone to do it, officials said.
"It is illegal to trespass on Union Pacific property, and, more importantly, it is dangerous," a company spokesperson said.
Metra officials said they don't know who removed the murals.
And Ald. Walter Burnett Jr. (27th), who represents the area, also said he doesn't know who painted over the murals. But neighbors have complained in the past about people partying in the underpass, he said.
"People come from all over the city [to] come hang out around those murals. And they litter in the area, disrupt the residents, park all over the place," Burnett said.
Hoard and neighborhood groups have had talks in the past about concerns, but there was never a consensus that removing murals was the way forward, Burnett said.
"What I'm concerned about is people disrespecting people's property, and people disrespecting people's peace. We just try to do the best we can to mediate that kind of stuff," Burnett said.
Hoard said he strongly believes the murals were unfairly targeted.
"From my experience in the past, with the murals … People don't like the fact that Black and brown kids are coming to look for this mural, and generally not causing problems, but they're hanging out there … and a group of privileged white people don't like that," Hoard said.
Some of the B_Line murals have existed since the '70s, when it was known as the Hubbard Street Murals, Hoard said.
A 2017 agreement with Union Pacific — an expansion of a 1971 agreement — was "rolled back temporarily" while the fallout of the mural was negotiated with neighbors, Hoard said. The 1971 agreement remains in place, which protects murals on Hubbard, he said.
The Juice WRLD mural painted in 2020 by artist Corey Pane to commemorate the famous rapper and Chicago native who died of an accidental overdose. The portrait depicted Juice WRLD surrounded by butterflies and shooting starts, similar to the cover design for his posthumous album "Legends Never Die," according to the Sun-Times.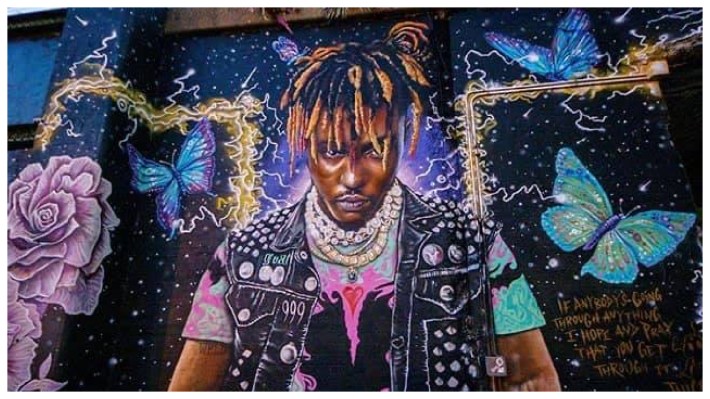 Juice WRLD's managers commissioned Pane to create the mural at 810 W. Kinzie St. Pane told Block Club he received tons of messages over the weekend and was disappointed to see it was painted over.
"I feel like the mural is more than just Juice WRLD. It's bigger than him and it means a lot to people and brings people together in a positive way, which is the most important thing …," Pane said. "Now with it being taken away, I feel like it's more hurtful to a lot of people."
The painted-over mural of Frankie Knuckles, the creator of House music who died in 2014, was commissioned in 2018 by the Frankie Knuckles Foundation. The mural replaced a mural for Knuckles in Logan Square, which was destroyed in 2015.
Pane said he doesn't think painting over the murals will keep people from gathering there, and he hopes he can repaint the Juice WRLD mural.
"I think there's a way that we could work together and make it work for everybody," Pane said.
Watch our "On The Block" TV show on The U, CW26 and MeTV.
Listen to "It's All Good: A Block Club Chicago Podcast":