WICKER PARK — A new bar and restaurant is taking over Pint, the Wicker Park bar that's been in business for almost 20 years.
Pint, 1547 N. Milwaukee Ave., closed last week, longtime owner Kevin O'Donnell said. O'Donnell is leaving the service industry to pursue other opportunities, including his motorized luggage company, Modobag.
But the bar near the center of Wicker Park won't be empty for long. Lone Owl Pub is set to open there by early May.
Lone Owl is owned by husband-and-wife team Eric and Olya Groat, who just moved back to the city after living in Portland, Oregon, for six years. The couple grew up in the Chicago area and lived in various neighborhoods, including Wicker Park.
When they did live nearby, the couple would often frequent Pint, Eric Groat said.
We "loved feel of it in here, it just felt very homey, especially during the winter time. And then you know, there's nothing better than Chicago in the summer. So definitely took advantage of the outside [seating]," he said.
The couple considered opening a bar when they still lived in Portland but decided to return home when they couldn't find the right opportunity. They quickly hit it off with O'Donnell and decided to open in Wicker Park.
Eric Groat said they hope to provide an "elevated" gastropub vibe in the neighborhood with Lone Owl. The menu includes an Amish half chicken, hanger steak and crab cakes, as well as burgers, salads and other items.
"We wanted to just bring a nice, chill vibe, bring the West Coast to the Midwest," Eric Groat said. "There's not really a Pacific Northwest cuisine per se, but we wanted to bring some seafood and just kind of take the food up a little bit, just elevated food."
Lone Owl will also feature signature cocktails like a wasabi martini, Oregon white and red wines and a range of draft beers.
The Groats are renovating the bar's interior and will get rid of Pint's pool table, but they plan to keep TVs for games as well as the popular sidewalk patio.
The Lone Owl will be "just somewhere where somebody can come in, do some shared plates, have a nice glass of wine, relax," Eric Groat said. "And then [we] still want people to come in and watch baseball games, football games."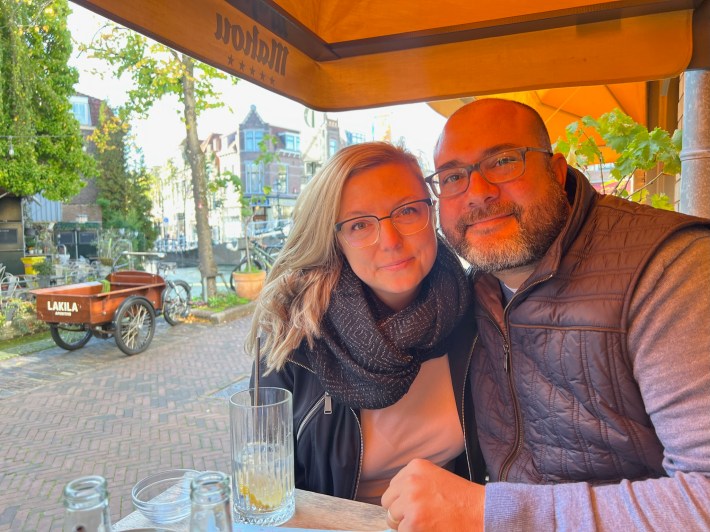 A man of many trades, O'Donnell opened Pint in May 2003. He also works in construction on top of running Modobag. Over the past few years, he felt like it was finally time to step away from running the bar, he said.
"I've had a couple other places, as well, so I've been in [the service industry] 25 years, 26 years. That's long enough," he said.
O'Donnell threw a going away party for Pint on Saturday. The party doubled as a welcoming party for Lone Owl and included bagpipers, a leprechaun, fire blowers and Irish go-go dancers, he said.
O'Donnell said he's excited for the next chapter of his life and for the Groats to put their own spin on a bar he's stewarded for two decades.
"It's definitely a positive change," O'Donnell said. "These will be some good operators coming in, some fresh blood and vigor."
Eric Groat said he hopes Lone Owl can become a staple in Wicker Park and on Milwaukee Avenue, which has long been a destination for dining and drinking.
Eric Groat also hopes to soon host live music and possibly other events.
"What I love about Chicago is it's a big city but a small community. Everybody seems to know everyone," he said. "We want to be just entrenched in the neighborhood."
When Lone Owl opens next month it will be open 4 p.m.-2 a.m. Wednesday-Thursday, 12 p.m.-2 a.m. Fridays, 12 p.m.-3 a.m. Saturdays and 12 p.m.-2 a.m. Sundays.
Watch our "On The Block" TV show on The U, CW26 and MeTV.
Listen to "It's All Good: A Block Club Chicago Podcast":