LINCOLN PARK — Ald. Timmy Knudsen collected his first signatures to run for the 43rd Ward office in August at the corner of Clark Street and Deming Place in Lincoln Park.
With a drink in hand from the nearby Colectivo Coffee, Knudsen propped up a foldable sign and started greeting potential voters. It quickly became his favorite spot to meet constituents as he campaigned for a full term after being appointed alderman in September when former Ald. Michele Smith resigned.
The area, known as Park West, is where Knudsen generated the strongest support in the April 4 election to defeat Sheffield Neighborhood Association President Brian Comer in one of the city's hottest races. Knudsen landed 55-61 percent of the vote in the four precincts surrounding Park West, stronger than the 52 percent he earned across the ward.
Knudsen returned to the Colectivo, 2530 N. Clark St., Monday to reflect on his journey to City Council and share his priorities in office, which range from environmental issues to public safety.
"It's fun coming back here, especially knowing how well we did," Knudsen told Block Club in an interview. "This area is a good mix of ages with a strong senior community and a strong young community. We had all these conversations about how to register to vote, problems with the CTA, … crime and empty storefronts. All of that helped me."
From Suburban Wheaton To Chicago City Council
Knudsen was born and raised in west suburban Wheaton and went to University of Illinois at Urbana-Champaign.
He participated in student government at U of I and worked on political campaigns, including Alexi Giannoulias' unsuccessful Senate run in 2010.
Knudsen moved to the 43rd Ward after graduating U of I law school in 2015.
Knudsen lived in the Old Town Triangle before renovating a home on Sheffield Avenue in Lincoln Park, which was featured in an episode of "House Hunters." He's since moved back to Old Town, where he's lived for two years.
The neighborhoods' parks and proximity to the lakefront are what attracted Knudsen to the area, he said. Knudsen likes to spend his free time outdoors, biking, walking or doing yoga in the parks.
The alderperson also enjoys the local arts scene, including galleries like Wrightwood 659, which just kicked off its new season.
"There's such a strong art community in Lincoln Park," Knudsen said. "There's also a strong schools community. We have people who have lived here for decades and then people from out of the country who knew they wanted to live in Lincoln Park. It's one of the best neighborhoods in the world."
Knudsen's first job as a lawyer was at Katten Muchin Rosenman. He later became a partner at Croke Fairchild Morgan & Beres, where he worked as a venture capital attorney.
One of Knudsen's experiences from college helped influence years of legal work, he said.
He worked as a law clerk to Sen. Richard Durbin on the Judiciary Committee in the weeks leading up to its bipartisan approval of the Border Security, Economic Opportunity and Immigration Modernization Act, Knudsen said.
The bill was killed by the House of Representatives, but the experience taught Knudsen about the immigration process and allowed him to hear firsthand from people trying to immigrate to the United States, he said.
It inspired Knudsen to start a pro-bono practice at his law firm, representing LGBTQ asylum seekers in Chicago and Tijuana, Mexico.
"It was such an emotional thing to work on," Knudsen said. "And it stuck when I started to work at law firms in the city. I felt I was at this big law firm, but I feel so civically minded and love volunteering, so I decided to start taking clients."
Since then, Knudsen has given legal services to more than 40 asylum seekers, including a gay, Russian immigrant who was brutalized in Moscow but escaped and now lives in the 43rd Ward, he said.
"It's just heartbreaking what people have to go through just to reach here, but this is work I know I'll always do in some capacity," Knudsen said.
Prior to joining City Council, Knudsen was best known in Chicago's political scene as Mayor Lori Lightfoot's handpicked chair of the influential Zoning Board of Appeals.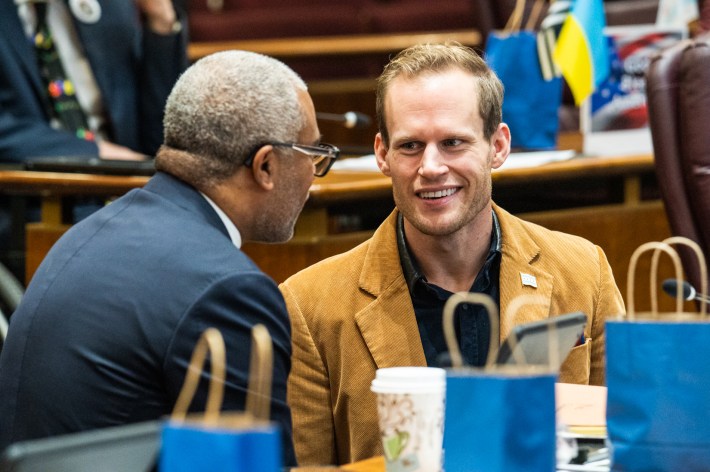 At 32, Knudsen is among a wave of younger folks elected to City Council — including Uptown's new alderperson, Angela Clay, and Auburn Gresham's new alderperson, Ronnie Mosley — making up what Knudsen jokingly called "the '90s caucus." Knudsen spoke often on the campaign trail about wanting to bring in a "new generation" of leadership into City Council.
"When we look at politics across the board, it's not necessarily a young field, but how exciting is it that there's five of us who are in our early 30s," Knudsen said. "But why aren't there any who are 26? Chicago politics is really hard to break into, and we've got to help those who are young and want to run to really get more people in."
Knudsen is also the first openly gay representative of the 43rd Ward, which he hopes can inspire younger LGBTQ people.
Knudsen came out in the workplace after starting at Katten and was embraced by his coworkers, he said.
"That paved the way for me to have a leadership role at the firm as I brought the pronoun policy to it, which was a risk as a junior associate," Knudsen said. "But I'm also an advocate for people working in a place where they can truly be the same person in the office as they are at home."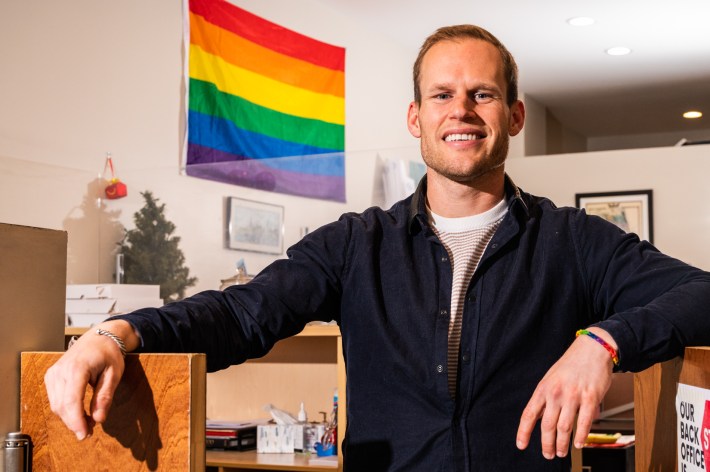 Priorities And Key Issues
Improving public safety has been among Knudsen's top concerns as alderman and will continue to be a priority into his first full term, he said.
Knudsen's first move after being appointed last fall was to reallocate the ward's menu dollars to fund more security cameras. The Police Department recently made recommendations on where they should go, and the cameras will be installed soon, he said.
Knudsen has also been focused on building relationships with the Near North (18th) and Town Hall (19th) police districts, regularly hosting the commanders for community events. The alderman has also co-sponsored ordinances to crack down on illegal guns, improve CTA safety and protect first responders.
Knudsen said he supports a multi-pronged approach to addressing crime that includes reorganizing the budget to better invest in the South and West sides in addition to North Side neighborhoods like Lincoln Park, Old Town and the Gold Coast. His full public safety plan is online.
"I recognize this is a turning point with how we're viewing safety in the city," Knudsen said. "With a new [police] superintendent coming in and a new mayor coming in, I'm hopeful we can make it a healthier approach."
Another priority is taking steps to improve the environment. Knudsen's drafting an anti-idling ordinance, like ones seen in Seattle or New York, that would allow the city to ticket cars for idling more than three to five minutes, he said.
"It cuts down on emissions hugely," Knudsen said. "I've been talking to a bunch of new alders about a big environmental push because we've got to be thinking this way when we're already behind."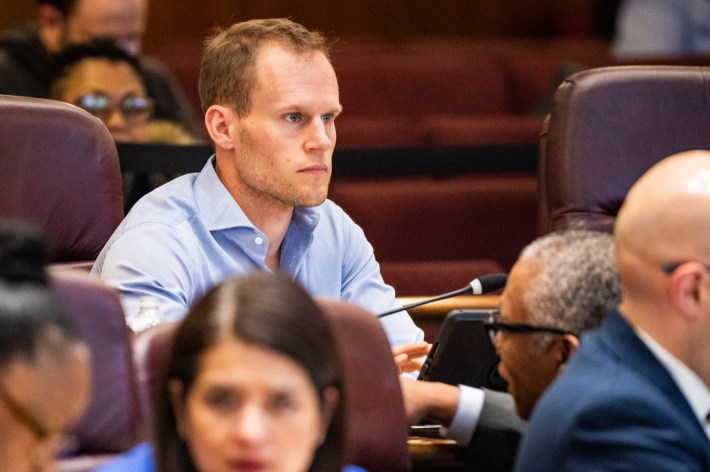 Knudsen's proudest accomplishment so far as alderman is using technology to modernize the 43rd Ward office's constituent services system, he said.
"It's not totally complete yet because these things take a lot of time, but this platform is already showing its potential to get more constituent services done faster," Knudsen said. "It's allowing our office to be proactive when aldermanic offices were set up to be reactive."
Knudsen did not endorse either mayoral candidate, but he did back Paul Vallas' public safety plan. He said he spoke to Mayor-elect Brandon Johnson after the election and is optimistic about how the incoming mayor will support new legislation, like the anti-idling ordinance.
"I was so convinced on staying independent, and it puts me in a better place now to push the legislation I want and lean into this ward's history of not being 'beholden' to anybody," Knudsen said.
Listen to "It's All Good: A Block Club Chicago Podcast":