LINCOLN PARK — Student journalists at DePaul University said stacks of their newspapers disappeared after they published a front-page story detailing an impending budget gap at the school.
An April 9 story in student-run paper, The DePaulia, reported the university is facing $56.5 million in expenses above revenue for the next fiscal year.
The reporting quoted faculty members who said university leadership had "hastily" planned cuts to non-tenured teaching positions, other staff and department budgets. The teachers said they were left in the dark about changes.
In the days after the article ran, several DePaulia editors noticed student workers tossing papers off newsstands into recycling bins at the school's Lincoln Park library, student center and academic center, said Marla Krause, the paper's adviser and a journalism professor at the university.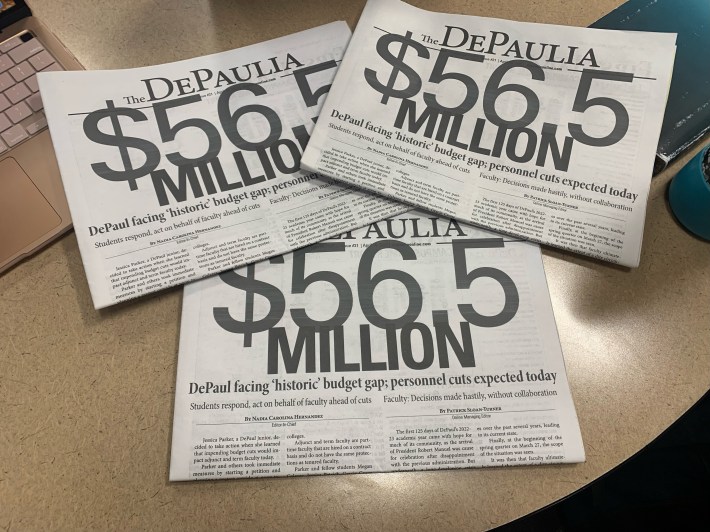 In a statement, DePaulia Editor-in-Chief Nadia Carolina Hernandez said removing papers "is a form of censorship."
Hernandez and other top editors want the university's public safety team to share security videos around their newsstands to better understand what happened.
"The DePaulia staff firmly stands by our reporting about the recent budget cuts around DePaul University," Hernandez said in the statement. "We are deeply concerned about our editors witnessing DePaul employees confiscating papers early last week on several on-campus buildings in Lincoln Park."
In a statement, university spokesperson Russell Dorn said the school's President's Office spoke to leaders across campus about concerns raised by student journalists.
"[A]nd to our knowledge, no one issued a request for newspapers to be removed or destroyed," Dorn said.
Dorn confirmed that the projected university budget gap for the next fiscal year is $56.5 million. Six faculty members will "not be reappointed" for the next academic year and were notified of that April 10, Dorn said. Current faculty vacancies will not be filled, Dorn said.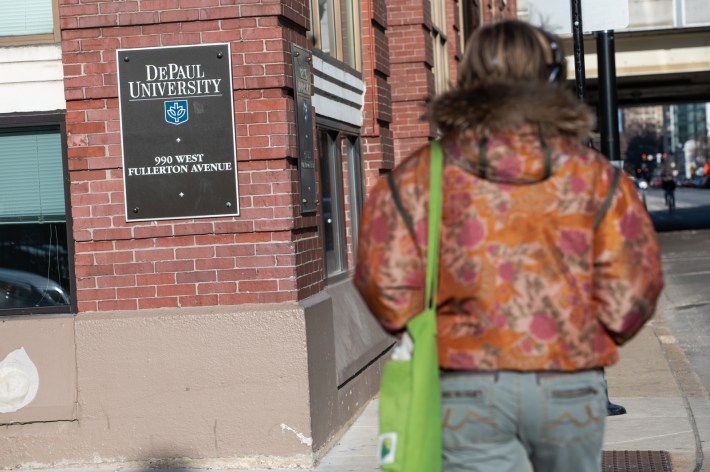 Decisions about contract renewals were made following "joint discussions between the provost and deans, with direct input from department chairs and faculty, based on enrollment levels," Dorn said. DePaul's new president, Robert L. Manuel, highlighted budget concerns at his inauguration in November, in a January presentation and shared an update March 15 following a key committee endorsement of the next budget, Dorn said.
"DePaul fully supports our student journalists' freedom of speech and the freedom of the press," Dorn said. "It is never appropriate to destroy current issues of our student newspapers or to otherwise censor our student journalists."
Krause said she reached out to a top campus security official to ask if they could review videos of empty newsstands — and he told her he "didn't notice any wholesale disappear[ance] of newspapers," according to emails reviewed by Block Club.
But student journalists want to review the tape directly, which Krause said had been allowed once before during her tenure as the paper's adviser. It's "demoralizing" for student work to be thrown away, and Krause would like "reassurance this won't happen again," she said.
"We feel that somebody was unhappy with the reporting on this huge budget gap the university is facing and the severe cuts that are coming, and took it upon themselves to make sure people couldn't read about it," Krause said. "But there's still thousands of papers around both campuses, and we have an online site.
"They can't make the story go away."
Watch our "On The Block" TV show on The U, CW26 and MeTV.
Listen to "It's All Good: A Block Club Chicago Podcast":