CITY HALL — Mayor Lori Lightfoot and 12 outgoing alderpeople began saying their goodbyes Wednesday during the final City Council meeting before Mayor-elect Brandon Johnson will be sworn in next month.
After passing ordinances on zoning changes, tax increment financing and other issues, alderpeople launched into more than two hours of tributes to their colleagues who were retiring or had lost their election bids — and to Lightfoot herself.
They told stories about each other, made jokes, teared up and even read several haikus in honor of their outgoing colleagues.
"I love you all," Ald. Anthony Napolitano (41st). "It got heated down here at times but in the end, we were all friends."
At the center of the tributes were Lightfoot and her longtime political foe Ald. Ed Burke (14th), the longest serving alderperson in Chicago history who took office in 1969.
After years of being one of Chicago's most powerful aldermen, Burke is now under indictment for federal racketeering, bribery and corruption charges, accused of trying to steer tax work to his law firm by holding up permits for a Burger King in his Southwest Side ward.
He chose not to run for reelection in the Feb. 28 election and is set to stand trial later this year. Alderwoman-elect Jeylu Gutierrez will be sworn into the 14th Ward seat next month.
But Burke's legal troubles didn't stop numerous alderpeople from singing his praises as a legislator and person.
Ald. Walter Burnett (27th), who will become the council's longest-serving representative after Burke's departure, said Burke "is probably a saint" for all of the Catholic folks, colleagues who made mistakes and people "of all races" he helped.
"He is a different type of guy. And he didn't look for anything in return," Burnett said.
Northwest Side Ald. Jim Gardiner (45th) told Burke, "you've been here longer than I've been alive."
"The work you've done for your community, the work you've done for your city, I think we should all pay homage to the work you've done. It is much appreciated," he said.
Ald. Nicholas Sposato (38th) called Burke "a legend."
"You are the truest of gentlemen that I ever met in my life," he said.
And retiring Ald. Roberto Maldonado (26th) said a dinner at Burke's house with his wife was "one of the loveliest nights" of his life and praised the after-dinner entertainment.
"I will never forget that," he said.
Burke was the final speaker of Wednesday's meeting, where he praised fallen Chicago police officers and firefighters, and his wife.
He then told a lengthy story about the origins of the hymn "It Is Well With My Soul," written by a Chicago lawyer after the death of his four daughters in 1873.
He then quoted famous Anglo-Irish statesman Edmund Burke before praising the city as a whole.
"Chicago is, and will always be, the most American of American cities. May God bless America and may God bless Chicago," Burke said. The Council then gave Burke a standing ovation.
In addition to Burke and Maldonado, also ending their Council runs next month are: Alds. Sophia King (4th), Leslie Hairston (5th), Roderick Sawyer (6th), Susan Sadlowski Garza (10th), Anabel Abarca (12th), Howard Brookins (21st), Ariel Reboyras (30th), Tom Tunney (44th), James Cappleman (46th) and Harry Osterman (48th).
Ald. Carrie Austin (34th) retired from City Council in March, leaving the seat vacant until Alderman-elect Bill Conway takes over. The ward long was located on the Far South Side but was redrawn during last year's remap to create a new Downtown territory.
King and Sawyer gave up their seats to run for mayor. Abarca, who was appointed to the council to replace George Cardenas in December, lost her election bid to Alderwoman-elect Julia Ramirez. She thanked Snoop Dogg in her remarks to council.
"I would like to thank me," she said, encouraging other children of immigrants to dream big.
Brookins did not attend Wednesday's meeting.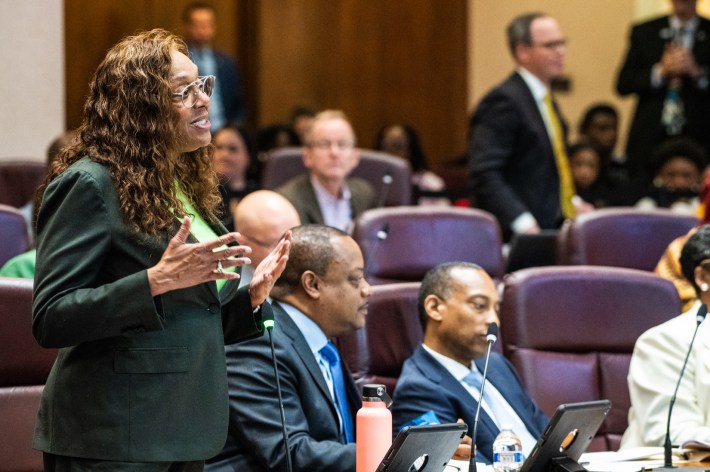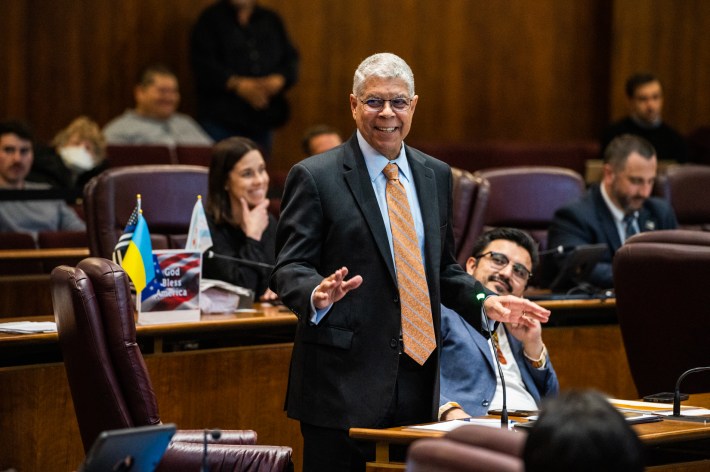 At the beginning of the Council tribute session Wednesday, Ald. Michelle Harris (8th) presented the outgoing alderpeople and Lightfoot with a framed Chicago flag, "to remind you of the commitment you gave to this body … to say thank you."
Carlos Ramirez-Rosa (35th) honored each of his retiring colleagues individually. He thanked Tunney for "paving the way for openly gay members of this caucus," Brookins for being a "fair dealer" and called Sawyer "one cool dude."
To Reboyras, Ramirez-Rosa conceded the two often "disagree bitterly" on policing issues, but he said the retiring 30th Ward alderperson was "impossible to dislike."
"Mr. Congeniality, never short on a smile," Ramirez-Rosa said. "You'll leave a big hole with your departure. The Council will lose not only the best salsa dancer, but the only fluent Polish speaker that we currently have."
Reboyras told DNAinfo in 2012 he began learning Polish to better connect with Polish-speaking residents in his Northwest Side ward.
Many alderpeople also praised the work of Garza, who chairs the Council's Committee on Workforce Development.
Fighting back tears, Ald. Mike Rodriguez (22nd) said he was inspired by working with Garza early in his tenure as alderperson.
"I got to learn from you. I got to see you in action. The respect that you have in every corner of this council is something that really sticks with me," he said. "That takes a lot of hard work. It takes a lot of phone calls. It takes a lot of care, it takes a lot of passion for your work."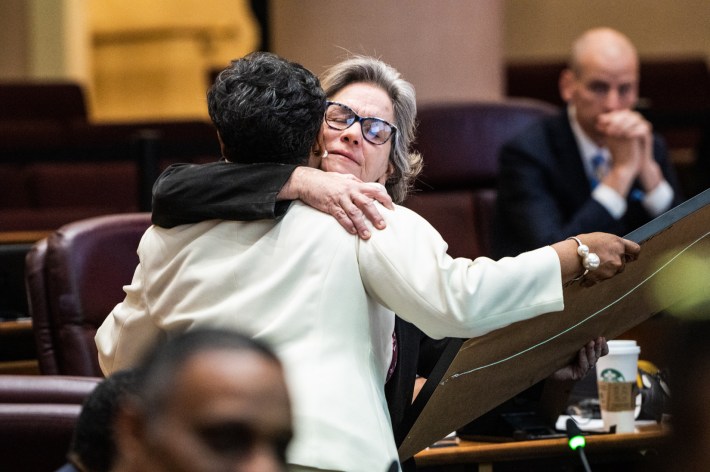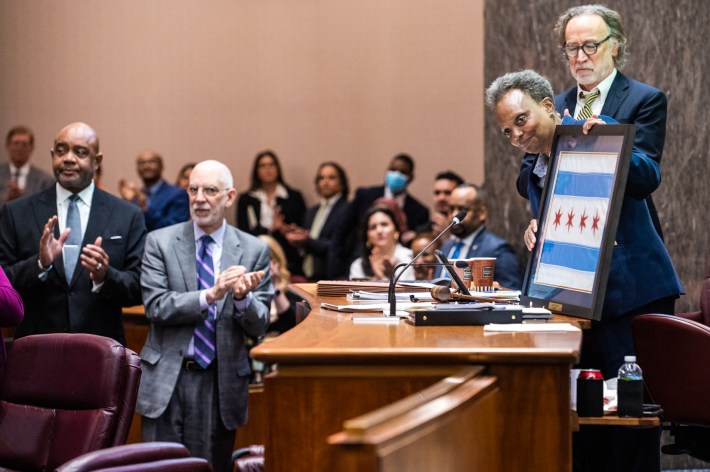 While the resolutions passed Wednesday focused on retiring alderpeople, many City Council members took the chance to honor Lightfoot as she wraps up her term as mayor. Lightfoot finished third in the crowded mayoral race in February and did not advance to a runoff.
"It has been a real amazing journey," Harris said. "I appreciate you, and more than that I appreciate the legacy that you're going to leave to the city moving forward."
Burnett, a close Lightfoot ally who backed her reelection bid, read out a laundry list of what he sees as Lightfoot's biggest accomplishments, including the planned Chicago casino, the INVEST South/West initiative and the Red Line Extension.
"It happened under you," Burnett said.
Ald. David Moore (17th) was even more effusive, and said Lightfoot had accomplished more for the city for the than any other mayor, "including Harold Washington."
"He laid the foundation, but you implemented things and I want to thank you for that," Moore said. "Anybody after you, have to do it now. They have to focus on the South and West sides of Chicago."
Moore endorsed Sophia King in her unsuccessful bid to unseat Lightfoot in the Feb. 28 election.
Even Ald. Ray Lopez (15th), who regularly butted heads and sometimes outright fought with Lightfoot in City Council and the media, complimented his frequent foe.
"I know you are in the role that you are in because of your love for Chicago," Lopez said. "Your presence made me become a better alderman. I think my presence helped you become a better mayor. And at the end, together, we helped make this a better city.
"That's my story and I'm sticking to it," Lopez said to laughs.
Lightfoot did not speak about her tenure, accomplishments or political future at Wednesday's meeting. The outgoing mayor has not taken questions from the media about her legacy since losing her reelection bid Feb. 28.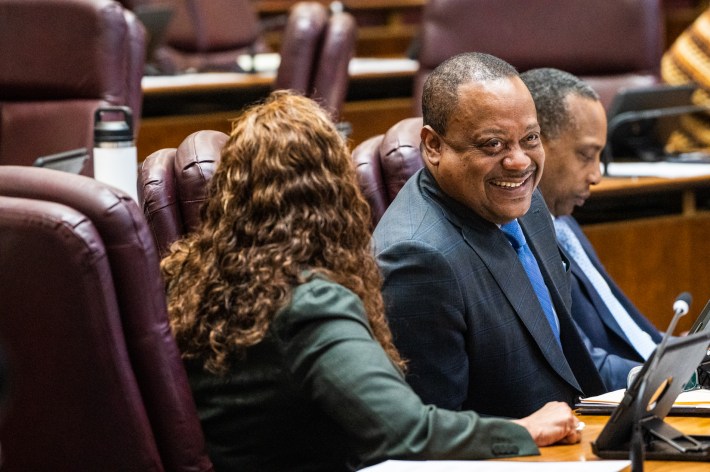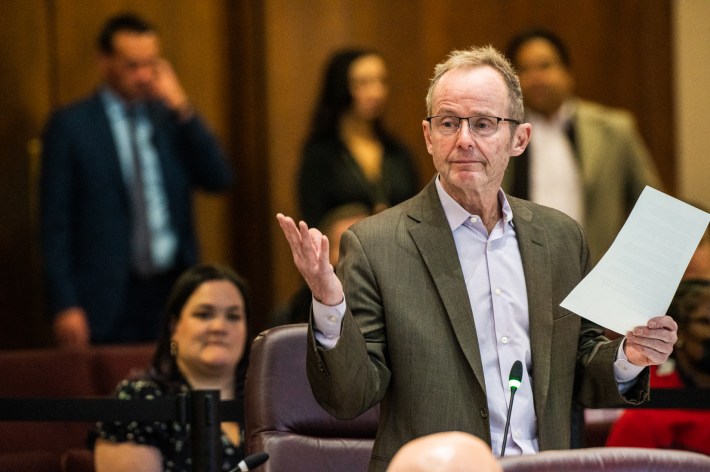 Amidst all the praise and love on the City Council floor Wednesday, two alderpeople even read poems to mark the end of the term and honor their retiring colleagues.
Ald. Scott Waguespack (32nd) said he tried to write something after joking about it Tuesday — but ultimately read a haiku by a Japanese poet.
But Ald. Pat Dowell (3rd) took things more seriously and composed a poem of her own.
"Memories connect/friendships and accomplishments/neighborhoods intertwine," her poem reads.
At Wednesday's meeting, alderpeople also approved landmark designations for Promontory Point and the Greater Union Baptist Church as well as numerous developments and TIF allocations.
Mayor-elect Johnson and all 50 alderpeople will be sworn in May 15.
Watch our "On The Block" TV show on The U, CW26 and MeTV.
Listen to "It's All Good: A Block Club Chicago Podcast":
Watch our "On The Block" TV show on The U, CW26 and MeTV.
Listen to "It's All Good: A Block Club Chicago Podcast":