GRAND BOULEVARD — City officials gathered for a ribbon-cutting Tuesday for the first phase of 43 Green, one of Bronzeville's most anticipated projects.
The $81.8 million Invest South/West project is adjacent to the 43rd Street Green Line station near Prairie Avenue, making it the first equitable transit-oriented development on the South Side. It will bring retail, rental housing and market-rate housing to the area.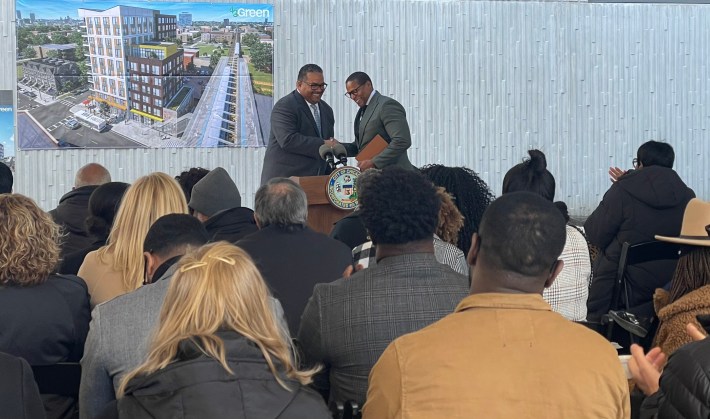 Construction began in January 2022, and the team marked their progress with a ceremony last summer. The $37.8 million first phase features 5,000 square feet of ground-level commercial space and 99 studio, one-, two- and three-bedroom apartments, 51 of them affordable.
Now that it's complete, the 10-story complex could welcome its first round of tenants as soon as next month, said P3 Markets principal Phil Beckham, one of the project's pioneers.
The project was funded with $10 million in tax-increment financing, $6 million in Multi-Family Loan funds and $3.9 million in Low Income Housing Tax Credits.
The team also marked the beginning of 43 Green's $44 million second phase with a groundbreaking. This phase will have another 10-story building with 80 apartments — including 44 affordable units — and 3,600 square feet of ground-floor retail space.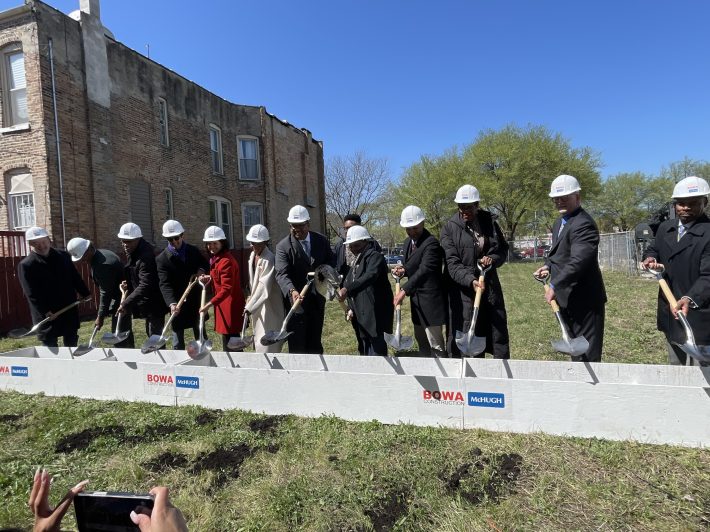 Beckham was emotional as he addressed the audience Tuesday, telling attendees about a photo of his father and grandfather taken near 43rd Street and Prairie Avenue 70 years ago, when his grandfather owned a construction firm.
"I'm going to be part of a building that's going to be near there, and he can watch over me," Beckham said.
The developer was joined by Mayor Lori Lightfoot, Ald. Pat Dowell (3rd) and Habitat Affordable Group's Charlton Hamer.
Dowell said the project had earnest beginnings and recalled how Hadiya Pendleton Park had been a catalyst for 43 Green, along with other developments in the ward.
"Soon after [the park was built], we were seeing investment in new housing and abandoned multi-unit buildings like the one on 44th and Calumet come to life. New single-family homes and townhomes began to pop up, and there was a renewed interest in The Forum. Because of all that, we're celebrating here today," Dowell said.
The alderwoman also said the project encouraged the Chicago Transit Authority to renovate the 43rd Street station. Though that work has yet to start, she plans to make sure it gets done, she said.
Residents of 43 Green will be able to enjoy a number of amenities, including a dog walk, a community room with a patio, fire pits and grills and a seventh-floor workout room. The development also has sustainable features, a high-performance glazing and building envelope, on-site stormwater management and an extensive green roof system. There's also efficient LED indoor lighting and dark-sky-friendly exterior lighting.  
In addition to The Forum, 43 Green complements nearby developments like 4400 Grove and the Lillian Marcie Center, a 350-seat theater and Black performing arts venue.
The city published its ETOD policy plan in 2021, the result of a collaborative process between several city departments and local leaders from the public and private sector. It is accepting applications for its pre-development ETOD grant programs through Aug. 23.
Listen to "It's All Good: A Block Club Chicago Podcast":