LOGAN SQUARE — Beloved ice cream stand and fast food joint The Freeze is for sale.
Longtime owner Tony Zarcone put the property on the market Monday for $1.2 million. The real estate listing includes The Freeze at 2815 W. Armitage Ave. and the lot next to it, which is used for parking and outdoor seating.
Though the listing calls for a "creative developer" who can capitalize on the 5,000-square-foot site's "many possibilities," Zarcone told Block Club he's looking for a developer who will keep The Freeze open and hopefully fix it up to modern standards.
"There's no need to panic. It's not going to close. It's going to continue," Zarcone said.
The Freeze has been a staple of Logan Square since it opened in 1950. Known for its soft-serve cones and no-frills fast food, the classic ice cream stand buzzes with life in summer, drawing lines down the block.
Zarcone, a former Chicago firefighter, grew up nearby and bought The Freeze — then known as Tastee-Freez — when it hit the market in the late '80s. He owns the adjacent lot as well.
"No matter if it made money or not, it was a joy for me to do it. I loved the community. I was born and raised here," he said.
But Zarcone, who is 58, said he's looking to retire after 30 years of running the business. He said he wants to spend more time with his family.
"For 30 years, I haven't had a summer vacation," he said. "The whole reason I did it was to be there, serve ice cream, meet people, hire people from the community, but I'm getting older now. I don't want to be behind the counter when I'm 80. I don't want to be sweeping the curb and washing down the concrete when I'm 80. … That wouldn't be fair to Tony."
While The Freeze has maintained its popularity over the years, Zarcone said the neighborhood spot could use upgrades — and he doesn't have the energy to make those changes.
Zarcone gave the ice cream stand a new facade several years ago to protect it from the elements, but he would love to see the new owner give the place a restored 1950s look or possibly even build up to two stories, he said.
"I want to keep The Freeze moving forward in a modern way, so customers can be more comfortable and the line can be more organized," Zarcone said.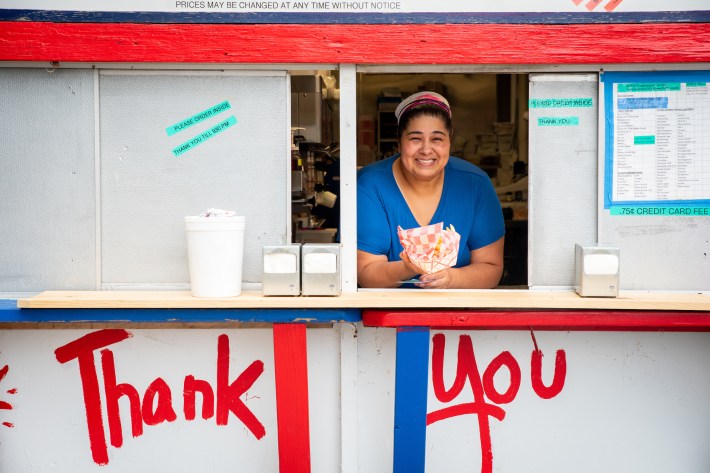 So far, the real estate listing hasn't generated too much interest from developers, but Zarcone said he's "not in a big hurry" to sell. He wouldn't be surprised if it takes a few years to find the right buyer, he said.
Contrary to what the listing says, Zarcone said he'd rather not work with a developer who wants to change the site's zoning.
"I don't have any loans. I'm in a position better than anyone else where I can choose that candidate. I can say yes or no," he said.
The Freeze opened for the season last week with new menu items such as butterscotch-dipped cones, "snowstorm" slushies with soft-serve ice cream, veggie dogs and meatball sandwiches.
Expecting the deal to take some time, Zarcone is gearing up for another busy summer. Over the years, he's gone from serving about 40 customers a day to upwards of 900 a day as the neighborhood has evolved, he said.
"I loved doing it, I still love doing it, but it's weathered me," he said. "Tony wants to sit on the front porch and do some fishing and golfing."
Watch our "On The Block" TV show on The U, CW26 and MeTV.
Listen to "It's All Good: A Block Club Chicago Podcast":