LITTLE VILLAGE — Displaced Discount Mall vendors plan to move into a long-vacant Kmart on the Southwest Side in the coming weeks.
Approximately 40 vendors had been given until March 28 to move out of the Little Village mall, 3115 W. 26th St., after their leases expired and a judge refused an emergency injunction to prevent them from being locked out. 
Several vendors had moved out or were in the process of moving when city officials were able to negotiate another six-week extension with mall owner Novak Construction.
Discount Mall vendors were originally offered the chance to move into a former CVS in Little Village with help from the city, but vendors agreed the former pharmacy at 26th Street and Pulaski Road didn't have enough space for everyone, they said Friday.
The former Kmart at Kedzie Avenue and 51st Street is an ideal location because of the approximate 120,000 square-feet of space and large parking lot, vendors said. They said they expect to be moved in by May 15.
The state's Department of Human Services tentatively planned to used the Southwest Side Kmart as a shelter for migrants arriving to the city, but tabled the plan when local officials questioned whether the space was adequate for housing people.
RELATED: Little Village Discount Mall Vendors, Some There For Decades, Pack Up As They Are Kicked Out Of Booths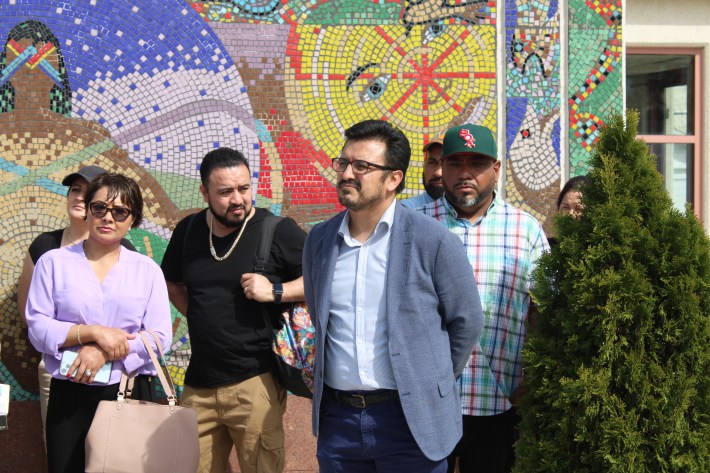 Vendor Kocoy Malagon said it was a successful day for the business owners. She said the bigger space is exactly what the vendors have been looking for.
"It represents what we are — we are big, we deserve something big," she said.
Vendors have been fighting for months for owner Novak Construction to reach an agreement to keep all business owners inside the Discount Mall.
Novak announced in February a deal had been finalized with about half of the vendors to keep them working at the Discount Mall.
However, the nearly 40 vendors who work in the south half of the building were told they had until the end of March to move out. Officials said the mall operator who managed that side couldn't reach an agreement with Novak on a new lease.
Mall operator PK Mall told vendors the contract they would've had to agree to with Novak was "unreasonable" and "unsustainable in the long run."
Ald. Byron Sigcho-Lopez (25th), whose ward covers the Discount Mall, said he and vendor leadership plan to meet with city officials soon to sign a formal agreement that includes $500,000 of funding to help the business owners get back on their feet.
A spokesperson for Mayor Lori Lightfoot's office said her priority is supporting Black and Brown businesses with community input, but wouldn't comment on specific figures.
"The City is committed to working to secure necessary funding for a vendor pop-up contingent on identifying a local chamber to facilitate a funding agreement, determining use of funds and eligibility criteria, and completing a site inspection and build-out analysis," the statement read.
There will also be a traffic study completed in the area and discussion with the Gage Park community, according to the city.
Vendor Juan Zarate said his family has owned several booths at the Discount Mall for years, including a pet shop, an artesanía selling Mexican handcrafted goods and a botánica which sold religious goods, where many family members worked.
"I'm glad the city of Chicago is recognizing the damages today and that we're making progress," Sigcho-Lopez said. "This is just the beginning of work together with the vendors."
Zarate said he's looking forward to having the new space for vendors, but Little Village will remain special to him.
"I just don't want the community to change too much," he said. "I still plan down the road to open up a spot in the area because I love Little Village, you know?"
Watch our "On The Block" TV show on The U, CW26 and MeTV.
Listen to "It's All Good: A Block Club Chicago Podcast":