CHATHAM — Aziz Rupshi was at the doctor's office with his mother when he found out Chatham's Walmart, where he owns and operates a Subway sandwich shop, would soon close. 
Rupshi has run his shop inside the South Side Walmart for years, he said. The grocery store is constantly humming with customers, Rupshi said.
Rupshi got the word as many others did: local news. 
"I looked it up at the TV [at the doctor's office], and I was like, 'That's our store.' Nobody told us. No notification, no nothing," Rupshi said.
Rupshi joined fellow business owners, South Side community leaders and elected officials in a Thursday protest outside the Chatham store to excoriate Walmart officials for abruptly closing four full-service locations, primarily on the South and West sides, due to poor sales.
In addition to the Chatham Supercenter, 8431 S. Stewart Ave., stores in Kenwood at 4720 S. Cottage Grove Ave., Little Village at 2551 W. Cermak Road and Lakeview at 2844 N. Broadway also will close Sunday.
Neighbors have until the weekend to stock up on goods; pharmacy patients can call or visit until May 12, officials said.
The news stunned and outraged neighbors who said the stores are consistently busy and a necessity for affordable groceries, prescriptions and community resources.
The corporate giant joins a list of grocers and major retailers — including Aldi, Whole Foods and Target — that have abandoned disinvested communities after promising to be good neighbors.
Local leaders want Walmart officials to meet with community leaders and call off their plans to close.
For owners like Rupshi, Walmart's announcement means suddenly losing a business that took years to grow. Larry's Barber Maximus, a beauty and barber salon owned by Larry Roberts Jr., will also close Sunday. Roberts will relocate the shop to a Pullman Walmart at 10900 S. Doty Ave., he said. 
Rupshi isn't sure what he'll do next, he said. The next few days are dedicated to clearing out the shop, he said.
"This hasn't soaked in just yet. I'm still flabbergasted, to say the least," Rupshi said. "The people need it, the community needs it, and they're just going to pull out like they don't care. It should matter. We're all one. But I hope today makes a difference and the voice of the people makes a difference."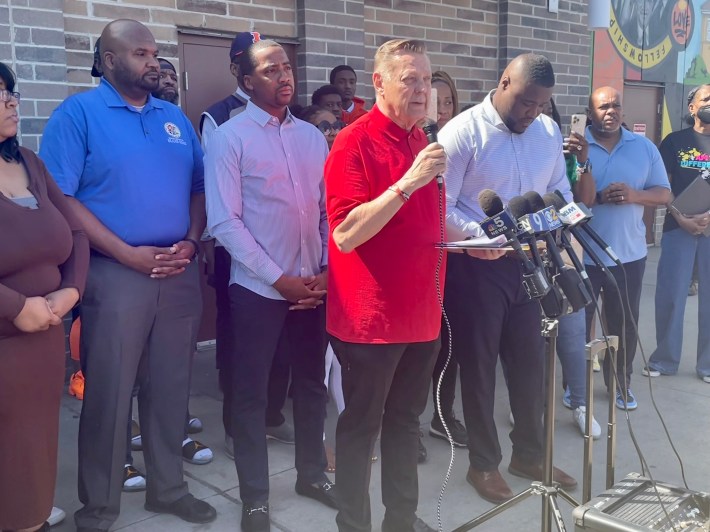 Walmart's actions are disrespectful to employees and the community, Father Michael Pfleger, of St. Sabina Church, said Thursday. Customers flowed in and out of the store with carts of groceries as officials spoke.
The parking lot and the store are always "packed with people" despite Walmart saying they've had poor sales, Pfleger said. 
"They're the culprits walking out, and they want to blame the community as the reason they're walking out," Pfleger said. "The community has supported them, but they have not supported the community."
Pfleger was one of many local leaders who "fought very hard" years ago for Walmart to open stores with livable wages in Chicago, he said.
Nearly two decades ago, labor unions fought for Walmart to up its pay before opening stores in the city. Then-Mayor Richard M. Daley vetoed a bill that would allow such in 2006, calling the law "anti-competitive." Walmart opened its first store later that year at 4650 W. North Ave.
The arrival of the Chatham Supercenter in 2012 was ultimately a success, with customers arriving in droves to shop the store's abundant groceries at low prices. But many mom-and-pop stores, unable to compete with the corporation, were also forced to close, Pfleger said. 
"And now the bully, after closing all those stores up, now the bully pulls out and says it doesn't want to be here anymore," Pfleger said. 
Walmart officials should "put the brakes on" and meet with the community before closing up shop Sunday, Pfleger said. 
If the company refuses to cooperate, leaving communities with "large, empty buildings and a desert of resources," leaders are prepared to host another demonstration outside an Evergreen Park location, Pfleger said. They'll also boycott the company, he said.
"If Walmart leaves us, we will leave Walmart," Pfleger said.
Walmart has demonstrated "corporate racism and corporate greed," Alderman-elect William Hall (6th) said. If Walmart doesn't agree to invest in the community, "we will disinvest across the nation," Hall said. 
"… We will go from Chicago to Indiana to Michigan and every state where there's a Walmart," Hall said. "And the same Black and Brown people who make this store will be the same Black and Brown people to walk away from this store."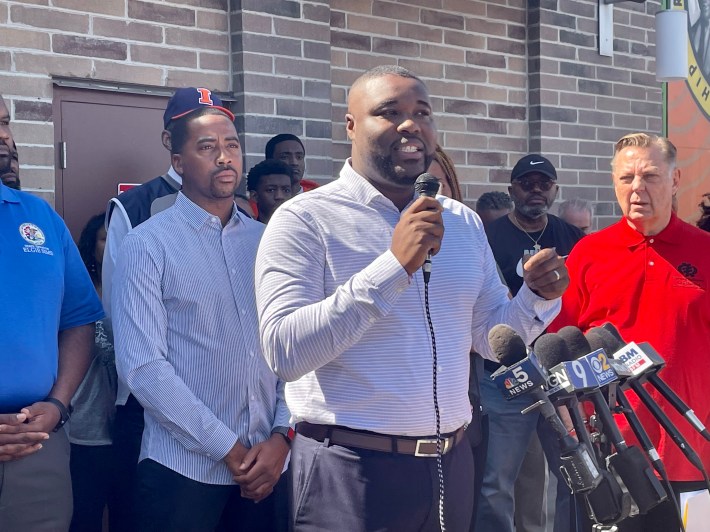 Four Walmart stores will remain in Chicago: 4650 W. North Ave. in Austin, 4626 W. Diversey Ave. in Hermosa, 10900 S. Doty Ave. in Pullman and 7535 S. Ashland Ave. in Auburn Gresham.
Roberts, who also operates a barbershop out of the Pullman store, will transfer all his operations and staff to the Far South Side location, he said.
Walmart officials hosted a grand opening for Robert's barbershop shop in 2021 with a ceremonial ribbon cutting. He owns five barber colleges across Illinois, including a facility inside of the Cook County Jail, where he trains up-and-coming professionals before giving them a shot at one of his shops.
In the years since the opening, customers have flowed in and out of the Chatham shop, Roberts said. He provides community members with a safe, welcoming place where they can get their hair cut by licensed professionals.
Roberts was also given a five-day notice that his barbershop would close, he said. Barbers were rightfully upset, thinking they were the last to know, Roberts said.
Roberts invested in a custom-made sign and washer and dryer, he said; that's money's gone now, he said.
"I hope Walmart figures out how to be accommodating and helps the community," Roberts said.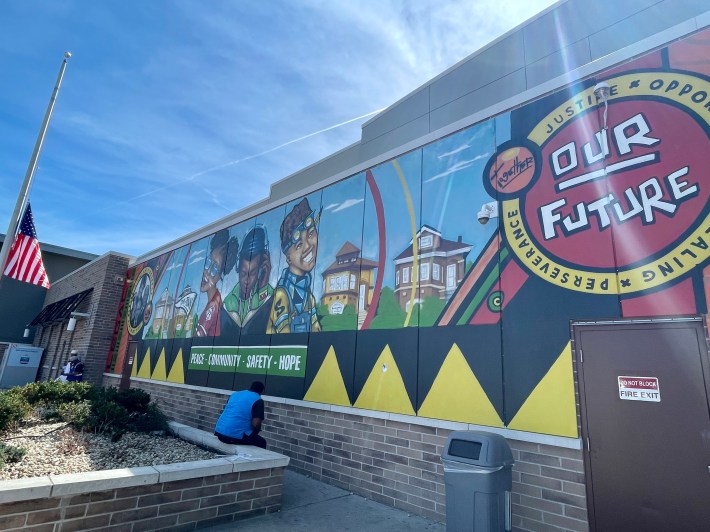 While campaigning for office, Alderman-elect Ronnie Mosley often spoke of the "economic vitality" of the 21st Ward, he said. A big business like Walmart chose to invest in the community, leading the way for others to follow, he said. 
Tuesday's announcement came as a shock, Mosley said. He "got a lesson on what that partnership could look like because Walmart said we are leaving," Mosley said.
"That is a devastating move, a blow to our community, and [it] represents this divestment that we've seen time and time again in the Black community all throughout the Chicagoland area," Mosley said. 
Walmart has committed to "finding reuse options" for its stores, including the Walmart Academy, officials said. "But it's not enough," Mosley said. 
In 2021, Walmart committed to investing $50 million in eight Chicago stores, including the Chatham location. About $10 million of that funding belongs to the Chatham community and should be used to address food security, workforce development and youth space, Mosley said.
"I'm calling for Walmart to honor that promise, to honor that commitment, to find a tenant for this space, to get this property in the hands of a nonprofit that's going to fulfill those community needs, but to push more," Mosley said. 
Rep. Lamont Robinson, who will succeed Ald. Sophia King in the 4th Ward, called Walmart's announcement a "travesty." 
The South and West sides have long been food and pharmacy deserts. Walmart's departure is another punch to the community, Robinson said. 
Walmart "should be absolutely ashamed," Robinson said. 
"We should not have to go out of our communities to find jobs. We should not have to go out of our communities to get medicine. We should not go out of our communities to be able to shop. We should be able to do all of this in our community." Robinson said. "We deserve to be able to shop, work [and] play in our own communities." 
Listen to "It's All Good: A Block Club Chicago Podcast":