AVONDALE — Contract negotiations between Northeastern Illinois faculty and the university have stalled — and a strike could be looming.
Decked out in green shirts and buttons, dozens rallied Thursday outside the university's El Centro campus, 3390 N. Avondale Ave., chanting and holding signs that read, "Universities are not businesses," and "Fair contract for our students' futures."
Teachers are pushing for a new contract with increased pay, better benefits and improved diversity and working conditions. The school's teachers, advisers and librarians, represented by the NEIU chapter of University Professionals of Illinois Local 4100 union, could strike as early as April 24 if negotiations don't budge, union President Nancy Matthews said.
Earlier this week, 95 percent of the participating union members voted to approve a strike. Ninety percent of the 417 members voted, Matthews said at the rally.
The rally was held before the school's Board of Trustees meeting. The board is in charge of the contract and oversees the university on behalf of the state.
"This administration has not fought for us," said design professor Lauren Meranda. "The universities in the Chicagoland area that are minority-serving institutions that serve our populations well are being divested."
About 40 percent of Northeastern's students are Latino, and 60 percent are people of color, according to school figures.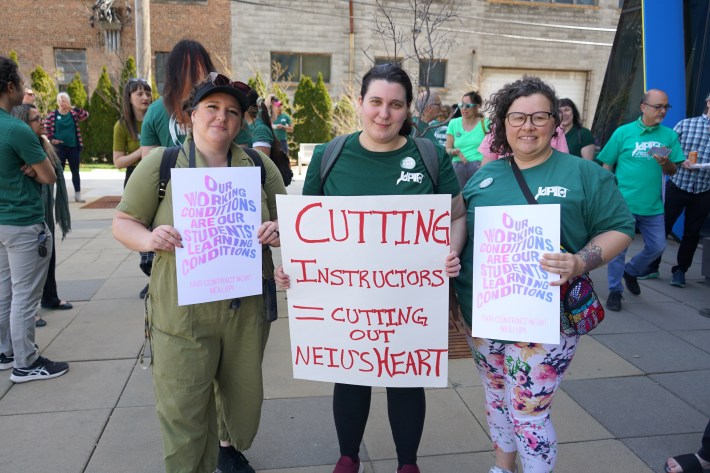 Philosophy professor Stacey Goguen said teachers want higher wages and recognition for the extra hours of service, research and attention teachers give to students.
"We want to see the administration believe in our students, which means investing in us as a liberal arts university that is not just training students for the jobs they are going to have next year — it's training them for the jobs they are going to have 20 years from now," Goguen said.
The faculty union's last contract was negotiated in 2014 and expired in 2019 but rolled over to last summer because of the pandemic. Since then, the union's bargaining team and NEIU administration have met nearly 20 times without coming to an agreement, union members said.
Staff have been working without a contract for the past four years. The contract in negotiations now will set terms for the next five years.
Some of NEIU's students, many of whom are working-class students of color, went to Thursday's rally to support faculty and staff and criticize the actions of the school administration, like potentially restructuring departments to cut staff and offer lower wage increases than what the union requested.
"I feel like this administration doesn't understand how important our teachers are," said Ciara Dixon, a junior social work student. "These teachers come in and meet with us when they don't have to, answer emails without getting paid, stay up late doing course work. … The least that they deserve is fair treatment and fair wages."
While the thought of a strike makes Dixon anxious, it's worth it so teachers can provide her and her peers with better, high-quality instruction, she said.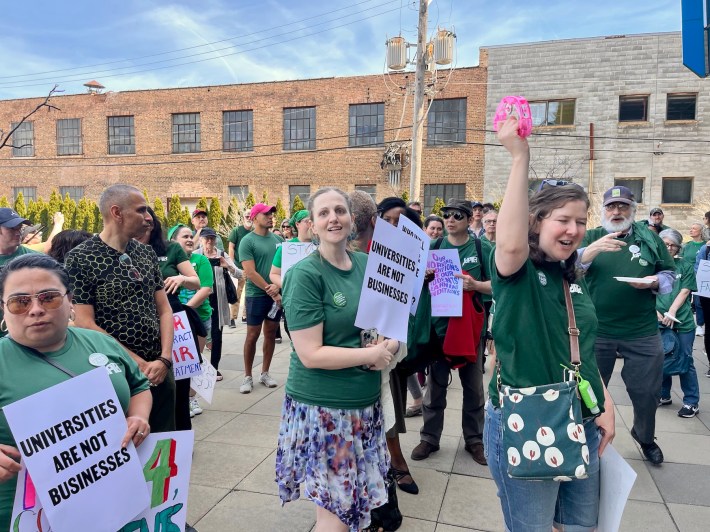 The possible strike at the university, with its main campus in North Park, comes as staff at three other public universities are on strike because of similar disputes. Faculty at Governors State University in suburban University Park, Chicago State University in Roseland and Eastern Illinois University in Charleston also are on strike.
"We want to assure the students here that we are going to make things work in the end. … You're not going to lose your progress on your degree," Matthews said. "But the way to make that happen is for us to work in solidarity and work together. We want to use our power to avoid a strike. We don't want to strike, but we will."
Northeastern leaders said in a statement Thursday the administration is hopeful the conflict won't lead to a strike. They hired an outside mediator in March to facilitate negotiations.
"While mediation has not commenced to date, NEIU is hopeful that continued good-faith bargaining with the union, with the assistance of a federal mediator, will result in a successor agreement with [the union] that will benefit all parties concerned," university leaders said.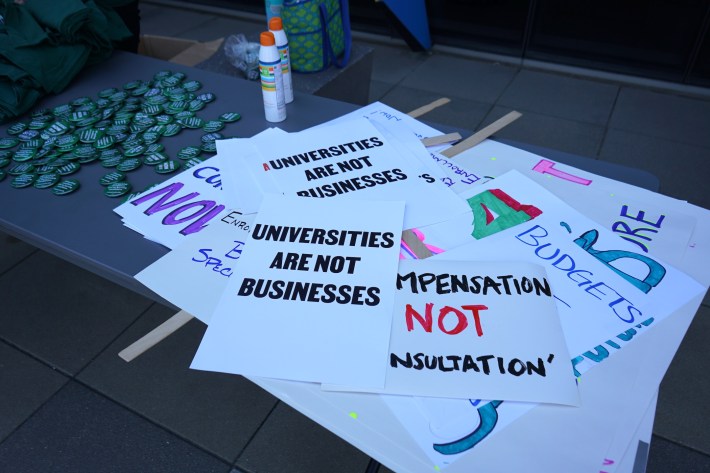 The standoff is the latest in administration problems that have escalated since 2018, when university President Gloria J. Gibson assumed the role.
Northeastern's board of trustees decided not to renew Gibson's contract, which ends June 30. It is unclear who will succeed her. Gibson — the first Black woman president at the university — has said board members made ethical violations and discriminated against her, WBEZ reported.
With Northeastern acing falling enrollment, a budget crisis and leadership failures, teachers and students have pressured the Board of Trustees to push Gibson to resign immediately, as reported by Northeastern's student-run newspaper, the Independent.
Enrollment has dropped about 30 percent since 2018, according to school data.
The board itself also is in flux, with Gov. JB Pritzker naming five new members last week.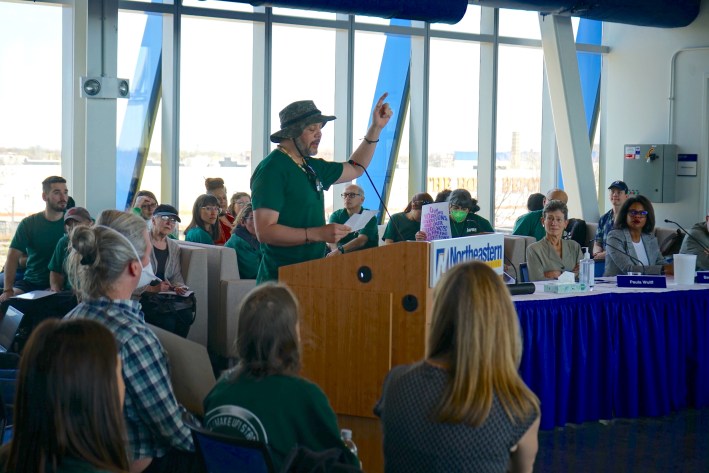 School officials have said several factors over many years have contributed to the enrollment and financial trouble, including decades of budget cuts to public universities exacerbated under former Gov. Bruce Rauner, broader enrollment declines at Hispanic- and minority-serving institutions and the pandemic.
All that has necessitated pushing for more money from the state and making cuts to the school's budget, officials said.
"We all care deeply about our students and providing them with the highest quality education that will help prepare them for careers and life, but the reality is Northeastern is experiencing a budget deficit," officials said in a statement Thursday. "The deficit was exacerbated during the COVID pandemic because many of our students lost the jobs they rely on to pay for their education."
After Thursday's rally, teachers and students went to the campus' third floor to attend the Board of Trustees' public meeting, with 10 people giving public comment. In speeches, teachers and faculty asked the board to negotiate fairly, address the school's budget deficit, enrollment issues and to pick a new president, among other topics.
"In the face of declining enrollment, our leadership led with strategies of divestment and centralization, gutting historic programs and satellite campuses," education professor Isaura Pulido said. "We can turn the tide on enrollment, but we need you to hear that the next president must be local. They must fully embrace our designations and have established relationships and demonstrative experience in and with communities of color."
Listen to "It's All Good: A Block Club Chicago Podcast":