CHICAGO — Chicagoans can take advantage of this week's sunny skies and warm temperatures with a bird walk, outdoor Earth Week market, joggers club meetup and more.
Here's a roundup of 17 things to do in Chicago this weekend:
3-7 p.m. Saturday
Hubbard Inn, 110 W. Hubbard St.
You can do a tasting of 15 margaritas, participate in photo contests, dance to your favorite tunes and more at this River North fest. Tickets for $60 are available online.
5-9 p.m. Friday, noon-5 p.m. Saturday-Sunday
Chicago Fair Trade Museum at NEWCITY, 1457 N. Halsted St.
You can bring any old clothes, shoes or accessories and trade them at the city's biggest community clothing swap this weekend. This eco-conscious event is open to people of all ages, sizes and genders. Attendees can take home up to 10 swap items, or pay $2 for each additional item. General admission tickets are $10, and exclusive tickets — which include a Friday night preview event — are $35. You can buy them online.
11 a.m.-3 p.m. Sunday
Gallagher Way, 3635 N. Clark St.
In celebration of Earth Week, you can shop from eco- and socially-conscious businesses, make crafts, attend workshops, enjoy Jeni's Ice Cream and more at this handmade craft fair. This outdoor event is free to attend and open to all ages, and you can RSVP online.
11 a.m.-3 p.m. Sunday
Pilot Project Brewing, 2140 N. Milwaukee Ave.
Anyone interested in getting more involved in their community can check out the Logan Square Volunteer Fair. There will be local nonprofits and Northwest Side community organizations that are looking for additional support. Whether you're interested in helping with animal rescue, the environment or literacy, there are plenty of local organizations you can learn more about and connect with. You can RSVP online.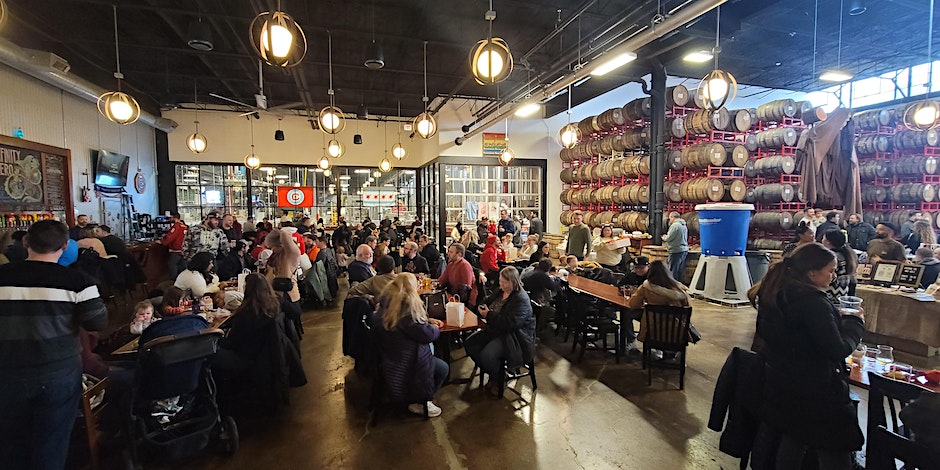 Noon-6 p.m. Sunday
Revolution Brewing, Brewery & Taproom, 3340 N. Kedzie Ave.
Jewelry, home decor, clothing and food are just a few of the things you can buy from independent artisans and small businesses owners at this market. Admission is free. You can RSVP and find the list of vendors online.
9-11 a.m. Sunday
Horner Park, 2741 W. Montrose Ave.
Chicago BIPOC Birders is hosting the Spring Bird Walk for Black, Indigenous and people of color of all ages. Attendees will hopefully see early migrating birds, including red-winged blackbirds and brown creepers. Walkers will meet at the parking lot near California and Berteau Avenues. Binoculars will be provided. You can find a map of the area and reserve your spot online.
10 a.m.-noon Saturday
Berman Subaru of Chicago, 4330 W. Irving Park Road
Play with pups, make crafts, enjoy refreshments and giveaways and more at this family-friendly pet adoption event with the Anti-Cruelty Society. Donations are welcome.
6-8 p.m. Saturday
Athenaeum Center for Thought and Culture, 2936 N. Southport Ave.
This Kathak performance, a form of Indian classical dance, will feature a poem called "Ehsaas" by Rupashree Mallick. Tickets for $20 are available online.
10 a.m.-noon Sunday
Museum of Contemporary Photography, 600 S. Michigan Ave.
South African visual activist and artist Zanele Muholi is celebrating the launch of their dot-to-dot workbook with this free workshop for children and teens. The workbook is filled with dot-to-dot images inspired by Muholi's photographic self-portraits. Seats are limited, so pre-registration is strongly encouraged. You can RSVP online.
4-6 p.m. Saturday
You Are Beautiful, 3368 N. Elston Ave.
This art show features local, national and international artists and their work with ceramics, paint, textiles, glass and paper. Admission to this "explosion of color and texture" is free, and you can RSVP online.
4-5:30 p.m. Sunday
South Shore Cultural Center, 7059 S. South Shore Drive
This music fest, sponsored by the Chicago Music Association, honors the late educator, choral director and pianist Irving Bunton. Choirs, soloists and instrumentalists will perform at this free-to-attend concert, including Warnell Berry, Michelle Manson and the Chatham Choral Ensemble. You can reserve a spot and donate online.
4-6 p.m. Saturday
Segundo Ruiz Belvis Cultural Center, 4048 W. Armitage Ave.
You can hear from Latin American film artists about their experiences behind the camera. The conversation will be moderated by film critic Alejandro Riera. You can get you free ticket and donate online.
6-8:30 p.m. Saturday
American Islamic College, 640 W. Irving Park Road
The Muslim Writers Collective in Chicago is hosting a "playshop" on how to keep bodies, minds and hearts nourished during Ramadan. Attendees are asked to bring one item, tradition or food that nourishes them. Attendance is free, but you must reserve your spot online.
10:30 a.m. (Spanish) and 12:30 p.m. (English) Saturday
National Museum of Puerto Rican Arts & Culture, 3015 W. Division St.
You can catch this conversation with Puerto Rican artist Raul Ortiz Bonilla in Spanish or English. Bonilla will share the inspiration behind his art and his approach to painting, which focuses on the use of dots. This event is free to the public, but you can sign up online.
10-11:30 a.m. Saturday
Starts at Equinox Lincoln Park, 1750 N. Clark St., and ends at Outdoor Voices Chicago, 841 W. Armitage Ave.
You can lace up your sneakers for a recreational run, walk or jog around the neighborhood this weekend, led by Team Equinox. Afterwards, you can try out sips from CulturePop, snacks from Theo's Plant Based and more. You can RSVP to secure your spot online.
11 a.m.-3 p.m. Saturday
Plant Chicago, 4459 S. Marshfield Ave.
There will be shopping, live music, food and more at this winter market by Plant Chicago, which features a rotating selection of local businesses. This weekend, you can shop Little Mama's Cookies, Cedillo's Fresh Produce, Soap Junkii LLC and more.
Plant Chicago will also have a plant swap and community compost collection. Find more information about those events on its website.
10:30 a.m.-12:30 p.m. Saturday
6314 N. Broadway Ave.
Gardeners can come out for planting, harvesting, watering, caring for the plant beds and more during this community garden work day. Attendees should bring gardening/construction gloves, loppers, heavy-duty snips, other garden tools, water and layers of clothes they don't mind getting dirty. If you are a new gardener but are interested in getting your own plot, you can fill out this form.
Listen to "It's All Good: A Block Club Chicago Podcast":