PORTAGE PARK — Teacher, mother and knitter Robin Hagen is combining her passions with her new knitting store.
Hagen is behind The Bloomin' Spindle at 5359 W. Irving Park Road, a knitting and crocheting shop and community space opening Friday.
The shop, painted light green to look like a French pastry shop, aims to enhance the Northwest Side fiber arts scene with knitting and crocheting classes and a variety of yarn for sale from independent makers, Hagen said.
Customers will be able to sit and knit, connect with likeminded crafters in the slow fashion world and have a safe space to share commonalities, Hagen said. Resident artists and Hagen will teach the classes, which vary in theme and experience level, she said.
Prices are still being finalized but will be comparable to other Chicago knitting stores, which charge $20-$50 for a few hours, Hagen said.
A beginner's crocheting class is the shop's first offering, and it starts noon Sunday. Wisconsin teacher and podcaster Sarah Korth will lead the session.
"People think that you go to a yarn shop to have a have a garment made or to buy a garment, and that really doesn't happen very often at all," Hagen said. "A yarn shop is a community."
Hagen has a background in knitting retail and about 10 years in adult education, so she combined her passions for her business, she said. She worked at Knit 1 in North Center for four years, teaching knitting and learning the industry's retail and business side.
Hagen stopped working there as classes went remote at the beginning of the pandemic, but she missed the in-person instruction and community, she said. She started considering opening her own shop and began looking at Northwest Side spots last year.
"When I found this place that was within my business budget, I realized I really had to just jump on it and just decide. … Things just kept falling into place," she said. "I finally just signed on the dotted line and got to work."
The store used to be barbershop Portage Gentlemen Shop, which moved to a larger space at 5128 W. Irving Park Road at the beginning of the year.
Hagen, of Mayfair, wanted a space close to home, the neighborhood park and Portage Park since she frequents the area regularly, she said. The corner is also far enough away from other North and Northwest Side knitting shops so as not to "encroach" on their hubs while offering more options for Northwest Siders, she said.
"I just love being an educator in the craft," Hagen said. "I want to always have an artist-in-residence here in the store — that's really important to me."
April's resident artist will be fiber arts teacher Grace Cocking, owner of Gnome Depot Fiber. Cocking will lead crochet classes and use the store's dye room for her yarn.
Also in the works is a "Dungeons and Dragons" knitting group for those who like to do the activities at the same time, said Hagen, who used to play the game.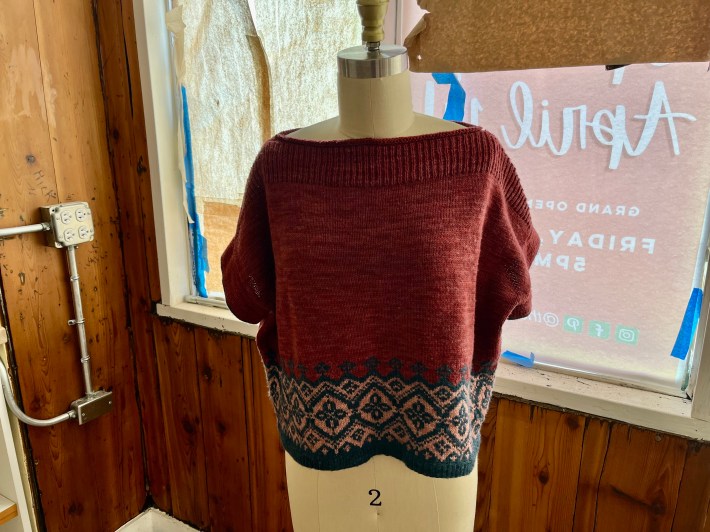 The Bloomin' Spindle will celebrate its grand opening 5-8 p.m. Friday. Neighbors can meet Hagen, get first dibs on discounted knitting supplies, enter a raffle and toast to the new business, she said.
"I want neighbors to feel comfortable just to pop in and say hello," Hagen said. "You don't have to be a knitter. You don't have to be making a purchase. I want to get to know the community."
As the space grows, Hagen plans to accommodate knitting circles, add library ladders on retail shelves as her inventory increases, install a faux fireplace to create a cozy atmosphere and sell tea and work by local fiber artists, she said.
"We'll charge occasionally for classes and special events and those kinds of things, but I really do want it to be a community space first," she said. "I want people to feel comfortable here."
The Bloomin' Spindle will be open 10 a.m.-5 p.m. Wednesday-Saturday and noon-5 p.m. Sunday-Monday.
Listen to "It's All Good: A Block Club Chicago Podcast":