IRVING PARK — An Irving Park animal rescue can continue providing emergency medical care for a badly injured pitbull puppy thanks to donations from Chicagoans.
Neighbors have donated more than $8,000 to help Cody, a 4-month-old pitbull puppy who was brought last week to Famous Fido Rescue Adoption, Wellness and Learning Center, 3124 W. Irving Park Road. He was found tied to a pole outside a Rogers Park 7-Eleven before being brought in.
Cody was extremely nervous and malnourished, and he had cigarette burns, protruding ribs and overgrown nails, founder Gloria Lissner said. 
Cody is beginning to recover, having gained 4 pounds since receiving medical treatment, Lissner said. He's also getting "friskier" and can often be seen wagging his tail, Lissner said.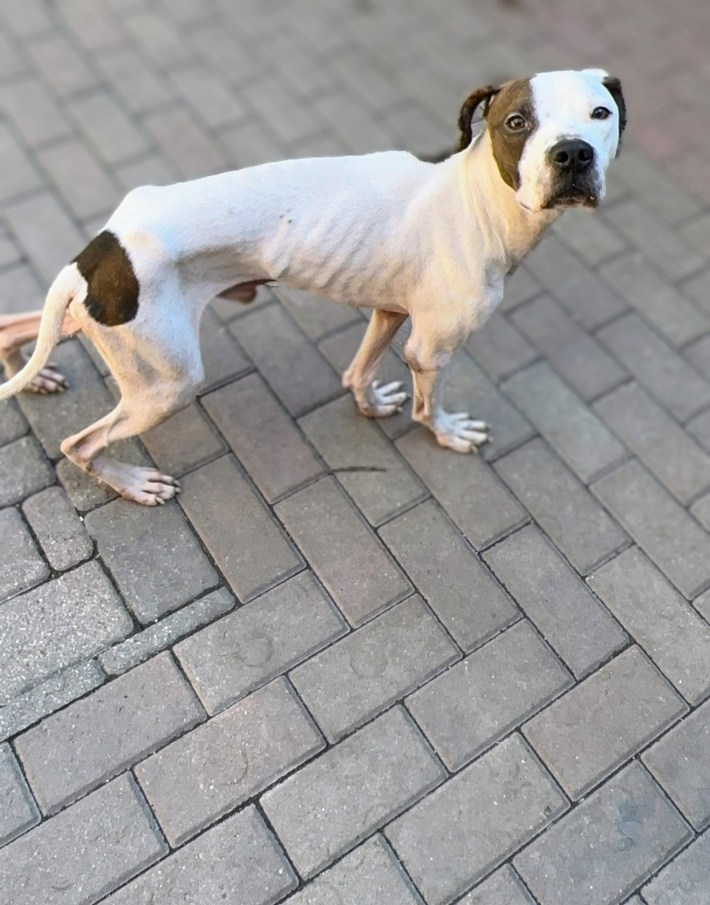 "I'm overwhelmed and grateful to everybody caring for this dog [since] I've seen where he came from, how somebody abused him and left him tied up," Lissner said. 
There already have been inquiries from people interested in adopting Cody once he's recovered, Lissner said. People interested in adopting Cody can submit an online adoption application.
People can also send Cody a care package by shopping from his Amazon wishlist set up by Famous Fido.
Lissner said she hopes people moved by Cody's story also feel compelled to help the many other animals at Famous Fido that have similar challenges and need just as much support.
"There's so many more that are here … that nobody sees, so it's heartbreaking," Lissner said. "But for the support of Cody, we really hope it brings more awareness to what's happening with these animals, because it's not good."
Famous Fido isn't an open-door shelter, but it regularly receives animals like Cody through emergency situations, Lissner said. The rescue also recently took in a pregnant calico cat and another pitbull, while other animals have been at the rescue for years, Lissner said.
Famous Fido also sometimes helps neighbors who are struggling to keep their pets, Lissner said.
"There's just not enough places for the animals to go to," Lissner said. "Really what it is, is the people have to help when it comes across their path and try to find some solutions, not just take them to the shelter automatically."
Before taking an animal to a shelter, Lissner said people should try to figure out if the animal already has a home and if it has a microchip that can be traced to a family.
Shelters and rescues are often at capacity, and animals can sometimes be in danger of being euthanized if shelters without "no-kill" policies are struggling with a lack of space, Lissner said. 
"There's not enough people fighting for these animals, and we're doing the same thing continuously taking them, putting them into shelters. They're going to die in certain shelters, and people aren't taking responsibility, just giving the animals up because of some inconvenience that somebody possibly could solve," Lissner said.
"Abandonment is not acceptable, and if we don't change that way of thinking and create a new way of thinking, these animals aren't going to be saved."
You can find out more about all of Famous Fido's adoptable animals on its website. Animals who need forever homes include seniors dogs Elmo and BeeGee, as well as kittens Lily and Jupiter.
Famous Fido is still accepting monetary donations and to its Amazon wishlist.
If adopting isn't an option, well-wishers can consider volunteering or sponsoring an animal by donating monthly to its care until it find their forever home, according to the animal rescue's website.
Watch our "On The Block" TV show on The U, CW26 and MeTV.
Listen to "It's All Good: A Block Club Chicago Podcast":