LOGAN SQUARE — A large grocery store, more retail and fewer micro-apartments are just a few items on Logan Square residents' wish list for Milwaukee Avenue.
City officials and local leaders are asking residents to sketch out their vision for Milwaukee Avenue under a plan that would make a Logan Square and Avondale portion of the 11-mile diagonal thoroughfare — between Western and Ridgeway avenues — a "special character overlay district."
The plan, driven by the city's Department of Planning and Development and local alderpeople, is meant to preserve the corridor's character and give the community a greater voice in development.
The city has "special character overlay districts" along stretches of Norwood Park and Sheridan Park and portions of Roscoe Street, Southport Avenue and Longwood Drive.
RELATED: Logan Square's Milwaukee Avenue In Line For Special Zoning Designation To Preserve 'Unique Character'
Such districts give residents more input in matters of zoning and development. City officials work with residents to develop design and land-use guidelines for developers or property owners who overhaul sites along the corridor.
"It's about having a conversation within our community to figure out how can we implement a zoning overlay and policies for Milwaukee Avenue that move our neighborhood forward," Ald. Carlos Ramirez-Rosa (35th) said.
"[It's] to ensure that we're tracking investment, that we're supporting neighborhood businesses, that we're supporting new and longterm residents, that we're supporting the beautiful fabric of main street in Logan Square and Avondale."
Parts of Milwaukee Avenue have seen a flurry of development in recent years as Logan Square and Avondale has gentrified, while other parts have languished due to vacancies.
There are 16 "recent" developments and 956 residential units along the corridor, city planners said.
In the first focus area, from Talman to Campbell avenues, there are a few large development opportunities, including Family Thrift, which shut down after a gas leak, the former Farmer's Produce and the former CVS, according to a city presentation this week.
The second focus area, stretching from Sacramento to California avenues, has seen an influx of development over the past decade, with the construction of luxury apartment towers such as the NoCa Blu micro-apartments and MiCa Towers. Other developments planned for the stretch include the Project Logan apartments and Mexican restaurant Federales.
The third focus area, from Central Park to Kimball avenues, has the highest number of vacant storefronts, according to the presentation.
The entire corridor has 124 character buildings, or buildings that have architectural features and details that "define the built environment of the corridor," compared to 111 non-character buildings, according to the city.
In creating a "special character overlay district," city officials are asking residents what kinds of development they'd like to see on the Milwaukee Avenue stretch — and how best to preserve the street's "character buildings."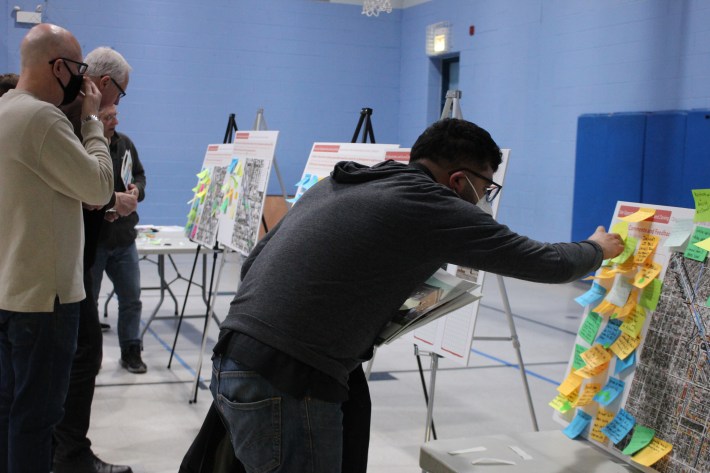 About 60 residents weighed in at a community meeting Wednesday evening at Avondale-Logandale Elementary School, 3212 W. George St., the second meeting to discuss the special district.
For some residents, boosting Milwaukee Avenue's retail landscape is a priority.
"You want to be able to go to the little stores and talk to the shop owners," 10-year resident Marcy Marzuki said. "Let's bring that commercial idea back as much as we can. I know people say it's all going to be big box stores, but let's buck that trend."
Greg Hare, a Logan Square resident of five years, said there are too many empty storefronts.
"The vacancies, from where I sit, is the No. 1 issue. It makes the area look rotten; it's an optics thing," Hare said. "If they're empty, there's nobody making any money there. They're not paying any taxes. … The buildings aren't maintained when they're vacant, they just slowly decay."
Marzuki and Hare said the vacant CVS lot at 2065 N. Milwaukee Ave. is primed for redevelopment. Independently owned grocery store Farmer's Best Market was eyeing the site, but plans have stalled.
Hare said a large grocer there would be ideal.
"I don't want to see a 40-story residential building go there. I'd like to see things that kinda look like they belong on the street — things that everyone, not just the 10 people who live there, can enjoy," Marzuki said.
On residential development, Betsy Elsaesser, a resident of Logan Square for 40 years, said the street needs more family-oriented housing.
"I don't want to see another high-rise studio/one-bedroom building because I know there's a lot of young people who come in and out of the neighborhood, but those are not the family homes we need more of," Elsaesser said.
The city plan is in the early stages and requires City Council approval. A third community meeting will be held in a couple of months as city officials continue to collect feedback via the project website. The city hopes to wrap up the planning process in the fall.
For more information about the plan, go here.
Watch our "On The Block" TV show on The U, CW26 and MeTV.
Listen to "It's All Good: A Block Club Chicago Podcast":