WEST HUMBOLDT PARK — The family of a delivery driver who was badly wounded last month in a West Humboldt Park shooting is asking for help to pay for his recovery.
Humboldt Park native Mario Ruiz Jr. was shot in his legs Feb. 2 while delivering pizzas for Congress Pizza in Belmont Cragin, Ruiz and police said.
Ruiz was delivering the last pizzas of the night about 10 p.m. in the 3600 block of West Iowa Street when someone attacked him, Ruiz and police said.
The 40-year-old father of five said the address he was sent to didn't seem to exist, and when he called the number listed on the order, a "very muffled" voice answered. About 15 minutes later, a man wearing a hoodie and a mask came out of a nearby building and demanded Ruiz's belongings, Ruiz said.
Ruiz gave up the pizzas and the money in his pockets — $20 in singles — but wouldn't give up his phone, he said. A struggle ensued, and Ruiz tried to take his attacker's gun, he said.
The man shot Ruiz in his legs, leaving Ruiz "screaming and crying" from pain, Ruiz and police said.
"It's a pain I don't wish upon anybody. It's crazy," Ruiz said.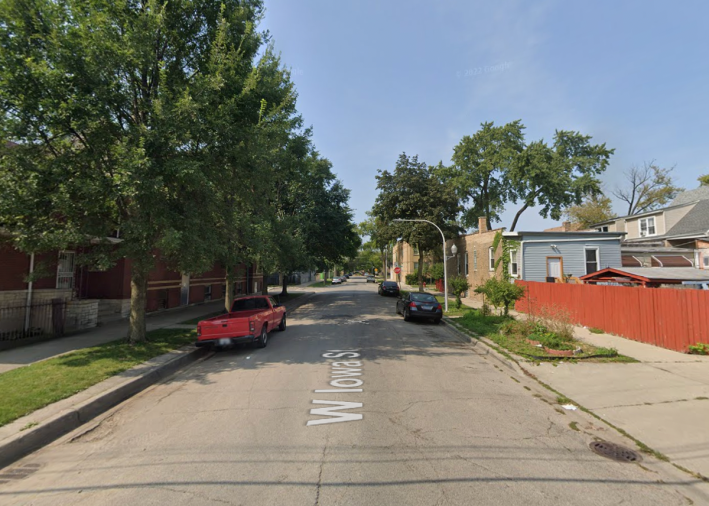 Ruiz was taken to Mount Sinai Hospital and rushed into surgery.
Since the shooting, Ruiz has undergone another surgery and spent some time in a rehab facility, learning how to use a wheelchair.
Doctors expect Ruiz to walk again, but only after more physical therapy and possibly with help from a cane, he said.
"Hopefully I'll be able to walk OK because my leg — it doesn't look like it'll ever be the same. I got a titanium plate inside one of my legs," he said.
No one is in custody, and police are continuing to investigate, police said Wednesday.
Ruiz recently moved into a nursing facility for medical care and steady meals while he's out of work. He was barely scraping by as a pizza delivery driver, and his future is even more uncertain after the shooting, he said.
Ruiz is also struggling to get benefits through workers compensation, said his attorney, Andrew R. Cobb.
"I know a delivery driver isn't the greatest job, but it was feeding me, it was getting me by — kind of — and now I have nothing. I have no way of making money, so I don't know what I'm going to do," Ruiz said.
Ruiz's family started a GoFundMe, which had raised more than $10,000 as of Wednesday. He plans to use the money for costly medical bills and his living expenses, he said.
"Right now, I'm depending on strangers to get by. If not for that, I would've lost everything," he said.
As bills mount, and as Ruiz recovers, he said he's anxious for justice.
"The guy came in and out of this building, so I think he has a connection with this building, and there's a police camera right across the street, and nothing's been done," Ruiz said. "It's not fair. How is that fair? Not only that, but it's dangerous. If you could get away with that, it would just make me think he's just going to do it over and over again."
This is the second time Ruiz has defended himself in an armed robbery, he said.
Someone also tried to rob Ruiz in 2012, he said. Ruiz fought back with a pocketknife, and the attacker's gun didn't go off. The incident left Ruiz with arthritis in his fingers, he said.
Since then, and as a result of other medical conditions and challenges, Ruiz said he's had a difficult time holding down a job and providing for his family.
"Everybody says I should've just gave him the phone, but that phone — it was mine, I worked for it. Whatever I made that day, that's what I had. If I made $120 that day, about $30 of that goes into gas, then the rest is what I ate … and bills," he said.
"I couldn't afford to give him my phone. How was I going to buy a new phone? Where was I going to get $100 from?"
Listen to "It's All Good: A Block Club Chicago Podcast":