CHICAGO — Brandon Johnson and Paul Vallas gave a glimpse into how long they want to remain in office if elected mayor during their final forum just days before the April 4 runoff.
The two candidates participated in a forum Thursday hosted by WBEZ, the Chicago Sun-Times and The University of Chicago's Institute of Politics. WBEZ's Sasha-Ann Simons moderated the hour-long event.
Vallas, a former Chicago Public Schools CEO, said he would only be interested in serving two terms as Chicago mayor, saying he supports term limits. Cook County Commissioner Johnson said he would serve "as many terms as necessary to bring a better, stronger, safer Chicago."
The two candidates didn't stray far from previous talking points, but during a lightning question-and-answer segment they revealed they would support safe spaces for weed use — but took different stances on their plans for health Commissioner Dr. Allison Arwady.
Arwady, who led the city through the pandemic, said in an interview with WBEZ earlier this month she'd like to stay on with the next administration.
RELATED: Paul Vallas Or Brandon Johnson Will Be Chicago's Next Mayor. Where Do They Stand On The Issues?
Vallas was quick to say he'd keep Arwady, while Johnson said he would not.
"We have different views of public health. So no. She will not stay on in my administration," Johnson said.
Arwady came under fire in 2021 for opposing the re-opening of mental health clinics that were closed under former Mayor Rahm Emanuel. She said they could sap resources from the city's plans to create trauma-informed care in every community area.
Johnson did not say why he would oust Arwady, but he previously indicated in a candidate survey with the Sun-Times that he supported reopening those closed mental health clinics — which Vallas had also indicated.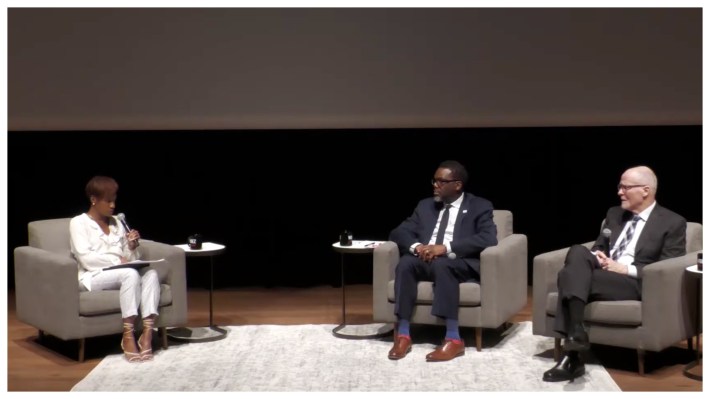 Both candidates were also asked to comment on the historic indictment of former President Donald Trump by a New York grand jury Thursday.
Johnson called Trump administration the "most corrupt" in American history, and he noted an education advocacy group founded by Betsy DeVos, Trump's education secretary, has donated to Vallas.
Devos has "inserted herself and her resources into my opponent's coffers," Johnson said.
Vallas denounced any connection to DeVos and said he's a "lifelong Democrat." His campaign issued a statement Thursday saying it would "would strongly reject any endorsement from Betsy DeVos."
"I've never had any conversations or contact with Betsy DeVos, and our campaign has not received any money from her. … Let me point out that Brandon, you're still a paid lobbyist for the Chicago Teachers Union," Vallas said.
The teachers union has been the biggest financial backer for Johnson, a former CPS teacher. His campaign has received more than $2 million from the CTU.
Vallas said the indictment for Trump showed "no one is above the law."
"I think there's going to be more indictments coming down the road. … At the end of the day, justice needs to be served," Vallas said.
The candidates were also asked how they would address service issues on the CTA, such as safety and unreliability.
Vallas said he's talked with CTA workers, who told him issues with public safety are why ridership is "significantly down" and why the agency can fill vacancies.
Vallas said he would end the private security that patrols the CTA and replace them police officers. When pressed about how he would address other issues relating to reliability and staffing, Vallas said people don't want to work for the CTA because of crime.
Johnson said he would make sure CTA gets back on schedule, which would help combat violence. He also wants to access to mental health resources for unhoused people who frequent the CTA, he said.
Each candidate was also asked to share what their "blind spots" were and how they would address them in office.
Johnson said he is very critical of himself, saying he's a true "middle child" and grew up with a father who rarely took any sick days.
"Look, I'm raising a family and I give a lot of myself. It's a concern that my wife has. No one works harder than me," Johnson said.
Vallas claimed his blind spot is "really the fact that there's a lot that I don't know."
"But I think my great strength is knowing what I don't know. And going out and finding people who know what I don't know and then bringing them in and empowering them to make decisions," Vallas said.
The election is Tuesday.
See Block Club's full roundup of mayoral endorsements here.
Subscribe to Block Club Chicago, an independent, 501(c)(3), journalist-run newsroom. Every dime we make funds reporting from Chicago's neighborhoods.
Click here to support Block Club with a tax-deductible donation. 
Thanks for subscribing to Block Club Chicago, an independent, 501(c)(3), journalist-run newsroom. Every dime we make funds reporting from Chicago's neighborhoods. Click here to support Block Club with a tax-deductible donation.
Listen to "The Ballot: A Block Club Chicago Podcast":