WEST TOWN — One woman's search to meet more queer women in Chicago has grown into a group hosting alcohol-free events and gatherings for women who love women to connect platonically and romantically. 
West Town resident Daniela Cabada, 25, launched the Lez Get Together Collective in January after sharing a TikTok about making queer friends during a night out. Her post generated eager responses from other queer women and lesbians longing for more ways to connect outside of the usual nightlife scene.
In February, three weeks after posting the TikTok, Cabada launched the collective's first event, a mixer at a sunny loft space in Pilsen. About 150 people attended the event, enjoying elaborate charcuterie boards and sipping on artisanal mocktails, sodas and alcohol-free beers. Because Cabada wanted a social space without a focus on alcohol,  attendees ranged from their late teens to early 50s.
After that successful outing, Cabada has Lez Get Together events planned for this weekend and in April.
"I really do feel like I'm dreaming. I worked so hard to plan this event," Cabada said. "At the event, people were coming up to me and telling me how much these spaces meant to them."
Cabada, who grew up in Calexico, California, came out as a lesbian last year when she was 24. Growing up, she felt isolated because of her queer identity and yearned for a sense of community, she said. 
"I had no one in my surroundings that I knew was gay," Cabada said. "I didn't have a queer community there for me." 
Cabada's loneliness grew when her relatives didn't accept her when she came out, she said.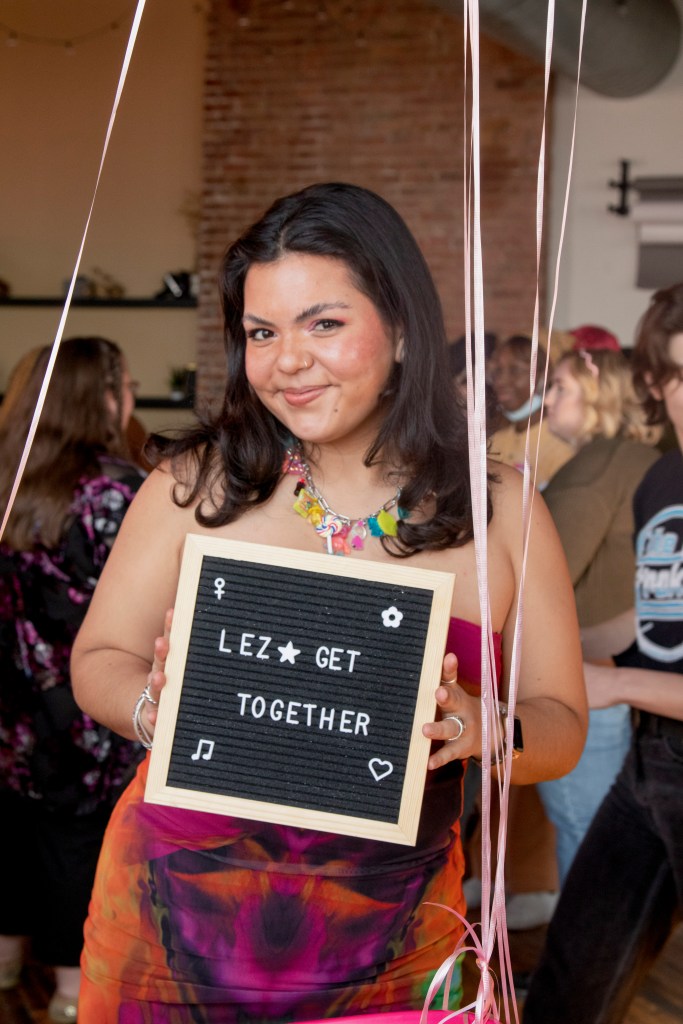 Cabada moved to South Bend, Indiana, for college, then moved to Chicago in 2019. The search for a found family of other queer women was a major motivator for Cabada to launch Lez Get Together, she said. 
As Cabada explored Chicago's LGBTQ+ scene, she found the majority of the spaces were bars or nightclubs that usually catered to queer men. In the lesbian socials Cabada did attend, she felt that platonic connection was on the backburner, she said. 
There is a strong connection between LGBTQIA+ community, nightlife and the bar scene, in large part because nightlife long provided the only safe spaces for queer people, said Antonio Santos, a leader in queer education and executive director of the Gage Park Latinx Council. 
"Queer bars have been and will always be an essential part of queer community's history and are an excellent way for many to come together and experience joy, something that all too often can't be done in mainstream environments," Santos said. "However, the centralization of communal spaces being closely tied to the consumption of alcohol does present a problem for many LGBTQIA+ people living in sobriety, [as well as] people under the age of 21." 
A moment that inspired the idea for the group began when Cabada made a solo outing to the Dorothy, one of the only lesbian bars in Chicago, she said. 
"I made a TikTok about going to the Dorothy by myself and taking a book, and it being really daunting because I'm sitting at a bar by myself," Cabada said. "Somebody else comes and sits next to me, and they're also by themselves, and then a third person comes in. The three of us just ended up spending the rest of the night together. We got very platonic, and that's what I was craving."
Cabada's TikTok was viewed by 30,000 people. People who commented echoed Cabada's desire for platonic, lesbian fun. 
"I said, 'You know what, why are all the spaces bars, and why are all of the events revolving around romance? Why can't we just have a space that is not alcohol-focused?'" Cabada said. "Our identity is so often reduced to pure sexuality. And I understand, but being sapphic and being queer is so much more than who I'm attracted to. It's who I am."
The word sapphic is derived from the Greek poet Sappho, resident of the Aegean island Lesbos. While the words sapphic and lesbian, as well as the acronym WLW for women-loving-women, center queer women, they also expand to encompass gender non-conforming and non-binary people who identify with these labels. 
Cabada, who works in consulting, has often planned dinners, holiday parties and other social events at work, which lent itself well to event planning for Lez Get Together Collective, she said.
To pull together the collective's first mixer, Cabada found an event space and created the collective's social media accounts, mission statement, website and logo. She put all the expenses on her credit card and hoped she would break even from tickets, which she sold for $25. Cabada's friends were integral in bringing the event to fruition, as they DJ'd, took photographs, decorated and checked in guests at the door. 
Several attendees at Lez Get Together's mixer were younger than 21. Bless H., a 20-year-old from suburban Evanston, learned about the mixer from Cabada's TikTok and bought her ticket immediately, she said. 
"I wanted to meet more POC in the community. I work from home, so my ability to see other people is low," Bless said.
Bless felt she could more intimately connect with the other guests without the use of alcohol, she said. 
"People were saying that they were feeling nervous, but it was nice to see that everyone was completely present," she said. 
AJ Black, a friend of Cabada's who also attended the mixer, said it was valuable to offer an alcohol-free space.
"I'm all for queer groups meeting in non-drinking atmospheres, first of all for accessibility and inclusion. We love our friends that don't drink alcohol. But also the practice of having social interactions without being under the influence is good for everybody," Black said.
Maddie Willis, 22, also learned about Lez Get Together through TikTok, she said. Willis attended the mixer looking for platonic and romantic connection, and she was intrigued by Cabada's mission to form community outside of bars.
"As a queer woman, there's not a lot of space for us," Willis said. "There are already so many spaces for men in the world. When you narrow it down to being a queer woman, the amount of spaces gets even smaller.
"It was comforting to see that there were so many other queer people in Chicago, in a range of ages, all looking for friendships and community. I'm not the only person feeling like I don't have enough queer people in my life – a lot of people were all there looking for the same thing."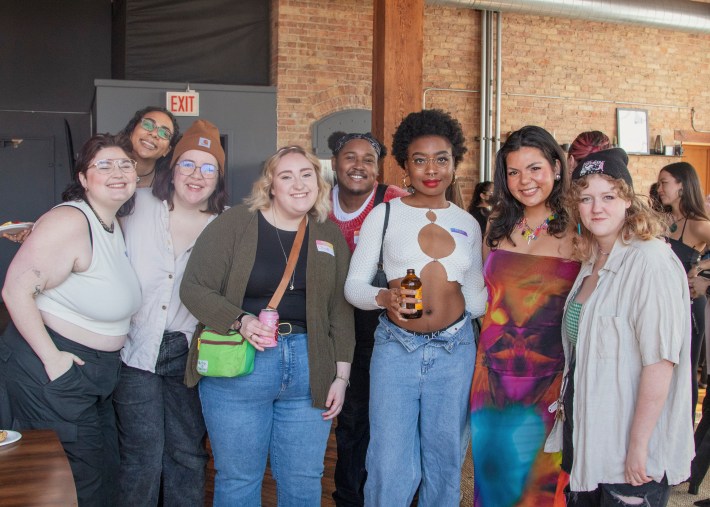 Lez Get Together's second event. Yoga, Mindfulness and Refreshments, is 11:30 a.m.-2 p.m. Saturday at The Groove Chicago, 2920 N. Pulaski Road in Avondale. Cadaba, who earned her yoga certification in Guatemala, will lead the class in yoga and guided meditation. 
The event features two consecutive classes and is open to "all levels and bodies," Cabada said. Attendees are invited to mingle over mocktails before and after the yoga class. 
Tickets are $25 and available on the collective's website. 
A second mixer is 12:30-3:30 p.m. April 15th at 600 W. Cermak Road. Tickets are on sale for $25 for a limited early bird special, and they will later sell for $30 through the collective's website. 
Cabada said she hopes to have the large mixers occur monthly with smaller, more intimate meetups in between. Cabada dreams of hosting Lez Get Together pop-ups across the country, especially in small towns where queer people feel overlooked or uncomfortable, she said. 
Lez Get Together Collective welcomes all queer women and sapphic people 18 and older to attend their events, Cabada said.
"Queer community is just so integral to individuality and the success of being your true self and being happy," Cabada said.
Listen to "It's All Good: A Block Club Chicago Podcast":