PRAIRIE SHORES — The colossal effort to transform the former Michael Reese Hospital into a cultural destination with a pavilion, welcome center, housing and retail moved forward as city officials kicked off the project's groundbreaking Wednesday.
Mayor Lori Lightfoot, outgoing Ald. Sophia King (4th) joined developers Zeb McLaurin and Scott Goodman, Plan Commissioner Maurice Cox and Transportation Commissioner Gia Biagi for the milestone event at Prairie Shores, 2937 S. King Drive.
The hospital, which closed in 2009, once was eyed as a site for the athletes village when Chicago bid for the 2016 Summer Olympics.
The city chose GRIT Chicago, a coalition of developers led by Farpoint Development, to overhaul the Michael Reese site in 2017. The project has been branded as the Bronzeville Lakefront.
Noting the challenges of determining a use for the former Michael Reese Hospital site once the city's Olympic dreams were dashed over a decade ago, the mayor thanked Deputy Mayor Samir Mayekar, city officials and developers for their efforts to get the $3.8 billion mixed use project off the ground.
"I think what we've seen, not only over these last four years but throughout our entire history, is that in Chicago when we see a big challenge we rally together and we figure out how to overcome that challenge. Such was the recent history of this site," Lightfoot said.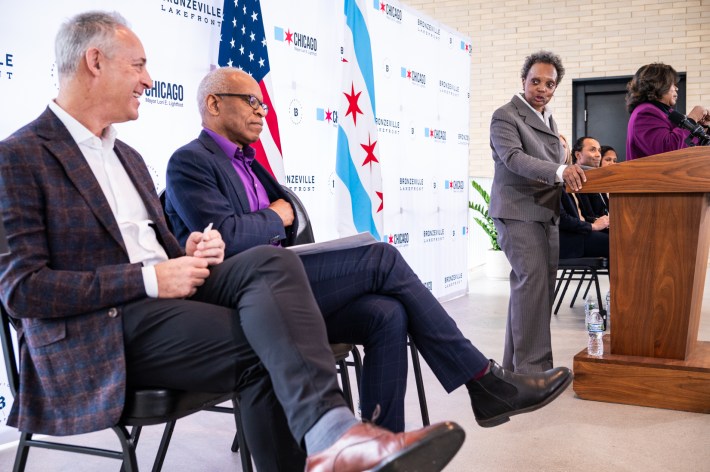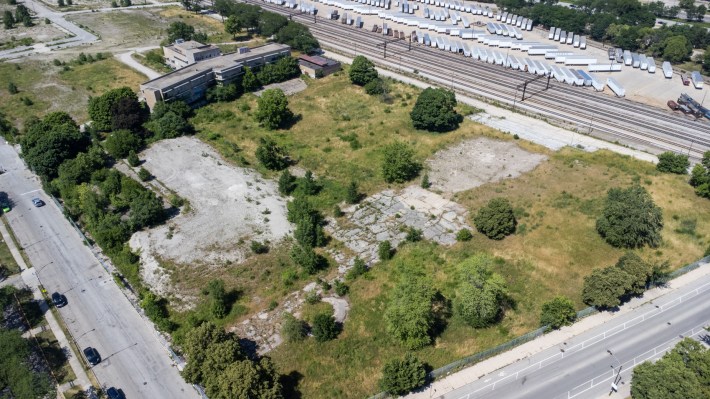 The ambitious undertaking is the first to be helmed by predominantly Black-led development firms. Loop Capital, McLaurin Development Partners and Bronzeville Community Development Partnership — along with Farpoint Development — make up GRIT team, the acronym standing for, "Get Ready It's Time."
The project dovetails with efforts to transform Bronzeville into a destination hotspot as the community was designated a national heritage area in December. The act will help preserve over 200 cultural assets in the district, including the Monument to the Great Migration, which is near the site of the megadevelopment.
Construction on the 100-plus-acre site will happen in phases over the next 14 years, beginning with a 500,000-square-foot life sciences center, a Bronzeville Welcoming Center, senior housing and a rehabbed Singer Pavilion. Office and retail space are part of the plan as well, with a focus on supporting local Black entrepreneurs.
About $60 million in city funding will go towards infrastructure work already in progress to create over 9 acres of green space, raised, off-street two-way bike lanes and sidewalks. Additional plans call for a roadway network throughout the site, a new Metra station and new and improved sections of 26th, 27th, 29th, and 30th streets between Lake Park Cottage Grove Avenues. 
"This infrastructure program is just beginning. I'm thankful for [Lightfoot's] laser-like focus and vision on creating a spotlight on disinvested communities, on raising the bar and challenging us as owners and developers and investors to participate in that vision and bring about equitable change to the marketplace," said McLaurin, whose firm is also developing a $15 million business incubator in Englewood.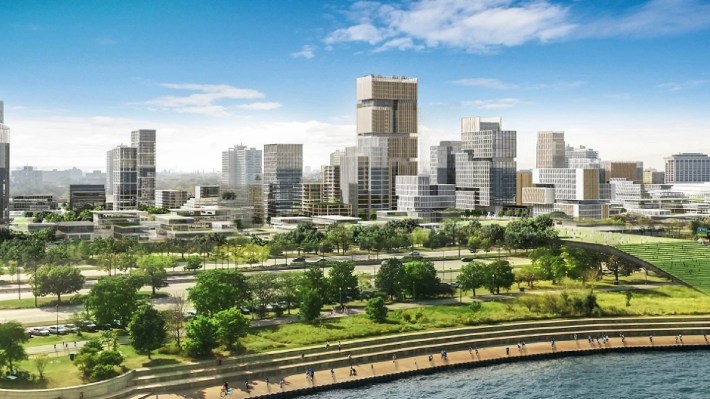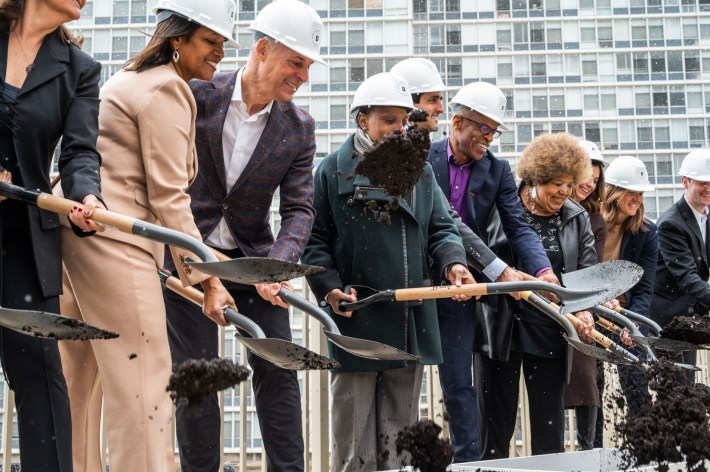 McLaurin and others see Bronzeville Lakefront boosting the community's coffers, bringing 20,000 temporary and permanent jobs to the area — including participation by at least 30 percent minority-and 10 percent women-owned business enterprises on all construction. To that end, GRIT is releasing innovative bid packages to encourage minority involvement, McLaurin said.
The team estimates the development will create $3.1 billion in new property tax dollars.
The project is at the center of a $15 million lawsuit filed earlier this month by King Sykes LLC accusing city officials — including Lightfoot, King and Farpoint Development of blocking plans to sell a 6.5-acre parcel of land adjacent across from the former Michael Reese site to a data center operator.
Watch our "On The Block" TV show on The U, CW26 and MeTV.
Listen to "It's All Good: A Block Club Chicago Podcast":