PILSEN — Paul Vallas on Monday again defended his claim that hundreds of retired officers will return to the Police Department if he is elected mayor, despite similar efforts in other cities falling short.
Vallas also said he'd fire CTA President Dorval Carter and has "no intention" to raise property taxes if elected mayor.
Vallas made the remarks in an hour-long interview Monday as part of Block Club Chicago's The Ballot Live series hosted by Laura Washington, an ABC 7 political analyst, Tribune columnist and Block Club board president.
A former Chicago Public Schools CEO, Vallas is facing Cook County Commissioner Brandon Johnson in the April 4 runoff election. Johnson was interviewed March 15 as part of the The Ballot Live series.
Watch the interview:
At debates and on the campaign trail, Vallas has asserted he'd fill Police Department vacancies by rehiring hundreds of retired officers and those that have transferred to other municipalities. Officers will be eager to return to Chicago when he's mayor because of new department leadership and more consistent schedules, he's said.
Vallas has also pledged to restore "beat integrity" for officers, meaning they would be regularly assigned to the same neighborhood. With these changes, fewer officers would retire early or transfer out of the department, Vallas said.
"They aren't confident in leadership," Vallas said Monday. "So you restore morale, you slow the exodus, that'll allow you to begin to replace those who have left."
Reporters have pressed Vallas for weeks for data to back up his claim that retired officers will return if he is elected.
Similar efforts in Los Angeles and Portland, Oregon, have been unsuccessful, according to a report last week by WTTW News. Johnson called the idea "ridiculous" last week.
Vallas has said he's heard from retired officers through his work as a consultant for the Fraternal Order of Police during recent contract negotiations to back up his claim. The police union has endorsed Vallas in the mayoral race.
"We know, because we've put together a list of retirees, and there's a list of officers who would like to return," he said. "I'm confident that we will be able to improve the situation, but you've got to, you have to push the existing officers down to the local beats now."
Listen to the interview:
Asked to confirm Vallas "has a list" of officers who would return under the conditions he mentioned, Vallas said he was referring to a list kept by the Fraternal Order of Police of retired officers.
Vallas has centered his mayoral campaign on public safety, including on the CTA, which has faced problems with crime and scheduling in recent years.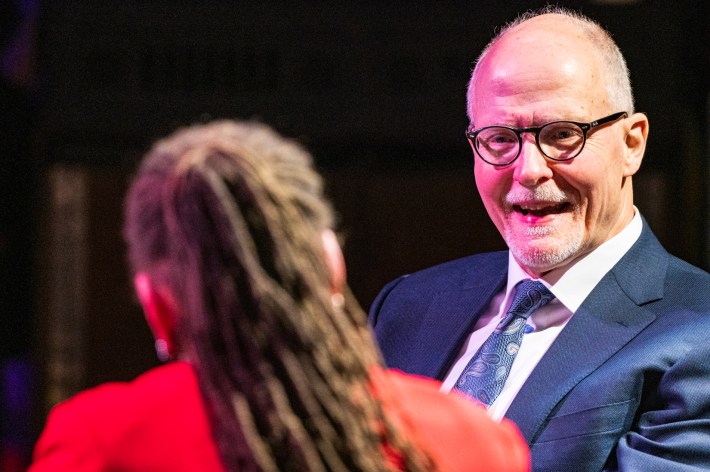 Vallas has said he'd replace the transit system's private security force with a dedicated unit of sworn officers to bring back ridership, which has dropped dramatically during the pandemic.
Vallas also committed Monday to firing CTA President Dorval Carter, who has faced searing criticism from alderpeople and travelers over inconsistent train and bus schedules and system conditions.
"I would replace the leadership at the CTA," Vallas said.
Vallas endorsed a series of other stances Monday, like establishing ranked choice voting ahead of the next mayoral election and providing reparations for Chicago's descendants of enslaved people.
Vallas also said he supports the concept of universal basic income but called the city's pilot program "ineffective."
"I support … universal income level in principle, I just think that the program needs to be reimagined, and because again, there's very little participation in the program, it has been designed as a one-off program," he said.
Mayor Lori Lightfoot's administration launched its Chicago Resilient Communities pilot last year, which is similar in many ways to universal basic income. Funded through federal COVID-19 relief dollars, each participant receives $500 a month for one year. More than 175,000 Chicagoans applied for the 5,000 slots in the initial program, according to city data.
As for the Bears, whose owners have threatened to move the football team to suburban Arlington Heights from Soldier Field, Vallas said there are other, "massive" priorities to spend city dollars on.
"If the city's going to incur any long-term financial liabilities and debt, it should be the type of investments where you're going to realize return," Vallas said. Like "doing the type of infrastructure improvements and doing the type of environmental remediation in many communities on the South and West sides, to make those communities attractive to development, local development.
"I think it would be a higher priority than spending $2 billion on renovating a stadium."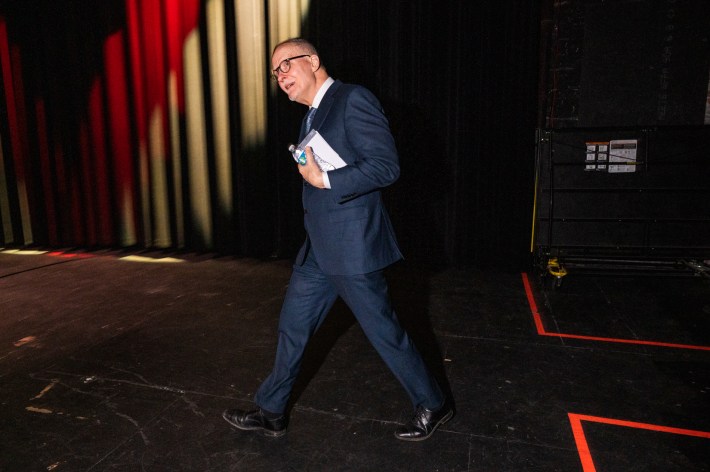 Vallas and Johnson have spent the past month campaigning across the city and snagging endorsements from public officials, unions and other groups.
Vallas' supporters include Sen. Dick Durbin, former Illinois Secretary of State Jesse White, retired Rep. Bobby Rush, former mayoral candidates Willie Wilson and Ja'Mal Green and a group of West and South side alderpeople.
Johnson has recently been backed by former mayoral candidate Rep. Jesús "Chuy" García, civil rights icon Rev. Jesse Jackson and various progressive alderpeople. Sen. Bernie Sanders is headlining a Thursday rally at the University of Illinois Chicago in support of Johnson.
Johnson was interviewed March 15.
The candidates will meet 6 p.m. Tuesday at CBS Chicago for their final televised debate before the April 4 election.
See Block Club's full roundup of mayoral endorsements here. Early voting is underway.
Subscribe to Block Club Chicago, an independent, 501(c)(3), journalist-run newsroom. Every dime we make funds reporting from Chicago's neighborhoods.
Click here to support Block Club with a tax-deductible donation. 
Thanks for subscribing to Block Club Chicago, an independent, 501(c)(3), journalist-run newsroom. Every dime we make funds reporting from Chicago's neighborhoods. Click here to support Block Club with a tax-deductible donation.
Listen to "The Ballot: A Block Club Chicago Podcast":