KENWOOD — A longtime 4th Ward official and a South Side state representative will face off next week to succeed Ald. Sophia King in City Council.
Rep. Lamont Robinson and Prentice Butler, King's longtime chief of staff, advanced to Tuesday's runoff to represent the Near South Side's 4th Ward.
Robinson took 46 percent of the vote in the Feb. 28 election, while Butler narrowly edged out Ebony Lucas with 15.2 percent of the vote to advance to the runoff. Butler and Lucas were separated by just 104 votes, election results show.
King gave up her City Council seat to make an unsuccessful bid for mayor.
The 4th Ward includes parts of Bronzeville, Douglas, Kenwood and the South Loop. It has long been considered as one of the city's progressive areas, and several well-known politicos — including county board President Toni Preckwinkle — cut their teeth there.
More on the candidates: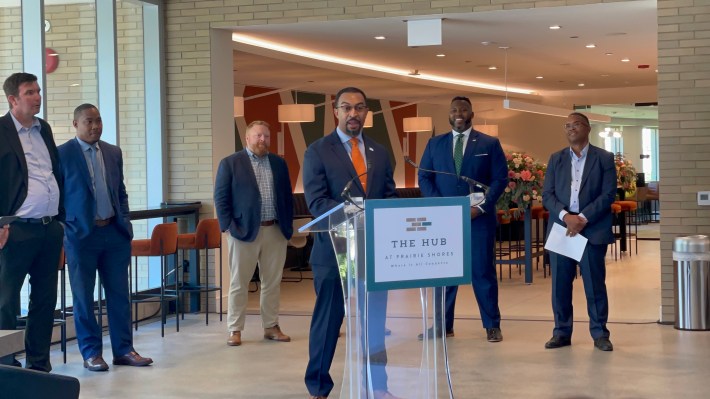 Prentice Butler
Butler has been a fixture in the 4th Ward office since 2011, getting his start under former Ald. Will Burns. He stayed on after Burns left for a job in the private sector and has spent the past several years working as King's chief of staff.
The former Boys Scouts of America executive has become known for his reliability and is often the first point of contact for constituents seeking assistance for ward-related issues, which his fellow aldermanic candidates noted earlier this month as they endorsed him at a news conference.
Butler previously said that, if elected, he hopes to build on the groundwork laid by his predecessor to ensure the 4th Ward continues to grow.
Butler sees city initiatives like the Neighborhood Opportunity Fund as lifelines for local entrepreneurs and wants them better funded, he said. He would also support increased funding for groups like the Quad Communities Development Corporation, a business development organization that focuses on North Kenwood, Oakland, Douglas and Grand Boulevard.
"We will continue to seek funding from national and state partners and support community development corporations as they continue to develop integrated and holistic programming that addresses economic, social and health issues that contribute to supporting thriving individuals and communities," Butler said.
The South Side native told the Chicago Maroon in a recent interview he hopes to replicate the success of the 53rd Street corridor, which has a mixture of small businesses and national chains.
In terms of public safety, Butler, a University of Chicago alumnus, said he supports the Crisis Assistance Response and Engagement program, which deploys mental health emergency teams instead of just police officers to help people in crisis. The pilot was scheduled to expand into the Near South Side this month. Butler said the expansion will come "at a future date."
Butler also has touted the success of the public safety pilot program the ward office launched last fall, in which teams of unarmed security professionals and violence interrupters patrol Grand Boulevard hot spots. While he didn't guarantee its return, Butler said he and his team will evaluate the program's impact to determine a future course of action for expanding violence interruption programs.
Another percolating issue is the controversial Near South Side high school planned for the neighboring 3rd Ward. Community advocates who have opposed it have said they are concerned the new school would siphon students and resources away from neighborhood schools in the 4th Ward and other nearby areas.
Butler said he'd push for reinvestments in existing neighboring schools before plans for the new school move ahead. He told residents at an aldermanic forum in January that he'd like to see a sustainability plan for Dunbar Vocational Career Academy and Wendell Phillips High School, both in Bronzeville.
"Our neighborhood schools need increased investments in music, arts and athletics programs. We must also see additional social workers, behavioral health specialists and nurses in all of our public schools," Butler said.
Butler is also in favor of expanding opportunities for students interested in the trades, telling the Maroon additional resources are needed to "market" Dunbar better so that it's a school of choice instead of a last resort.
In addition to Lucas, fellow 4th Ward challengers Tracey Bey, Helen West and Khari Humphries have thrown their support behind Butler for the seat.
Butler has received about $72,700 for his campaign, including $26,000 in backing from King, plus contributions from artist and professor Theaster Gates, restaurateur Erick Williams and actor Harry Lennix, public records show.
Lamont Robinson
Robinson has represented the 5th District since 2019 and was elected to his current term in November. His district overlaps with much of the 4th Ward, including parts of the Near South Side and Bronzeville.
Though some of Robinson's fellow candidates took issue with his decision to toss his hat in the ring for the 4th Ward post, he said in a recent interview he believes his experience in the Illinois General Assembly could greatly benefit the ward he's called home for five years.
As a state legislator, the Clark Atlanta University alumnus has focused on jobs, housing and other resources for the LGBTQ community, securing $15 million in state funding for a community center on the South Side. He plans to prioritize economic development once he's in office, saying he believes public safety issues could be remedied by strengthened commercial corridors.
Robinson said he agrees with Butler that a collaborative, multiagency approach to public safety is best. He told residents at a January candidate forum he believes in supporting violence prevention organizations doing the work.
Robinson said he's spoken with Cook County Sheriff Tom Dart to get more officers in the area for hot spots like Robinson Elementary, a well-known spot for drug activity. He said he's also reached out to University of Chicago and Illinois State Police for similar reasons.
"I understand that there are challenges, but there are other departments we can be leaning on to ensure we live in a safe community. That's something that, on the sidelines, I haven't seen happen. As the next alderman of the 4th Ward, I'm going to continue to be aggressive," Robinson said.
Robinson also wants to see "more investment" in the Invest South/West program and more small business support for entrepreneurs who want to expand, he said. Another item on Robinson's agenda would be creating a Bronzeville Chamber of Commerce to bring in additional resources and spur more community engagement, he said.
Robinson said he wants to strengthen block clubs, adding that he'll be meeting residents "where they are" — physically and virtually.
Noting the disparities between parks and schools in the northern end of the ward versus the southern end, Robinson said he plans to lean on the Park District and Chicago Public Schools to do their part to equitably invest in community facilities while using menu money to address the gaps — with the input of his constituents.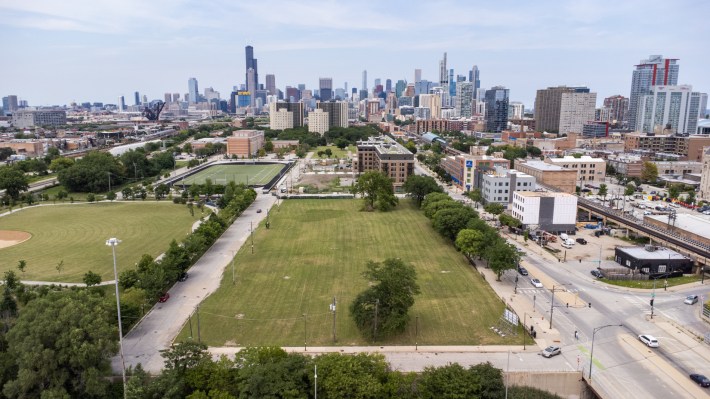 Robinson also believes neighborhood schools should be protected if the Near South Side community high school is built, he said. He said he plans to take a collaborative approach to get local businesses and unions to partner with the schools.
"As an educator, that is really the crossroads to what I see to public safety. If we are supporting our grammar schools and high schools, I believe that could quell some of the violence we're seeing," Robinson said.
Robinson, who made history as the first openly LGBTQ Black member of the Illinois House, has been endorsed by Gov. JB Pritzker, Sen. Tammy Duckworth and Preckwinkle — herself a former 4th Ward alderwoman.
The candidate has been accused of exaggerating his involvement with keeping Insight Chicago — formerly Mercy Hospital — open, engaging in a brief war of words with activists at an aldermanic forum who said they didn't see Robinson at protests.
"Those were supporters of my opponent, and while they were there, the opponent was not. That said, I'm grateful to them and the other organizations and residents who helped to keep the hospital open," Robinson said.
Robinson and Preckwinkle were recently named in a defamation lawsuit filed by Lucas, who said Preckwinkle used her power as 4th Ward Democratic Organization committeewoman to send out campaign mailers on Robinson's behalf accusing the real estate attorney of being "a slumlord."
Robinson disavowed knowledge of the campaign mailers, telling Block Club he had nothing to do with the matter.
Robinson has received about $594,000, according to public records. He moved about $68,500 from his state representative reelection campaign over to his aldermanic campaign and secured major backing from Service Employees International Union, fellow state Rep. Larry Walsh Jr., former Rep. Greg Harris and hedge fund manager Michael Sacks.
Subscribe to Block Club Chicago, an independent, 501(c)(3), journalist-run newsroom. Every dime we make funds reporting from Chicago's neighborhoods.
Click here to support Block Club with a tax-deductible donation. 
Thanks for subscribing to Block Club Chicago, an independent, 501(c)(3), journalist-run newsroom. Every dime we make funds reporting from Chicago's neighborhoods. Click here to support Block Club with a tax-deductible donation.
Listen to "The Ballot: A Block Club Chicago Podcast":