CHICAGO — Brandon Johnson and Paul Vallas are battling for key LGBTQ backing while trying to overcome criticisms about their records as the mayoral election enters its final week.
Chicago has a strong history of LGBTQ involvement in political races that has helped launch LGBTQ-identifying politicians and allies into office. An estimated 7.5 percent of adult Chicagoans identify within the LGBTQ community, according to a Health Department study published in 2018.
Johnson, a former school teacher and current Cook County Commissioner, and Paul Vallas, former Chicago schools CEO, have campaigned to earn LGBTQ people's votes.
Both candidates' LGBTQ platforms emphasize public safety, especially for trans and gender-nonconforming people. Johnson's plan focuses more on expanding social services, while Vallas' emphasizes devoting more city resources to LGBTQ-owned businesses.
Johnson detailed his plan at a virtual forum; in an interview with the Windy City Times, Chicago's LGBTQ newspaper; and on his website.
He's been backed by dozens of LGBTQ elected officials and community advocates, but he's also been criticized for accepting an endorsement from a local pastor who opposed same-sex marriage.
Vallas has also laid out his LGBTQ agenda on his website and held events with LGBTQ business leaders. However, he did not attend the LGBTQ issues forum or fulfill the Windy City Times' requests for an interview.
Still, Vallas has been backed by prominent LGBTQ elected officials, including Ald. Tom Tunney (44th), who defended Vallas' equal rights record earlier this month.
Mayor Lori Lightfoot, Chicago's first openly gay mayor, who lost her reelection bid, has not announced plans to endorse either candidate.
The runoff is April 4, and early voting is underway.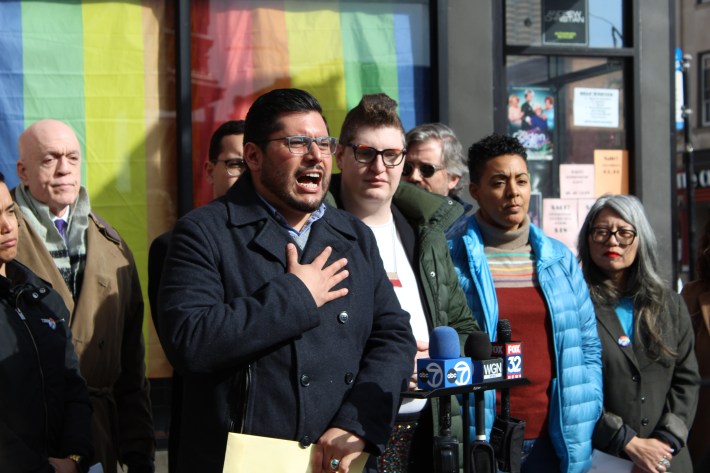 Campaigns Have Faced LGBTQ-Related Controversies
Bishop Larry Trotter, a South Side pastor at Sweet Holy Spirit Church, endorsed Johnson March 12, telling his congregation the candidate's plan was "fresh" and "new," according to the Sun-Times.
But Trotter was a vocal opponent of same-sex marriage in the years leading up to its legalization in Illinois in 2013. Trotter was among a coalition of faith leaders who rallied in Springfield against same-sex marriage, according to a 2013 Tribune report.
Johnson responded to concerns about this endorsement Wednesday during a virtual forum on LGBTQ issues hosted by people-of-color-led organizations serving LGBTQ people.
Johnson said he was raised by two pastors in one of the largest Black denominations in the country, but he can "recognize that within all of our faith communities, that there are elements of our faith community that they don't get it right."
"There will be times when people who are close to me, we will have disagreements, and there will be times when we will agree," Johnson said. "This is an opportunity to educate people and make people stronger and better, and we get to do that as a collective group."
The forum was co-hosted by Equality Illinois, ALMA, Affinity Community Services, the Chicago Black Gay Men's Caucus, Life is Work and TaskForce Prevention and Community Services.
Only Johnson attended, but both candidates were invited, said moderator Kim Hunt, executive director of Pride Action Tank and senior director of policy and advocacy operations at AIDS Foundation of Chicago.
"… You make of that what you want," Hunt said.
The LGBTQ forum was originally scheduled at the same time as the mayoral candidates' Fox Chicago debate, the latter of which Vallas planned to attend, his spokesperson said.
After the LGBTQ forum was rescheduled and switched to a virtual event, Vallas' campaign did not answer whether he would attend. After the forum, his spokesperson declined to say why he wasn't there.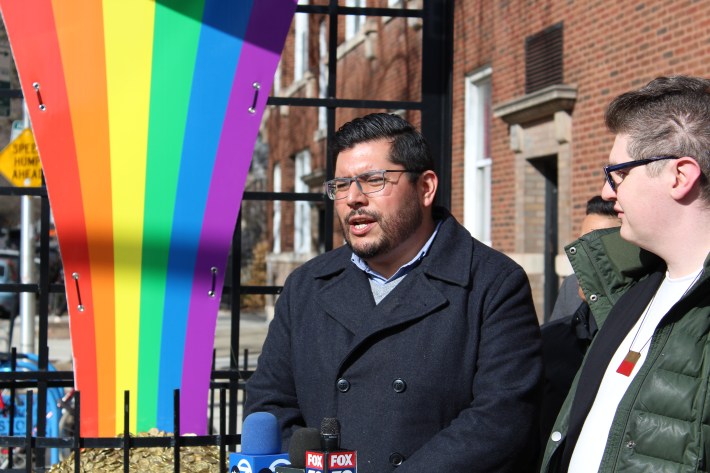 Vallas has come under fire after his Twitter account liked homophobic and racist posts, and after he spoke at a fundraiser for Awake Illinois, a group criticized for its transphobic and homophobic rhetoric.
Vallas told the Tribune he does not "personally manage" his Twitter account and later said a hacker liked the controversial posts. He also told the Reader he wouldn't have attended the Awake Illinois fundraiser if he'd known about its "hateful rhetoric."
A group of LGBTQ leaders, who held a news conference March 8 denouncing Vallas, said the actions were part of a lengthy history of anti-LGBTQ actions.
Ald. Carlos Ramirez-Rosa (35th) said Vallas used his power as CPS chief in 1999 to cancel LGBTQ inclusivity training at the schools.
Vallas had walked back plans to show principals a documentary about how teachers can discuss gay identity with students, according to an Associated Press story from that time.
After school officials said every principal in the district would view the documentary at training sessions and receive a copy for their school, Vallas said he never intended for the video to be shown to principals, according to the AP.
"If a principal wants a copy of the tape, they can request it," Vallas said at the time.
Ramirez-Rosa said the action was part of a "quarter-century-long pattern with this man."
"A quick review of his track record shows that when he has been in a position of power and authority, he has used that power and authority to harm the cause of LGBTQ civil rights," Ramirez-Rosa said at the March 8 news conference.
Vallas defended his LGBTQ record during a Monday interview with Block Club board President Laura Washington.
Vallas highlighted his work as the city's budget director in Mayor Richard M. Daley's administration to include same-sex domestic partners in city contracts so they could be covered by their partner's insurance, which the Wall Street Journal covered in 1997. He also said he was an early supporter of gay marriage when he ran for governor in 2002.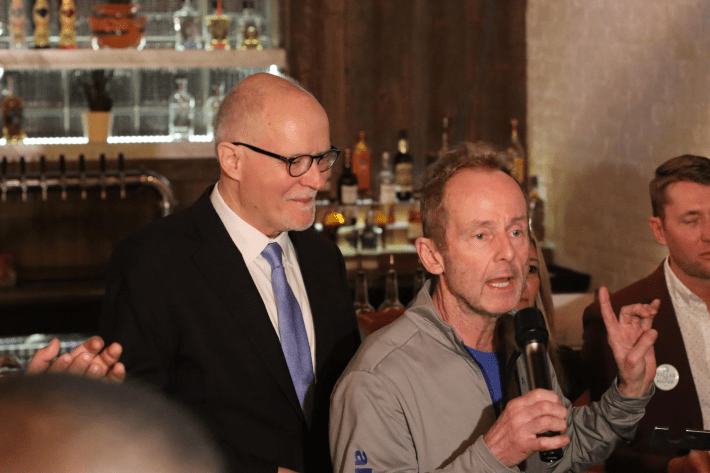 Tunney, who endorsed Vallas in February, previously told Block Club that Vallas has been a "friend of the community" since at least the late '80s and that his actions as schools chief need to be examined in the context of where society stood on LGBTQ rights at the time.
"You've gotta look at 1996 and 1999, and Paul was very progressive at the time," Tunney said. "I was in the community doing work to make our community part of our city and culture, … and he has been a lifelong friend and done a lot of things for the time that today might not seem to be enough or reactionary."
Tunney also said Vallas' participation in the Awake Illinois fundraiser was a "clumsy mistake, and he's admitted that."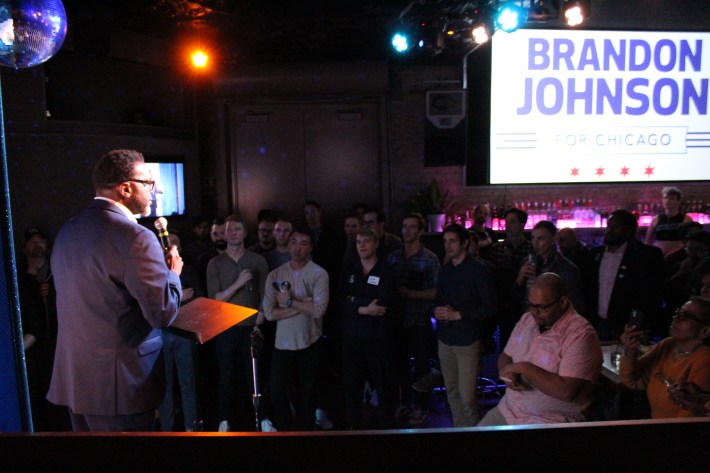 Brandon Johnson's LGBTQ Platform
Johnson's LGBTQ rights plan emphasizes fighting the wave of anti-LGBTQ legislation across the nation and promises to further invest in Chicago as a "regional hub for LGBTQ community and culture."
At the top of Johnson's plan is a promise to protect LGBTQ people by ensuring hate crimes are fully investigated and solving more murders of transgender people in Chicago, which have been on the rise in recent years, according to data collected by the Human Rights Campaign.
Johnson elaborated on this plan during Wednesday's forum, where he reiterated part of his public safety plan to promote 200 more detectives and make sure they're trained in how to solve cases involving violence against trans people.
But Johnson said work to protect trans people from violence starts with ensuring "every single agency is affirming our trans community."
"It's about prevention first," Johnson said. "I want to make sure that our trans women, particularly our Black trans women, are affirmed, provided with the mental health support they need as truth comes alive in them, as well as making sure there are supportive services, particularly around housing, that will limit the vulnerability that they're oftentimes exposed to."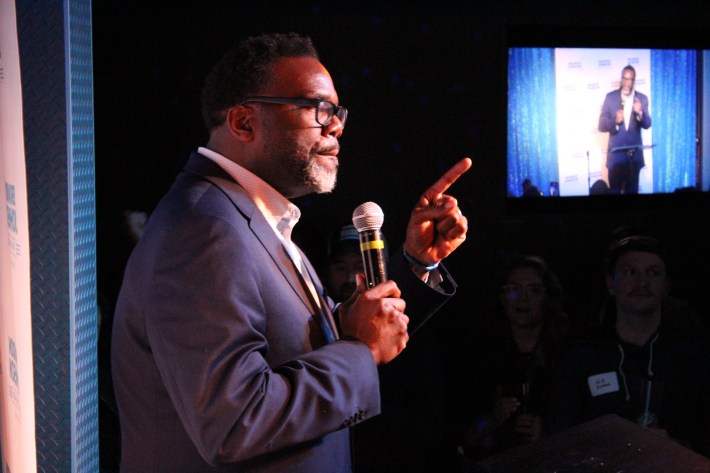 Johnson also promised to invest more in Chicago's LGBTQ community, especially people-of-color-led LGBTQ organizations on the South and West sides that don't always receive the same amount of funding as North Side counterparts.
"The funding that we do release as a city, it oftentimes gets concentrated outside of the very community in which we are most vulnerable and the impact is the greatest," Johnson said.
Johnson would create an LGBTQ community office that would work to increase funding for resources and distribute it equitably throughout the community.
"And as we work to increase that funding, we are directing those dollars toward the communities that have been harmed the most, and, certainly, our Black and Brown communities are top of mind," Johnson said.
Johnson's plan also promises to address gender-based discrimination and pay disparities that affect girls, women, transgender and gender non-conforming people.
Johnson also proposes working with state officials to expand health care access for LGBTQ people, investing in the community and ending misgendering in official records or identification.
Johnson also promises representation of LGBTQ people in his administration, especially among trans and gender-nonconforming people. His platform highlights the Chicago Therapy Collective's Hire Trans Now initiative, which advocates for hiring diverse and talented trans and gender-nonconforming people.
"I'm very much committed to the type of diverse perspective that we have to bring to government," Johnson said. "Because we all know I'm not perfect. I have blind spots like everybody else, and I want to make sure that there are people around us who love the city of Chicago enough to challenge us."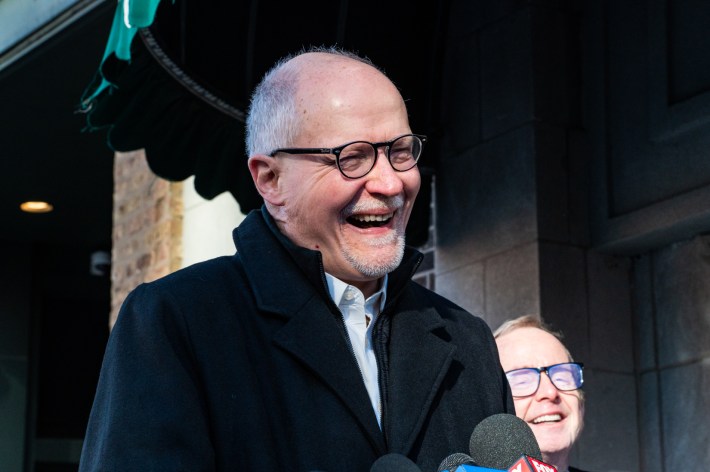 Paul Vallas' LGBTQ Platform
Vallas' LGBTQ platform strongly emphasizes public safety, promising to create police training that prepares officers for calls within the community, ensuring safety along the Northalsted strip and holding people accountable for hate crimes.
Other points include promoting inclusion education in CPS, ensuring compliance with city equality laws, guaranteeing equal access to services and businesses and including LGBTQ-owned businesses in city contract hiring.
Vallas also proposed creating a Northalsted Neighborhood Revitalization Zone, a partnership between communities and government that would establish a committee of key stakeholders to help deal with neighborhood issues and give a direct line of communication with the Mayor's Office.
That could help the LGBTQ-friendly entertainment district hire a public safety detail and improve the streetscape, which was done in 1998, Tunney previously told Block Club.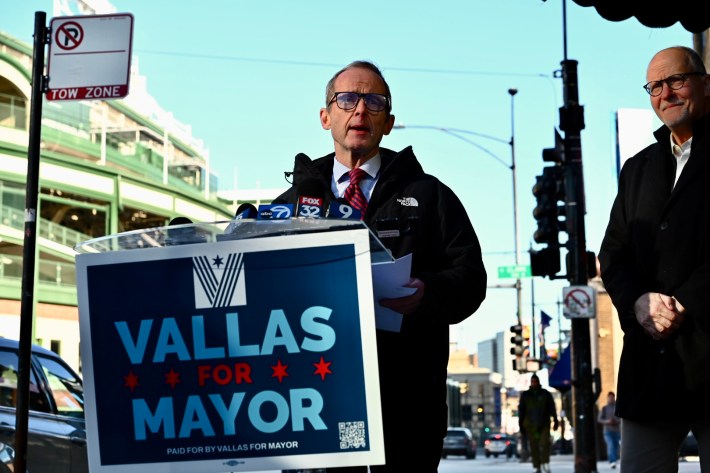 Tunney reviewed Vallas' LGBTQ plan and thinks it has an "overemphasis on North Halsted Street and the North Side that is not reflective" of Vallas' full platform, Tunney said.
"I think he knows that in every community — all parts of the city — we have a lesbian and gay community that needs to be resourced," Tunney said. "I know that's how he feels."
During Vallas' interview with Washington, he said he's been talking with Tunney about how the city can better protect LGBTQ people.
Vallas also said he'd open community centers on the South and West sides for transgender people. He did not speak on any of the trans-affirming organizations that already exist in those communities.
"Because on the West Side and the South Side of Chicago, there are issues of discrimination there, too," Vallas said.
Where Is LGBTQ Support Going?
Other LGBTQ-identifying elected officials who have joined Tunney in backing Vallas include Alderman-elect Bennett Lawson, who is Tunney's chief of staff and will succeed him in May, and Ald. Raymond Lopez (15th), City Council's first openly gay Latino alderperson.
Tunney has said Vallas was the best option of the candidates to improve the city's public safety, education and finances. He also said Vallas will be an ally to Chicago's small business community — something Tunney, a small business owner, plans on advocating for after his retirement from alderman.
"Paul is probably the best for our businesses," Tunney said. "They need to be heard because they are the employers, economic engine and tax base of our city."
Tunny and Lawson were at a Wednesday event supporting Vallas at Barcocina in Lakeview. At least 150 people attended, including business leaders from the Illinois LGBT Chamber of Commerce, which has endorsed Vallas.
Lawson, who endorsed Vallas on March 15, told Block Club he thinks Vallas' public safety plan is the best, and his administration would be a partner to LGBTQ people and businesses.
"Paul is a budget guy, and using the budget as a set of priorities, we can put money into fostering and building LGBT organizations citywide and improving anti-violence initiatives that will obviously help LGBT folks," Lawson said.
Lawson also praised Vallas' support for gay marriage and allowing same-sex domestic partners to access city benefits.
"That was very much ahead of its time," Lawson said. "I have the confidence he's going to be a great ally."
Openly gay Ald. Timmy Knudsen, who is fighting to keep his seat in the 43rd Ward runoff, has supported Vallas' public safety plan but has not endorsed either candidate, he said during a debate Thursday.
Vallas' safety plan "looks a lot like mine," Knudsen said. "But that's a substantive endorsement, not a human-based endorsement."
Dillin Ravenscraft, executive director of the LGBT Chamber, said Vallas' campaign invited him to a meeting where they discussed "everything from employees at businesses and bars who feel unsafe leaving at 2 a.m. or in the dark all the way to getting the LGBT segment accepted by the city."
The chamber, which promotes economic opportunities for LGBTQ-owned businesses and their allies, receives no funding or support from the city, Ravenscraft said. He thinks Vallas would help the business chamber secure public funding and give LGBT-owned business a city certification to be included as vendors.
"We do need small businesses, and Paul Vallas recognizes the vibrancy and community that an LGBTQ business brings to a neighborhood," Ravenscraft said.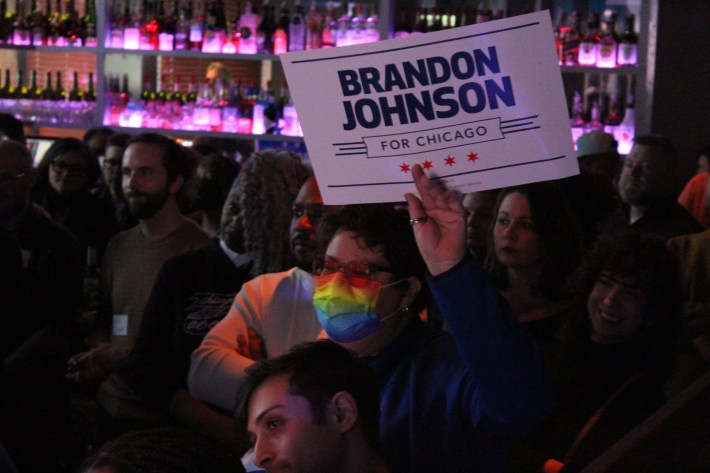 More than 35 LGBTQ politicians and community leaders have endorsed Johnson as of last week, including Ramirez-Rosa; alds. Rossana Rodríguez-Sanchez (33rd) and Maria Hadden (49th); former House Majority Leader Greg Harris; Sen. Mike Simmons and Rep. Kelly Cassidy. A full list was published by the Windy City Times.
Many of these supporters appeared at a Saturday fundraiser for Johnson at Sidetrack, owned by LGBTQ civil rights pioneers Art Johnston and José Pepe Peña. Johnston co-founded Equality Illinois, which endorsed Johnson this month.
Mary Morten, president of the Morten Group and a lifelong activist in the Chicago LGBT Hall of Fame, told the crowd she was in charge of rolling out the gay identity documentary to educators while Vallas was schools chief.
Morten was director of the Chicago Commission on Human Relations in Daley's administration and fought for two years to introduce the film to CPS. The film was meant to be a professional development video for faculty, administrators and councilors, but "it was an uphill battle," Morten said.
It wasn't until three people killed Matthew Shepard in 1998 that CPS officials gave the green light to distribute the film, Morten said.
Precious Brady-Davis, the first Black trans woman on the ballot in Cook County when she ran for Metropolitan Water Reclamation District commissioner, said Johnson sat down with her before he declared his candidacy.
"I was taken aback by his candor, his compassion, and I trust with his leadership at the helm of our city, a tale of two cities will certainly end," Brady Davis said.
Cook County Commissioner Kevin Morrison, the first openly gay person elected to the Cook County Board of Commissioners, has also endorsed Johnson. He said in March that Johnson proved his LGBTQ allyship by supporting Morrison's efforts to eliminate transphobic language from the Cook County code.
At Sidetrack, Johnson told the crowd LGBTQ people are "part of the infrastructure of the city of Chicago and the country."
"If you want to prevent a crisis, you've got to make sure you're affirming the very lives who have been ostracized, ridiculed, judged or made to feel shameful," Johnson said. "In a Brandon Johnson administration, you are loved, supported and your leadership matters."
Subscribe to Block Club Chicago, an independent, 501(c)(3), journalist-run newsroom. Every dime we make funds reporting from Chicago's neighborhoods.
Click here to support Block Club with a tax-deductible donation. 
Thanks for subscribing to Block Club Chicago, an independent, 501(c)(3), journalist-run newsroom. Every dime we make funds reporting from Chicago's neighborhoods. Click here to support Block Club with a tax-deductible donation.
Listen to "The Ballot: A Block Club Chicago Podcast":