IRVING PARK — A Roosevelt University administrator and the daughter of former Rep. Luis Gutiérrez will face off in next month's runoff election to represent the Northwest Side's 30th Ward.
Jessica Gutiérrez and Ruth Cruz emerged from a field of four candidates in the Feb. 28 election, garnering 37 percent and 27 percent of the vote respectively.
Since neither received at least 50 percent of the vote to win outright, voters will weigh in again April 4 to decide the new alderperson.
Ald. Ariel Reboyras (30th) announced in September he wouldn't seek reelection, ending 20 years in City Council.
The newly redrawn Northwest Side ward includes portions of Belmont Cragin, Irving Park, Portage Park and Avondale.
More on the runoff candidates:
Ruth Cruz
Cruz lives in Belmont Cragin and works as an assistant admissions director at Roosevelt University. 
She's also a volunteer with Cook County's restorative justice court in Avondale and an elected member of the local school council at Foreman College and Career Academy in Portage Park.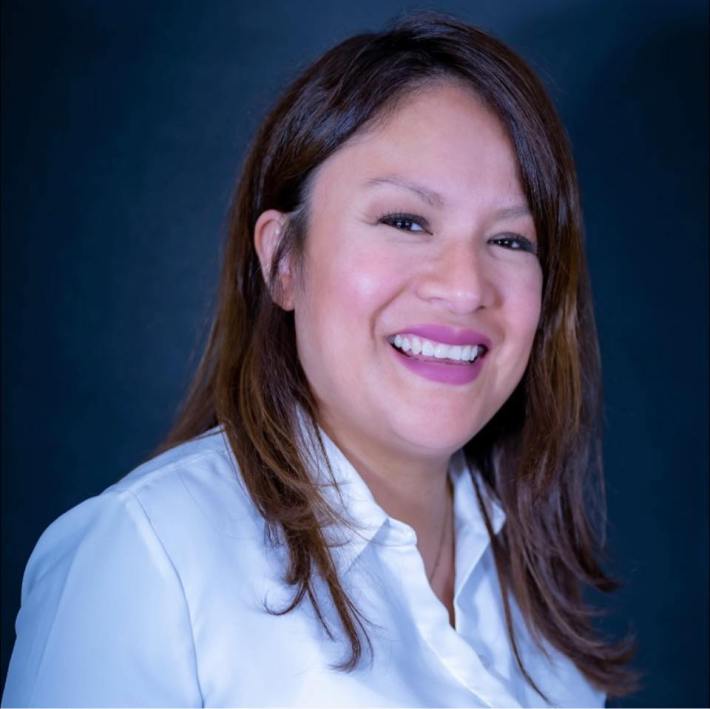 Reboyras backed Cruz during the general election, giving her two $5,000 donations since December, according to campaign finance records.
Despite Reboyras' support, Cruz previously told Block Club she's "her own person." If elected, she said she would support progressive policies like community zoning, participatory budgeting and more investment in youth and violence prevention programs that emphasize mental health for residents, kids and law enforcement.
"I want to build an independent, progressive ward office that is transparent, that is inclusive and puts people first," she said.
Cruz would push for more police officers in the ward in response to area crime, she said. Cruz also said she supports the Treatment Not Trauma ordinance, which would devote more resources to homelessness, mental health crises and substance use disorder to avoid having cops respond to such emergencies. The ordinance would also help free up police officers so they can attend to more violent crimes, because not every call requires police response, she said.
To combat crime, Cruz said she also plans to implement block safety assessments, push for the creation of a mental health committee within City Council and work to reopen mental health clinics.
That's why she supports democratic processes such as community zoning and participatory budgeting, she said. She wants residents to participate in the neighborhood's development and voice their concerns through these forums, whether that's advocating for more green spaces or pushing for more affordable housing, she said.
To that end, Cruz plans to host more flexible ward night events as well as Saturday open-house hours to serve neighbors who can't always drop by the neighborhood ward office during the work day, she said.
"I'm building a coalition to put people first and this will be a great opportunity for the community to voice their ideas," Cruz said.
Cruz also plans to support local businesses by using social media to showcase restaurants, completing business evaluations, helping with grants and even creating internship programs with local universities so students can work with neighborhood businesses, she said.
More affordable housing is also key, she said.
"We need to make sure that, one, we keep our residents in the ward and the only way to do that is if we have affordable housing," she said. "Working to prevent displacement is the most important thing."
Cruz has secured endorsements from City Clerk Anna Valencia, U.S. Rep. Delia Ramirez, state Sen. Cristina Pacione-Zayas, former 30th Ward candidate JuanPablo Prieto, AFSCME Council 31 and other organized labor groups.
Friends of Ruth Cruz has about $134,000 on hand as of this week, according to campaign records.
Jessica Gutiérrez
The daughter of former Rep. Luis Gutiérrez, she most recently was a senior policy director with the Puerto Rican Cultural Center in Belmont Cragin.
Gutiérrez challenged Reboyras in the 2019 election, where she narrowly lost in a contentious runoff. She's continued to be critical of Reboyras' leadership of the ward. 
"I'm ready to enact participatory budgeting because for 20 years we have had an alderman who has not told us where the money is going," Gutiérrez said. "I've actually knocked on doors and spoken to residents who almost seemed shocked at the possibility of having a participatory budget. They're like, 'Is that legal? Is that okay? We can do that.' Yes, it's your money." 
Gutiérrez will also make sure the ward has a zoning advisory council, "so when a developer comes in, they will need to respond to the residents," she said.
"If residents want to be a part of the board, I will reach out so they have a right to what is being built in their neighborhood," Gutiérrez said. "And they will have the opportunity to say yes or no with me."
She also plans to educate residents on affordable housing, how it can be achieved and how residents can benefit. The ward needs more family-sized units and mixed-use developments, she said, not just studios, or one- to two-bedroom apartments, she said.
She'd also create an educational campaign to remove the stigma around affordable housing she's experienced speaking to people in the ward, Gutiérrez said. 
"This isn't groups of people that are trying to milk the government; this is to keep neighborhoods affordable so we don't see displacement and gentrification permeating throughout the ward," she said.
"[Reboyras] has scared neighbors by using racist and outdated language, like low-income housing or Section 8. Our office will need to do the groundwork when it comes to educating those who have been conditioned to think those who are in need of affordable housing are the problem. They're not," Gutiérrez said.
Because of the shape of the new ward map, Gutiérrez would have between two or three participatory budgeting cycles per year in order to more evenly distribute ward menu money and give each community within the ward a voice in how it's spent, she said. 
She also supports the Chicago Bike Grid initiative and would introduce a community zoning process if elected.
Gutiérrez's first 100 days in office would include a "block by block audit" of the ward to identify problem buildings, public safety hot spots and other issues, she said.
"I want to build trust. I don' t want someone to just see me as a politician. I want them to see me as a community organizer, as a public servant to them. As someone who works for them," Gutiérrez said. "And the way we're going to do that is by actively showing transparency." 
Gutiérrez plans to dedicate a staff member to work exclusively on public safety issues. She also supports the Treatment Not Trauma ordinance, she said.
The overlapping jurisdictions of the ward include Chicago police, Metra police, state police and officers from the Cook County Sheriff's department and don't always coordinate or speak to each other, she said. 
"We will also make sure that all entities have law enforcement are speaking to one another," she said. "I think that with the new leadership that we're set to bring into the 30th — with all of these people — we're going to start from from the bottom. Let's have a conversation and make sure that they're all on the same page."
Gutiérrez has received endorsements from Illinois Comptroller Susana A. Mendoza, U.S. Rep. Mike Quigley, Rep. Jesús "Chuy" García, Cook County Sheriff Tom Dart and various unions. Her campaign has around $318,000 on hand as of this week, according to finance records.
Subscribe to Block Club Chicago, an independent, 501(c)(3), journalist-run newsroom. Every dime we make funds reporting from Chicago's neighborhoods.
Click here to support Block Club with a tax-deductible donation. 
Thanks for subscribing to Block Club Chicago, an independent, 501(c)(3), journalist-run newsroom. Every dime we make funds reporting from Chicago's neighborhoods. Click here to support Block Club with a tax-deductible donation.
Listen to "The Ballot: A Block Club Chicago Podcast":