AVONDALE — Maggie Winters learned everything she knows about comedy from her experience growing up in Chicago, she said. 
And now, Winters is performing two sold-out shows at Sleeping Village, ​​3734 W. Belmont Ave., this weekend.
"Someone called me a Chicago-fried comedian once, and I loved that so much I stole it," Winters said. "People always ask what that means, and I always say I don't know. It's like I was fried in Chicago and you can't get it out of me." 
Winters' solo comedy show, "MARGUERITE," explores her life and is directed by her two brothers, Bart and Liam Winters who live in Pilsen and are members of the band Melkbelly.  
"The audience can expect a lot of energy — and for me to get distracted and start talking to them," Winters said. "I like to try new things during shows, and I try not to worry if it fails. If it fails, we just move on."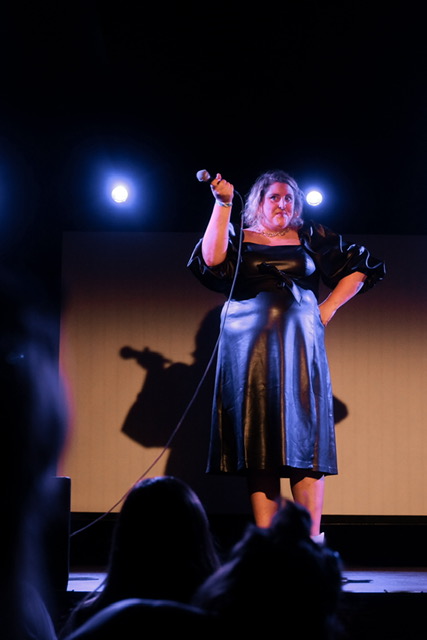 Winters grew up in Beverly with her parents and brothers, and she now lives in Lincoln Park. She attended high school at Mother McAuley Liberal Arts High School and did summer camps at Beverly Arts Center, where she fell in love with theater. 
"When I started performing and getting my audience to laugh, I became addicted to it and just wanted to do it more and more," Winters said. 
Winters went to college at Illinois State University but always knew she'd return to the city to pursue her dreams of becoming a comedian, she said. 
"I feel like people overlook it sometimes, compared to New York and L.A., but Chicago has a really strong comedy scene," Winters said. "A lot of people come here to get their foundation. I'm lucky because I'm from here, so I get to be close to my family but also work on my dreams." 
Winters frequently collaborates with her brothers and the rest of her family on her comedy routines, which usually focus on experiences from her daily life. 
"My family and friends have all gotten a little scared because when something happens to us, they'll be like, 'Don't write about this,'" Winters said. "I'm just like, 'Well, I have to.'" 
In addition to stories about relationships, Winters likes to invent characters that give her audience a window into the Midwest, she said. 
"We did a character who was like a South Side dad who'd probably only ever listened to Dave Mathews, and I thought about what it'd be like for him to discover Phoebe Bridgers," Winters said. "I wrote that with my brother and it was fun for us to discover that character together." 
Comedy provides a creative outlet that propels Winters through difficult days. When she isn't doing comedy, she works from home for a real estate company. 
"Sometimes I'll finish work feeling stressed out and tired, but when I get to to a show and I'm in a new environment, the crowd's energy immediately reminds me why I do comedy," Winters said. "If I really can't get out of a mood, I'll let people know I'm having a shitty day and the audience is always like, 'Me, too!' Then we can all get over it together." 
Winters said she enjoys the way comedy can help people work through their feelings and emerge on the other side together. 
"I like to write about mistakes I've made, not because I'm trying to be hard on myself but because I think it helps people feel better about the mistakes they're making themselves," Winters said. 
The biggest lesson Chicago has taught Winters is how to "hustle" through the winter with the knowledge that summer's relief will come soon enough, she said. 
It's easy to get worn down performing late at night for small weekday crowds when it's freezing outside, but it's worth it for that first crowded patio show at the start of the summer, Winters said. 
"We go through a lot of hard times throughout the winter, but [we] always know how to have a good time when the summer comes back," Winters said. "I think that's important in comedy, and in everything, because if you're successful in every single show you'll never learn." 
Winters hopes to quit her day job and focus on comedy full-time. She dreams of being on a TV show or touring with other comedians. 
"It's important to remember that, especially in Chicago, the path other people take won't always be your path," Winters said. "That's something I've had to tell myself over and over, just that I'll make my own path and it will work out if I keep going.
"I'm grateful for any support I get and I feel for anyone going down this path because it can be tough." 
You can find Winters on Instagram, TikTok and Twitter. 
Listen to "It's All Good: A Block Club Chicago Podcast":