LINCOLN SQUARE — Neighbors will soon be able to enjoy Dimo's pizza, fresh salads and a full-service bar as the company expands into Lincoln Square.
Dimo's Cafe, 4647 N. Lincoln Ave., will open in early April. It will be the company's fourth location in the city following outposts in Wicker Park, Wrigleyville and Downtown.
The opening was first reported by Eater.
The location was home to Costello's Sandwiches and Sides until it closed in 2016 after 16 years.
While most other Dimo's locations serve pizza by the slice with counter service, Dimo's Cafe will offer a full bar and a seating area where people can enjoy a variety of shareables, including the creative pizzas the company is known for, founder Dimitri Syrkin-Nikolau said.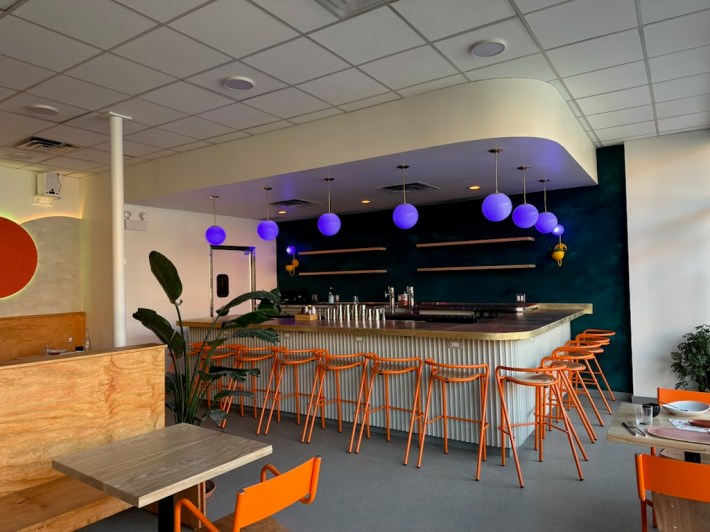 Dimo's Cafe will have an more inviting atmosphere where neighbors can come together, Syrkin-Nikolau said. 
"If Dimo's-by-the-slice is edgy and in your face, Dimo's Cafe is soft and whimsical," Syrkin-Nikolau said. "It's a cool, funky pizza-wine bar." 
Customers can expect a wide variety of unique pizza, from The Mac — Dimo's most popular pizza, which comes topped with mac and cheese — to The Reuben, a pie with house-made corned beef and sauerkraut.
The cafe's bar will offer 10 specialty cocktails, coffee, wine and beer, plus mocktails, Syrkin-Nikolau said. 
Visitors can pull up an orange chair and stay a while to chat with friends or work on creative projects, Syrkin-Nikolau said.
A large mural created by artist Emmy Star Brown will decorate the majority of the building. The art displayed on the interior walls will be from local artists and available to buy, Syrkin-Nikolau said. 
"It oozes an artistic creativity from every nook and cranny of the space," Syrkin-Nikolau said. "It's just so beautiful. You'll feel inspired as soon as you enter." 
The cafe will also serve brunch once it has been open for a few weeks, Syrkin-Nikolau said. The brunch menu will include mini breakfast pizzas and a variety of doughnuts. 
New items on the menu include lollipop drumsticks, which are Korean barbecue chicken legs with sesame seeds and scallions, and Pork Secreto, which is mojo rojo with corona beans in parmesan broth.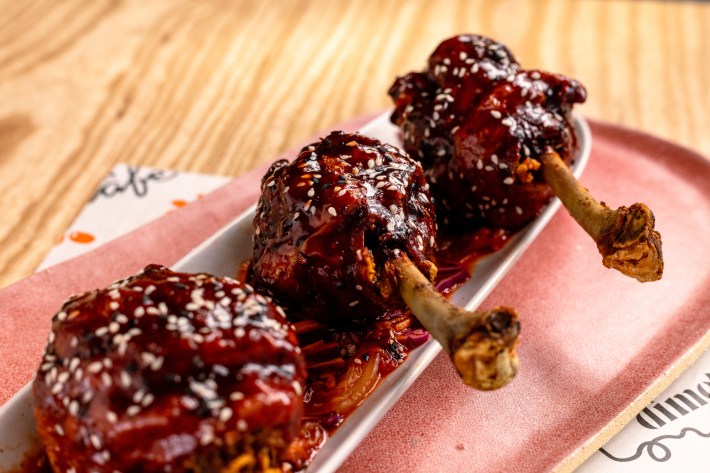 For dessert, customers can try leche frita: fried cinnamon custard with poached apple, miso caramel and ice cream.
Customers will be able to order from their tables with a QR code or place pickup orders online ahead of time. 
Dimo's Cafe will be open 11 a.m.-10 p.m. Monday-Friday and 11 a.m.-midnight Saturday-Sunday. 
Listen to "It's All Good: A Block Club Chicago Podcast":