OLD IRVING PARK — Neighbors and business owners near an infamous Northwest Side intersection want city leaders to finish installing the area's concrete-protected bike lanes and crack down on illegally parked drivers.
The 3800 block of North Milwaukee Avenue near North Kilbourn Avenue — which has seen two cyclists killed since 2019, car crashes, illegal parking and ongoing construction — has been set to receive concrete curb barriers since the second half of 2022 as part of the city's bike safety upgrade to the area — but less than half of the Milwaukee stretch has completed barriers.
The bike curbs, set to be installed from Addison to Irving Park Road, would alleviate illegal parking and make the area safer, neighbors and bicyclists have said.
Drivers still illegally park in the painted bike lane on the south side of the street, particularly in evenings and on weekends, frustrating neighbors, bicyclists and business owners.
Only the bike lane on the north side of the street has bollards, and they do not extend the entire stretch of Milwaukee.
RELATED: Life And Death In Chicago's Most Dangerous Bike Lane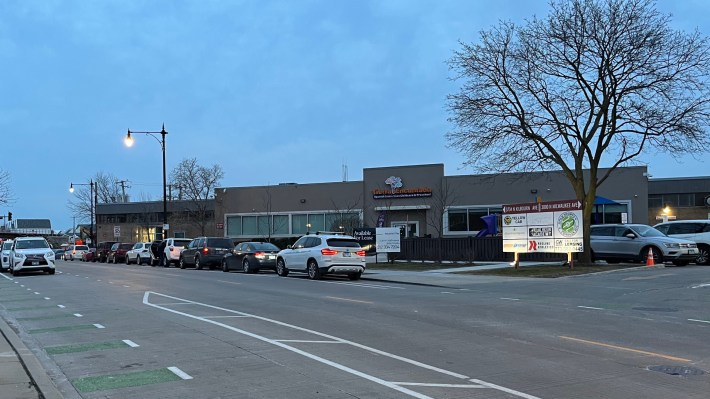 Claire Blakemore, who lives across the street, has reported more than 20 cars parked in the bike lane on 13 days since January, she said. It's been a problem on most weekends since October, she said.
Officers have begun ticketing drivers and warning people not to park there, Blakemore said. Business owners have added signs in and around the building alerting people they cannot park in the bike lane, multiple owners said.
But with little space to park during business hours and few updates from the city's Department of Transportation on the bike lanes, some neighbors feel left in the dark.
"It's been over a year now that I have been trying to get some sort of bike lanes installed," Blakemore said. "Late last year, the green paint was installed [and there was] excitement that something was going to be installed. What is the point of designating that if cars are going to park there, anyway?"
'We're Trying The Best We Can'
A building along the Milwaukee Avenue block includes indoor soccer camp Only Sports Complex and kid sports businesses Cheer Destiny, Redline Athletics and Freelance Wrestling Academy.
The lot has 34 parking spots and three 15-minute parking spots, which are empty most of the day until the evening hits, when classes let out and parents come to pick up their kids, Blakemore said.
Walter Urgiles, owner of Only Sports Complex, tells his customers they can't park on Milwaukee's southbound side and puts flyers on people's windows, he said.
Most parents are not parked for more than five to 10 minutes, he said.
"We are trying to do the best we can … anytime there are 10 cars, the city tickets them with $200 tickets," said Urgiles, who opened his business late last year. "I am losing clients because of few parking options. I know that parking is the issue right now. … I am looking for more good parking. My season is only five months. At the end of this month, it's done; I'll have no business."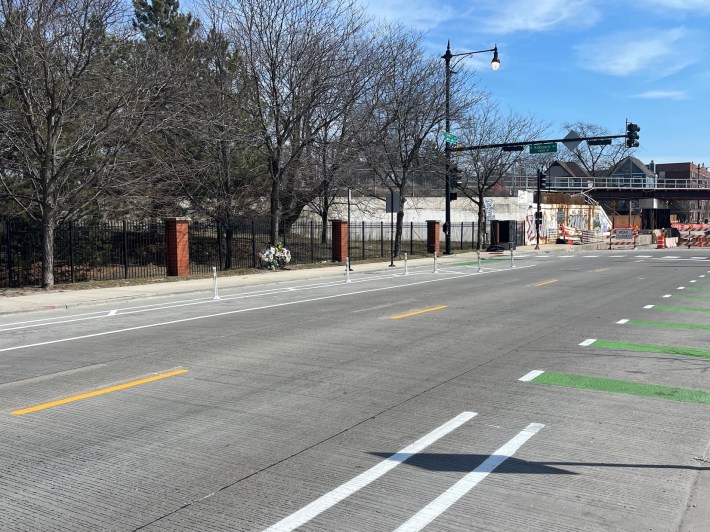 Urgiles said he has gotten into arguments with people when he tells them they can't park along the public street. He also asked the building owners for more parking options, though it's limited in an area already busy with cars, bicyclists and Metra construction, Urgiles and other neighbors said.
The Metra project has closed the Milwaukee strip between Kenneth and Kilbourn since December. The reopening keeps getting delayed because the work is taking longer than expected, officials said.
The northbound side of the street Milwaukee is now expected to reopen in late April, while the southbound lane will remain closed for bridge foundation construction, said Metra spokesperson Michael Gillis.
Metra will also be in charge of adding the concrete bike barriers under the bridge along Milwaukee, which will go in once the project nears completion in spring 2024, Gillis said.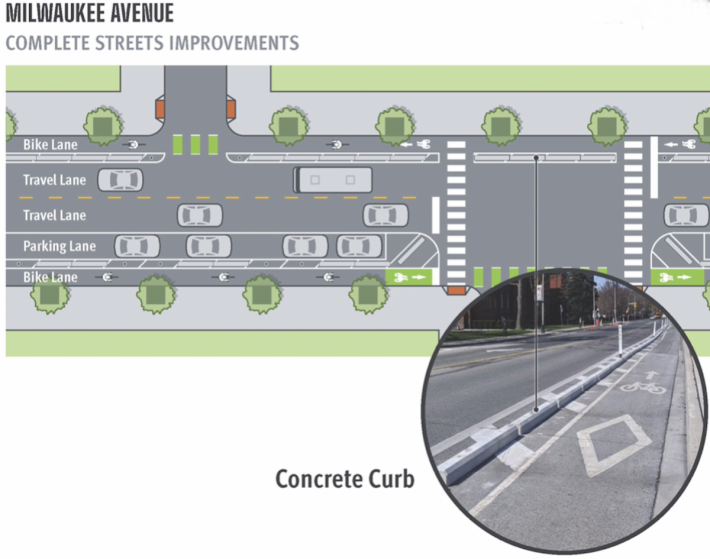 The timing and sequencing of the bike barrier installations are based on construction coordination of projects happening in the area, transportation officials said. The Chicago Department of Transportation is working with Metra officials and developers in the Six Corners area, hence the delay, officials said.
The barriers, which were installed last year from Addison to Kilpatrick, will separate bicyclists from drivers and put parking lanes outside of the bike lane on the northbound side the street.
The southbound portion will not have parking, according to the project's designs and local leaders.
The concrete barriers from Kilpatrick to Irving Park are being fabricated and are expected to be installed in early April, said Erica Schroeder, spokesperson for the city's transportation department.
'Start Towing Cars'
Chris Russette, another neighbor, wants building management, owners and city officials do more to redirect parking and add better signs. He worries the Metra project opening up part of the intersection will create more parking and traffic issues and further endanger bicyclists, he said.
"I have seen two accidents at that intersection while walking my dog," Russette said. "If they just start towing [the cars] … . If I got a ticket once, I would not park there again."
Mitch Goltz, principal and owner GW Properties, which owns the building, said they have told tenants multiple times to notify customers not to park illegally onsite or on the public streets. The company hired a towing company to monitor the building's lot, but it's not authorized to tow vehicles along the city-owned Milwaukee Avenue, he said.
Neighbors have long called for safer bike lanes, stop signs and other traffic safety measures in the area.
Carla Aiello was cycling in the 3800 block of North Milwaukee Avenue in 2019 when she was fatally struck by the driver of a dump truck.
After a driver hit and killed Nick Parlingayan on the northbound side of the intersection last year, stop signs and a speed camera were added to the stretch. A pedestrian island was added a few blocks up.
White bollards, cones and more signs were added to the area, as well, though few remain. Snow plows easily destroy them during the winter, and the city seldom replaces them, neighbors said.
Urgiles brought the issue to the 30th Ward office, which plans to request a traffic study for the area, staffer Angel Rivera said. The intersection is in the 45th Ward, run by Ald. Jim Gardiner, but will be redistricted into the 30th Ward when the new ward maps take effect in May. Ald. Ariel Reboyras (30th) is retiring then, too.
As neighbors wait for the concrete barriers, Urgiles said he's doing what he can to resolve the issue, but he ultimately can't control what customers do. He's received negative reviews on his business Facebook page about the parking situation and lost clientele, he said.
"I put all of my money and time into this business," he said. "I'm not a problem for anyone. I came here to do business and had bad luck in this spot. … I understand the neighbors are worried about another accident, [but] Milwaukee is hard. I waited for so many years to open this space. I bring programs for free to help the youth."
Listen to "It's All Good: A Block Club Chicago Podcast":