NORTH CENTER — Paul Vallas and Brandon Johnson ripped into each other's plans to combat crime and improve policing at a Tuesday night debate that saw both candidates on the attack two weeks ahead of the April 4 runoff.
Vallas, a former Chicago Public Schools CEO, came in first of nine candidates in the Feb. 28 election, receiving 33 percent of the vote. Johnson, a Cook County commissioner, followed with about 22 percent.
The candidates sparred throughout the debate on issues ranging from education and pandemic school closures to taxation. But public safety and policing, which have become the central issues of the mayor's race, dominated their back-and-forths Tuesday.
The debate was broadcast by WGN and moderated by anchors Lourdes Duarte and Tahman Bradley.
Both candidates repeatedly touted ideas to combat crime, which have become talking points on the campaign trail: Johnson plans to promote hundreds of rank-and-file officers and Vallas promises to bring back retired officers.
Johnson has pledged to immediately promote 200 rank-and-file officers to detectives to better solve violent crimes and improve Chicago's low homicide clearance rate.
And Johnson again Tuesday distanced himself from comments surrounding defunding the police, which in a 2020 radio interview he described as "an actual, political goal."
"I'm not going to defund the police," he said. "What I'm going to do is make sure that we implement a smart plan. This is why I'm very much committed to making sure that we're promoting and training 200 more detectives, because we have to solve crime in the city of Chicago."
Vallas, who has centered his campaign on public safety and crime reduction, scoffed at that idea, saying it "would do absolutely nothing."
Vallas then segued into a pillar of his plan, which calls for rehiring hundreds of retired officers and those who have transferred out of Chicago to fill staffing shortfalls. Vallas said earlier this month he's "absolutely convinced" officers will return under new leadership hired from within the department and a more "humane" work schedule.
"The bottom line is, fill the vacancies and invite those who have retired and those who are transferred to return and, under new leadership, they will," Vallas said. "You'll be getting an infusion of experienced officers."
During a question later about consequences for people repeatedly arrested and charged with gun crimes, Johnson did not answer directly and tore into Vallas, calling the idea that retired officers would return to the force "ridiculous."
"Paul believes that people are going to come off of retirement and come back to work after serving 25 plus years. That's ridiculous," Johnson said. "There are individuals that have guns that should not have them, and if we're not being smart about policing in the city of Chicago, we're going to continue to have the same type of chaos that we've been enduring for too long."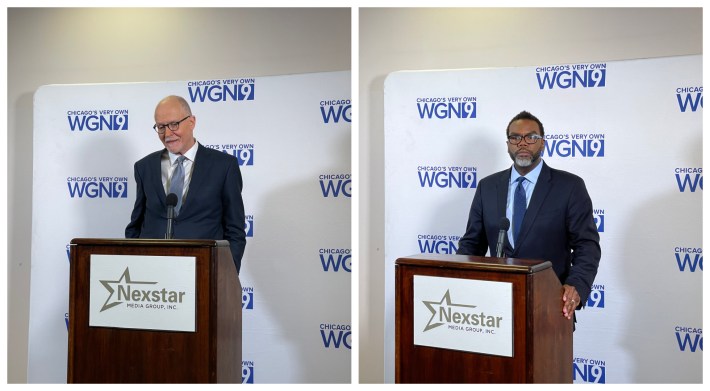 Moderators also played a clip from a WGN interview with Johnson in August 2020 during a period of civil unrest and looting Downtown after police shot a 20-year-old man in Englewood.
Pressed for his reaction, Johnson said at the time that people "are acting out of desperation. We don't want a society that is acting out of desperation. Look, you have to pay attention to the cries that people have," but stopped short of condemning the violence.
Asked to clarify his comments Tuesday, Johnson said he was "not at all" hesitant to condemn looting, then pivoted to talking about his public safety plan.
"What I'm saying is that we actually have to understand the pain of people. I said no one is going to be okay with a society that is out of control. So I'm not hesitant to say that," Johnson said Tuesday.
In their closing statements, Johnson and Vallas agreed on one thing: They each represent a "clear distinction" and "fundamental differences" for Chicago voters to decide between.
Voters have "a very clear choice: the politics of old that have failed families for generation now, or a better pathway forward. … We have the ability to set a new course. A better stronger, safer Chicago is possible," Johnson said, repeating one of his go-to campaign slogans.
Vallas took the opportunity to levy a more pointed attack, mentioning Johnson's plan to raise taxes aimed on the wealthiest Chicagoans, visitors and companies doing business in the city.
Vallas also blamed Johnson and Chicago Teachers Union leadership for extended school closures during the COVID-19 pandemic. Johnson is a former CTU organizer and the union is one of his largest donors.
"I have no confidence that under Mr. Johnson's leadership, that the schools and the school children and even the teachers will really be the priority, because [of] shutting schools down 15 months, particularly after schools were reopened over the city," he said.
Johnson said earlier in the debate that Gov. JB Pritzker "did the right thing" by closing schools and businesses during the start of the pandemic to slow the spread of COVID-19.
As the April 4 runoff approaches, both candidates continue to land high-profile endorsements.
Over the past week, Vallas has scooped up support from former Rep. Bobby Rush, former mayoral candidate and activist Ja'Mal Green and a group of Black alderpeople who represent the South and West sides.
Johnson has been endorsed by former mayoral candidate Rep. Jesús "Chuy" García, civil rights icon Rev. Jesse Jackson and Vermont Sen. Bernie Sanders.
See Block Club's full roundup of mayoral endorsements here. You can learn more about each candidate's policy positions here.
Vallas and Johnson will meet in another forum 7 p.m. Wednesday hosted by Fox 32.
Subscribe to Block Club Chicago, an independent, 501(c)(3), journalist-run newsroom. Every dime we make funds reporting from Chicago's neighborhoods.
Click here to support Block Club with a tax-deductible donation. 
Thanks for subscribing to Block Club Chicago, an independent, 501(c)(3), journalist-run newsroom. Every dime we make funds reporting from Chicago's neighborhoods. Click here to support Block Club with a tax-deductible donation.
Listen to "The Ballot: A Block Club Chicago Podcast":