ANDERSONVILLE — The city's first vegan taqueria is bringing its beloved family recipes and Mexican artwork to Andersonville. 
Penelope's Vegan Taqueria opened its second location, 5204 N. Clark St., on March 14, about a year after its first restaurant. The new location will offer some of the same delicious vegan dishes made from fresh ingredients that co-owners Juan Lisandro Ramirez and Paloma Piña-Ramirez perfected at their River North restaurant, 230 W. Chicago Ave. 
Ramirez grew up in Back of the Yards and Piña-Ramirez in Little Village. Their home neighborhoods helped them gain an appreciation for traditional artwork and dishes, they said.
"We are recreating recipes from our mothers and grandmas, simple recipes that include simple ingredients, that if you use them right you'll get the best flavor," Piña-Ramirez said.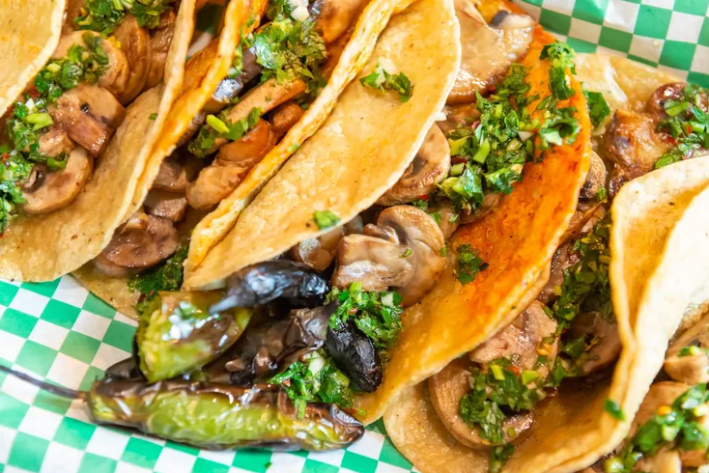 The menu is entirely plant-based, with a focus on recreating traditional Mexican dishes "without compromising our authenticity and flavor," Piña-Ramirez said. 
"Being that we are both vegan, this is very important to us, and we want to ensure our customers are always happy," Piña-Ramirez said. 
The restaurant is decorated with colorful, personalized murals created by an artist from Mexico, Piña-Ramirez said. To create a happy vibe, their playlist features mainly '80s to early 2000s Spanish-language music, with a few English-language songs thrown in. 
Piña-Ramirez and Ramirez started doing pop-ups at food festivals throughout the city in 2018. They had with two types of plant-based tacos, a soy chorizo with potatoes and a soy al pastor, as well as Mexican-style elotes and salsas. 
At their first event, everything sold out in just two hours. 
"That's when we knew we had created something that would soon change [our] lives," Piña-Ramirez said.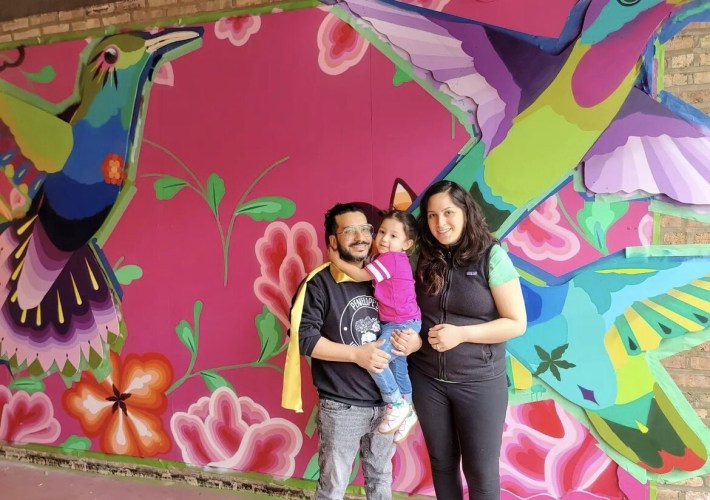 After spending a few years developing recipes and growing their customer base, Piña-Ramirez and Ramirez used their life savings to buy a space for their first restaurant in November 2021. 
They spent a few months renovating while each continued working full-time jobs. They opened the River North Penelope's in March 2022.  
The name for their brick-and-mortar restaurants comes from their toddler daughter.
"The name Vegan Street Food Chicago is the name of our company; however, we knew we wanted to have an official restaurant name that was attractive and meant something special to us," Piña-Ramirez said. "At that time, our daughter Penelope was 1 year old and was also vegan like us, so we decided to name the restaurant after her. After all, our hard work is for our family." 
Piña-Ramirez's favorite dish on the menu is the pambazo, which is a torta or telera dipped in guajillo sauce with potatoes, onions, cilantro, avocado, vegan cheese and green salsa. The recipe comes from Ramirez's hometown in Guanajuato, Mexico. 
Ramirez's favorite dish is La Nopalera, which is telera bread dipped in guajillo sauce stuffed with your choice of protein, like mushrooms, soy chorizo, cauliflower al pastor and avocado. He likes it best with potatoes and carrots, he said. 
Piña-Ramirez and Ramirez said they're excited to be neighbors with Strange Cargo, 5216 N. Clark St., which has been printing their T-shirts and hats for years. 
"The moment we saw the space online, we knew this was our spot," Piña-Ramirez said. "It's the perfect location, it's far enough from our first location, and not to mention how friendly the neighborhood has always been." 
Penelope's Vegan Taqueria's hours are 11 a.m.-8 p.m. Tuesday-Sunday and 11 a.m.-9 p.m. Fridays and Saturdays.
Listen to "It's All Good: A Block Club Chicago Podcast":