LITTLE VILLAGE — Discount Mall vendors have just days before some of them will be locked out, so they're taking legal action to buy themselves more time to find a new home.
Attorneys representing those vendors filed an emergency injunction Tuesday in Cook County Circuit Court with hopes a judge will grant them a temporary restraining order. The order would prevent vendors from being locked out of their businesses until a full court hearing could take place to determine vendors' rights, attorney Ramsin Canon, of Canon Law Group, said at a Wednesday news conference.
The tenants — who were set to be kicked out by Sunday — want a judge to recognize they're tenants, which would mean they could stay at the mall until their lease is up as long as they pay their rent on time and don't break rules, Canon said.
"It's a matter of having the court determine everybody's rights and making sure the status quo doesn't change until such time," Canon said.
An emergency hearing has been set for 10 a.m. Thursday.
A representative of Novak Construction, which owns the mall, said the company does not comment on active litigation.
RELATED: Half Of Little Village Discount Mall Vendors Will Be Evicted Next Month As Alderman Threatens To Sue
Officials from Novak, the owner of the mall and its plaza since 2020, said last month a long-term agreement was reached with Pilsen Plaza Corporation, one of two operators of the Discount Mall, and that operator will continue to lease its part of the mall to vendors. But because Novak failed to come to an agreement with the other operator, PK Mall, its vendors must vacate their booths by March 26, according to a letter from PK Mall.
PK Mall's vendors won't have access to the mall after March 26, and any inventory left behind will be thrown away, according the letter.
Vendors and their attorney said Wednesday they think this is an unlawful lockout.
Canon said Novak and the mall operators don't consider the vendors to be tenants, meaning they can be kicked out of the space at will. However, the attorney said he and vendors are arguing they have annual agreements with mall operators that are just paid in weekly installments.
Novak and mall operators "wanted all the rights to terminate, kick these people out, but all the benefits of having stable stores that attract people day after day," Canon said.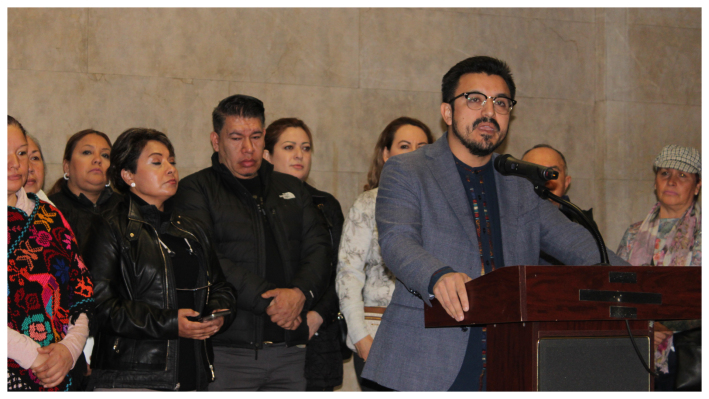 Ald. Byron Sigcho-Lopez (25th) has for months advocated for vendors to be included in Novak's plans for the mall and plaza.
"What we're asking is simple, is clear and is fair," he said Wednesday.
Shutting down half the mall would generate "poverty" and "inequality" in Little Village, Sigcho-Lopez said.
Last month, when Novak announced nearly half the vendors would be kicked out, the alderman threatened legal action if the company couldn't come to an agreement with all vendors.
Sigcho-Lopez said Wednesday the emergency hearing would give vendors enough time to find a suitable space to relocate to and to protect their inventory. The alderman and vendor leaders are set to tour a potential location Wednesday in Little Village, he said.
It remains unclear what Novak plans to do with the empty half of the mall.
The company has said it will bring improvements to the plaza, include new building facades, roofs, a surface parking lot with an underground stormwater detention system, lighting, landscaping, signs and more.
The Walgreens, Esperanza Health Center and La Baguette Bakery in the plaza are expected to remain and undergo renovations, as well, according to Novak.
Listen to "It's All Good: A Block Club Chicago Podcast":