NORTH LAWNDALE — Ald. Monique Scott has been pushed into a runoff against Creative Scott in the West Side's 24th Ward.
Monique Scott was the top vote-getter in the election, grabbing 45.3 percent of the vote in the Feb. 28 election. She'll face Creative Scott, who picked up 14.82 percent, in the April 4 runoff to determine who will lead the ward.
Other candidates were entrepreneur Vetress Boyce, Fire Department veteran Drewone Goldsmith, community activist Traci "Treasure" Johnson, community organizer Edward Ward, musician and Street and Sanitation employee Luther Woodruff and Larry Nelson.
Both Scotts — who are not related — have lived in the community their entire lives, and they said they view public safety and long-term business investments in the ward as top priorities.
The ward encompasses North Lawndale and a section of Little Village. 
More on each candidate: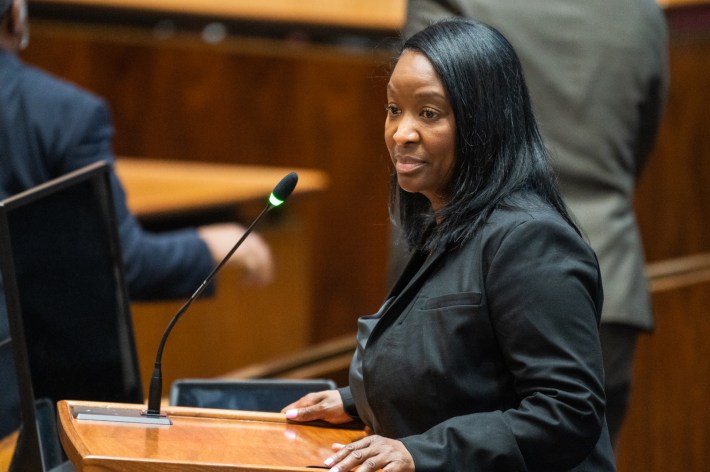 Monique Scott
Scott was appointed to the aldermanic seat in June by Mayor Lori Lightfoot after her brother, Michael Scott Jr., resigned to take a private sector job at Cinespace Film Studios.
Monique Scott and her family have been influential in Chicago politics for decades. Her late father, Michael Scott Sr., served as president of the Park District and president of the Chicago Board of Education. He was considered an influential ally of former Mayor Richard M. Daley.
Monique Scott formerly worked for the Park District as the supervisor for Ellis Park. Before that, she worked as a health consultant for North Lawndale Christian Health Center. She also coached the North Lawndale Eagles cheerleading team.
Monique Scott is running to improve public safety in the ward and provide higher-quality education, better housing options, employment opportunities and economic development, she said. She could not be reached to answer questions about how she'll accomplish those goals.
Monique Scott previously said there have been promising developments in the ward, and she wants to see them through. This includes a $68 million industrial facility coming to the ward, which will transform the infamous Mount Henry dumping ground.
In addition, Scott is working on a plan with the community and Chicago Public Schools to bring $30 million to three schools to help with the education disparity. Focusing on these strategies and others will help to prevent and reduce crime, she said.
Monique Scott has been endorsed by the Chicago Federation of Labor and the American Federation of State, County and Municipal Employees.
Scott said the hardest part of the election now is getting people to go back to the polls.
"We have really hit the ground running for this race," Monique Scott said. "It's just a lot of hard work getting people to vote again considering turnout for the race was already low."
Monique Scott has said she will not to abandon the community she was born and raised in, and she hopes to continue to improve the neighborhood's quality of life.
"My father taught me that if you leave a struggling community, you're part of the problem," Scott previously said. "There is so much potential for a brighter future here. We need to keep fighting for it."
Creative Scott
Creative Scott owns Creative Salon and Start to Finish. Scott also runs a young barbers program for kids and teens ages 5-15 out of his salon, helping youth learn the history and business of barbering.
Creative Scott, born and raised in the area, said he's dissatisfied with the direction of the ward, as it's seen disinvestment and a lack of general resources. He is running to increase public safety and increase economic opportunity in the ward, he said.
Creative Scott said he wants to create a gun violence reduction program, known as Guns/Problems and Solutions, that would use violence interrupters to prevent crime. He'd hold anti-bullying seminars and install more street lights and panic buttons on the street so residents can contact police if there's an emergency, he said.
Creative Scott said he also wants to provide greater transparency for neighbors and give them more of a chance to weigh in on changes. He will hold more community meetings and work to bridge the gap with young residents and local law enforcement, he said.
To create community wealth, Creative Scott said he would personally give $5,000 of his own own money to 12 entrepreneurs and existing businesses to help them start or grow their business by buying products or equipment.
"I am not against people setting up businesses coming here, but we need to generate our own wealth instead of waiting for an outside source to do it for us," Creative Scott said.
Creative Scott said vacant lots throughout the ward could be turned into a business or home that will bring wealth to the area.
"I see kids playing in them and hurting themselves, with all the drug needles and broken bottles scattered in there," Creative Scott said. "The pollutants in there are harmful to the community."
Creative Scott ran against former Ald. Michael Scott Jr. in 2019, coming in second that year.
"There are things that need to change, and [the ward] needs someone in office who is willing to make a change," Creative Scott said. "I'm a servant of the community, and I've been giving back to the community from day one." 
Subscribe to Block Club Chicago, an independent, 501(c)(3), journalist-run newsroom. Every dime we make funds reporting from Chicago's neighborhoods.
Click here to support Block Club with a tax-deductible donation. 
Thanks for subscribing to Block Club Chicago, an independent, 501(c)(3), journalist-run newsroom. Every dime we make funds reporting from Chicago's neighborhoods. Click here to support Block Club with a tax-deductible donation.
Listen to "The Ballot: A Block Club Chicago Podcast":