WEST TOWN — A gallery that promotes paintings and other work from lesser-known and developing artists has opened on Chicago Avenue in West Town.
Povos, 1541 W. Chicago Ave., is the brainchild of Lucca Colombelli, a painter and burgeoning gallery owner who recently organized pop-up gallery shows and more permanent events, including at a space on the border of Bucktown and Logan Square.
Colombelli hopes Povos will become Chicago's friendliest space for artists as they navigate a notoriously hostile industry while trying to make a living. The gallery gives 60-70 percent of each sale to its creator, donates part of its proceeds to a Chicago nonprofit and offers free legal resources to artists, Colombelli said.
"In an industry that relies heavily on, sort of, smoke and mirrors, exclusivity and mysticism, [Povos] is a glass-door gallery with the intentions kind of laid out, which is really unusual," Colombelli said.
Povos took over the former home of Mu Gallery, which closed last year. After a few months of renovations and upgrades, Colombelli and his team launched their first show this month at the new location. The show, "Bloom," features more than 30 artists.
The response has been overwhelming, Colombelli said. He estimates about 1,000 people attended the opening party and said about half of the paintings on display have been sold.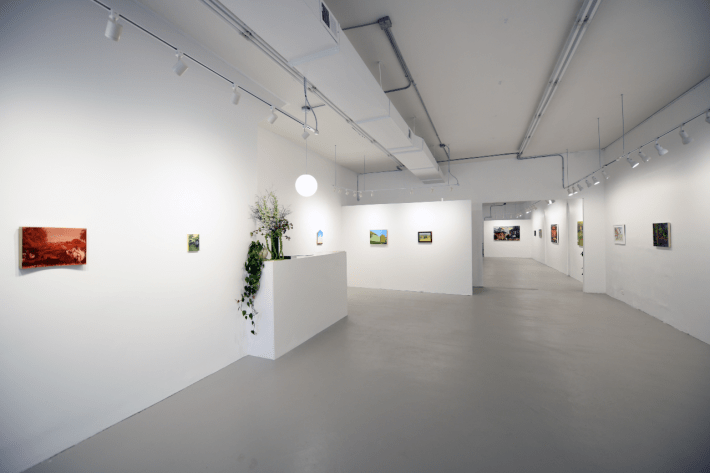 Colombelli had no plans to run his own gallery when he moved to Chicago several years ago, he said.
He had dedicated his life to painting, so much so that he dropped out of the School of the Art Institute of Chicago to pursue painting full-time while also working service industry jobs, he said.
Over the next few years, Colombelli starting hosting pop-up art shows, first at his studio in Pilsen and then at a townhouse in Bucktown in 2019. The success of that informal show ultimately led Colombelli to take the idea of establishing a gallery more seriously.
"Afterwards, it was just like, 'Whoa, I am so burnt out and exhausted and physically ill and I never want to do that ever again.' And then the next week, I was like, 'That was the coolest thing I've ever done,'" he said.
As Colombelli met more friends and artists in Chicago, he decided to launch Povos in 2020. It was online more out of economic necessity than as a COVID-era precaution.
But the pandemic soon brought another new opportunity: cheap rent on a studio and gallery space near the intersection of Armitage and Milwaukee avenues along the Bucktown-Logan Square border.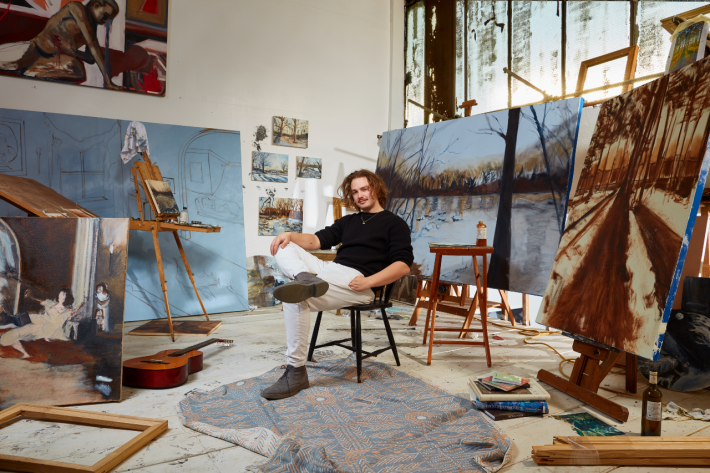 Colombelli started hosting pop-up shows there in 2021 with his studio mate Cormac Steinbock, including a showcase of the work of famed Wicker Park street artist Lajuana Lampkins.
Things were tough, with the gallery struggling to break even much of the time, Colombelli said. But a comment from a friend stuck with him: The space "had a good room" for people to get together and see art but also meet each other and make connections.
"I leaned into this idea that all congregation is holy. And so being able to foster that, especially post-COVID, is this really valuable job," he said. "The real impact is not the intersection of money and art. It's about the experience of the meeting place and looking at the gallery not as like a business but as a meeting place"
Colombelli stuck with the gallery and organized a string of increasingly well-received events in 2022, leading to a show in August featuring the work of painter William Schaeuble. Every painting sold out opening night.
"By opening night, everything was gone. And so that was huge for him. And that was huge for me," Colombelli said.
Last fall, the opportunity came to take over the Mu Gallery storefront in West Town — twice the size of the Bucktown space — and Colombelli jumped at it.
Beyond having more space for paintings, the new Povos location is in the thick of what some have started calling Chicago's "Gallery District," near Chicago and Ashland avenues in West Town.
Since 2015, Chicago Truborn, Rhona Hoffman, Catherine Edelman, PATRON, Western Exhibitions, ARC Gallery, Andrew Rafacz, DOCUMENT and others have opened in the area. The West Town Chamber of Commerce also hosts a monthly First Fridays event when many of the galleries stay open late the first Friday of every month.
"I have a lot of friends in the West Town art community. And this is kind of the strip now for fine art," Colombelli said. "People are walking around and actually coming here to see art. … There's a community around art here that I didn't feel" in Bucktown.
Ahead of the Povos opening this month, Colombelli started delegating more work to newly hired gallery manager Valeria Terrazas as he balanced running the gallery while representing artists and pursuing his own painting career.
On a whiteboard in his office, Colombelli has mapped out the shows he's booked through June 2024. He eventually wants to set up more events in the space and host a mentorship program with Chicago Social Change, the nonprofit he donates a portion of the gallery's profits to every quarter.
And while Colombelli's landed notable Chicago names — the gallery's next show in April is with the collage-maker and painter Tony Fitzpatrick — Colombelli said he's committed to keeping the bar low enough for aspiring artists to get a foot in the door.
"Povos is Portuguese, and it means 'people.' So it's the people's gallery," Colombelli said. "And that ties into the design; that ties into the ethos. … The idea is slowly to make this a more democratic, more ethical industry, because the ecosystem for artists right now is crazy."
With its new, higher-profile location, Povos has become a balancing act for Colombelli: He's thumbing his nose at the established gallery scene in Chicago while hoping to expand his own foothold in the art world as a gallerist and a painter.
"I'm not a businessman. I'm an artist pretending to be a businessman. I think that there's a need for spaces that are friendly to artists and, beyond that, supportive of emerging art in a way that's not predatory," Colombelli said. "A lot of the scene is really rigid, and I want to be the opposite of that. … Someone called it a dog park for artists, which I thought was funny."
Povos is open 12-6 p.m. weekends and by appointment during the week.
Watch our "On The Block" TV show on The U, CW26 and MeTV.
Listen to "It's All Good: A Block Club Chicago Podcast":