ROGERS PARK — A minority-owned cannabis company wants to open a dispensary in a former currency exchange on Clark Street, one of three companies vying to open near the Rogers Park and Evanston border.
Perception Cannabis is asking city approval to open at 7000 N. Clark St. at the corner of Clark Street and Lunt Avenue. As a "social equity" pot company, Perception hopes to bring "fair-trade cannabis" to the neighborhood, CEO and co-founder Charles Cherqui said at a community meeting.
Perception isn't the only dispensary with the area in mind.
Zen Leaf wants to move its pot shop from Rogers Avenue to 7541 N. Clark St., within the Gateway shopping plaza. And Okay Cannabis is pursuing a hybrid dispensary-bakery in the under-construction development on the Evanston side of Clark and Howard streets.
None of the three proposals have been approved by Chicago or Evanston officials. Ald. Maria Hadden (49th) has held community meetings on the Zen Leaf and Perception proposals and is soliciting community feedback before deciding whether to support the projects, she said.
Okay Cannabis needs approval from the city of Evanston.
Perception Cannabis' leaders said they hope to reverse some of the trends in Illinois' legal weed industry, which has been dominated by major companies.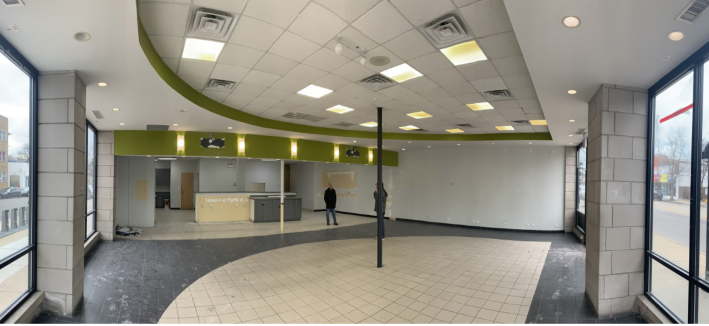 Cherqui, a theoretical physicist who was previously a fellow at Northwestern University, lives in Rogers Park and co-founded Perception Cannabis with Walter Moore. The company has at least five minority board members, partners and shareholders, according to a presentation given at the community meeting last week.
Perception holds a social equity cannabis license, which are given to companies whose majority owners hail from communities most impacted by drug criminalization.
The war on drugs and subsequent legalization of cannabis has been "pathologically unfair" to minority communities, something Perception wants to change, Cherqui said. The group wants to bring more minority participation into the cannabis business.
"Not just prohibition, but even the legal rollout," he said at the community meeting. "It's not the people who really built cannabis culture in this country, it's not the people who suffered the most under prohibition."
Perception's prospective home is a 3,400-square-foot store that would have a reception and security desk, ordering kiosks, retail display cases and point-of-sale stations. An exit would be installed along Clark Street, company officials said.
Developers also want to demolish a rear auto garage on the property to create up to 10 parking spaces, Cherqui said. Negotiations over the parking lot are underway with the landlord, he said. Street parking is also available near the site.
The business would be open 9 a.m.-9 p.m. Monday-Friday and 10 a.m.-7 p.m. Saturday-Sunday. It would be equipped with cameras, security guards and other security measures, according to Perception's management.
The building sits across from the new home of the Wild Onion co-op.
Company leaders would look to hire locally as one of the ways to reverse the impact of cannabis criminalization on the community, Cherqui said.
"It's going to be a perpetual engine of jobs in the neighborhood," he said. "That's one of the things we're hoping to accomplish."
The Rogers Park dispensary would be the first location for Perception. The company previously sought to open a combination weed farm and dispensary in a vacant Logan Square building, a project that has not yet moved forward.
If it is granted city approval, the dispensary could open by late summer or early fall, Cherqui said.
The dispensary needs a special-use permit from the city's Zoning Board of Appeals. Feedback on the proposal can be sent to Hadden's office by filling out a community survey.
Neighbors were split on the proposal at last week's community meeting.
Representatives for nearby St. Jerome Church and Madonna Mission, a refugee education group that operates out of the parish, spoke out against the proposal. A representative from Madonna Mission said they are concerned that customers of the dispensary could pose problems to their clients.
Others said Perception is the kind of cannabis business that could work well in Rogers Park.
"If I'm going to buy pot, I'd like to support small business, not huge conglomerates," said a 76-year-old resident of Rogers Park. "I haven't smoked pot since the early '70s. I'm interested. I'd like to support this."
Listen to "It's All Good: A Block Club Chicago Podcast":