WEST LOOP — One of the most successful teams at Whitney Young High School just won its 20th consecutive state title and is headed to compete on the national stage.
The academic decathlon is a strategic competition of the mind. Students compete in 10 events: art, economics, essay, interview, literature, math, music, science, social science and speech.
Each year to kick off the season, the team gets a 1,000-page binder they will spend weeks studying to prepare for competition. There are about 100 pages for each subject, and the content changes every year.
Students on the team come from a range of academic backgrounds recruited by coach Ben Gucciardi. Despite the rigor, Gucciardi stresses you don't need to be a straight-A student to be a member of the team.
"In fact, the success of every team relies on recruiting those students whose averages are in the B's or C's or even lower to partake in this competition. … What this competition does is it gives a community for these groups of kids who are very different from one another in temperament and in strengths and in personalities," Gucciardi said.
After winning yet another state title, the team is hoping to win it all at the United States Academic Decathlon Nationals in Frisco, Texas in April.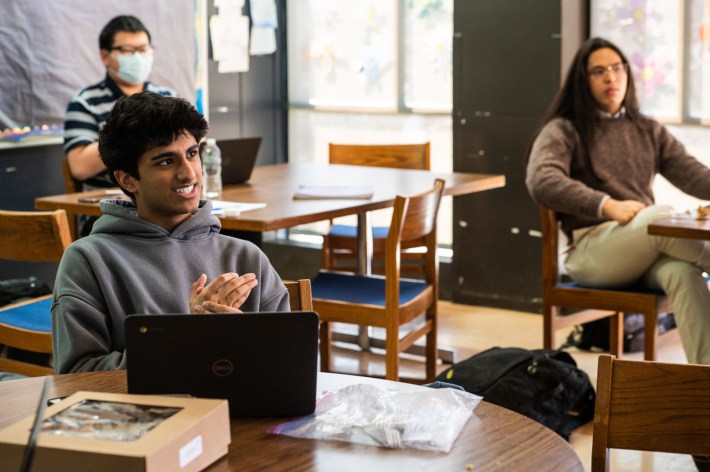 Students specialties range across the different subjects. Some are best in art history, while others shine in science-based subjects like chemistry, Gucciardi said. The mix makes for an eclectic group of students working towards one goal.
The team's bond is apparent the moment one steps into the classroom. Huddled in groups, they review the material together, playing games to test their knowledge and practicing their prepared speeches with each other.
In one of the games, students describe various terms from the study material and a student in the "hot seat" has to guess whatever the term may be.
One student using context clues must name one of the sandstone tablets on display in the U.S. Capitol Rotunda as part of the art section.
"It's made to look like one story," one student hints.
"It's located inside the Capitol, name one of them" another said.
The student in the hot seat takes a moment to think before correctly answering: The Preservation of Captain Smith by Pocahontas.
"She ate," one student said as the others cheered her on for remembering even harder questions like the year of Benjamin West's birthday and the dimensions of the famous painting of George Washington crossing the Delaware.
"I think what many people fail to see is that AcaDec is just like … a sport and it doesn't seem like a sport but it really is. … We do get hyped up and cheered by our teammates, but at the same time on the other side are expected to perform," said junior Om Raizada.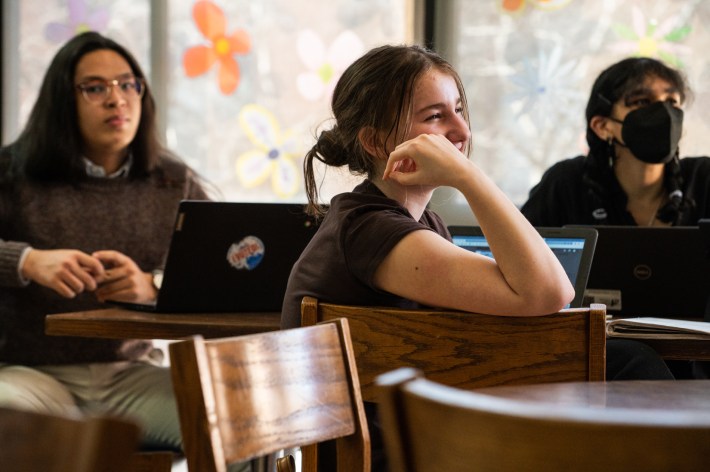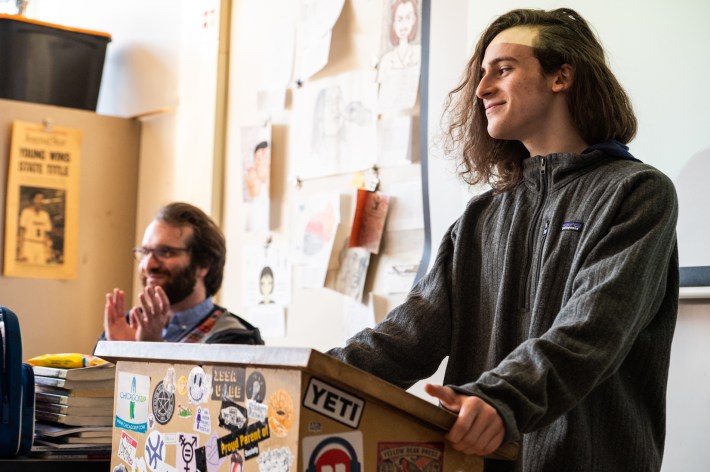 The students take their roles seriously, using special studying and memorizing techniques to prepare. The pressure is on every year to continue the school's domination at the state level and carry that momentum into nationals.
"It's really a game and we really have to push ourselves to know that, 'Yes, it's not just for ourselves, for our own personal glory or vanity … or shiny medals but … for the team. … I have a part to play. I am 1/9 of the team that is about to represent the whole school,'" said senior Daniel Lee.
A huge component of why the students love being a part of the team are the bonds they've created with each other.
"I joined AcaDec because I really wanted to just make friends and connect with people," said junior Gabe Ratner.
Ratner's freshman and sophomore years were during the height of the pandemic, so online classes took away the opportunity to bond with his new peers. The decathlon team gave Ratner an opportunity to meet other students in a small classroom setting.
"I really wanted to join AcaDec because like I'm a pretty social person and being able to you know, talk with a lot of people I thought would be really fun. … I'd say that I'm good friends with pretty much everyone on the team. And I thought that I've gotten a lot out of that in that regard," Ratner said with a smile.
His peers nodded in agreement.
"It's really just the people that come through that really change your life, especially since you're spending so much time with them working together. You actually develop deep human connection which is pretty good to have," Lee said.
"It's so beautiful to see everyone come together and learn in this hyper productive way. And the collaboration aspect is really what makes the team so appealing," said senior Renee Picard.
The team is heavily leaning on each other to get themselves across the finish line, hopefully to win their first ever national title. That means more studying and prep games, like Jeopardy, to sharpen their skills.
"We're excited to go to nationals and give it a shot. We're preparing. We're focused. We're organized and I love doing this," Gucciardi said.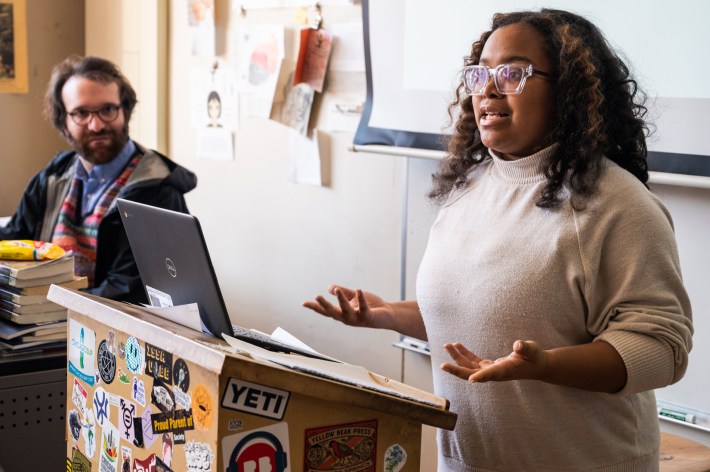 Listen to "It's All Good: A Block Club Chicago Podcast":