HYDE PARK — Construction crews will soon close all but one lane in each direction at a busy South Side intersection as road work continues ahead of the Obama Presidential Center's opening.
Northbound and southbound DuSable Lake Shore Drive will be reduced to one lane at 57th Drive beginning this week, according to the Chicago Department of Transportation.
The lanes will be closed for about two months as crews resurface the road and make structural repairs to the bridge over the entrance to 59th Street Harbor, transportation officials said.
Eastbound 57th Drive will feature only one left-turn lane and one right-turn lane during the lane closures, officials said.
The closures come just six weeks after the intersection was reopened, easing traffic flows for commuters after months of bottlenecks.
A widened DuSable Lake Shore Drive is expected to fully reopen with three lanes in each direction at 57th Drive by the end of May, officials said.
The shuttered Hayes Drive pedestrian underpass will reopen around the same time, officials said.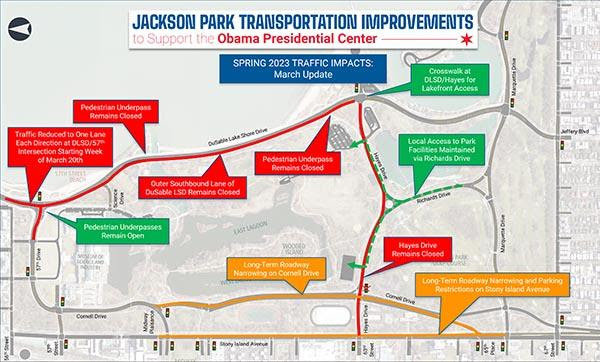 As the new traffic patterns take effect, existing closures of Hayes Drive; the outer southbound lane of DuSable Lake Shore Drive between Science Drive and Hayes Drive; and the pedestrian underpasses near 59th Street Harbor and at Hayes Drive will remain in place, officials said.
Cornell Drive and Stony Island Avenue will remain narrowed; the crosswalk at DuSable Lake Shore and Hayes drives will remain in place; and visitors can still access Jackson Park facilities via Richards Drive, officials said.
This week's traffic changes are the latest updates in a redesign of roads in and around Jackson Park for the Obama Center. In addition to widening DuSable Lake Shore Drive and Stony Island Avenue, planned permanent road changes include:
Closing some roads and converting them to park land:

Cornell Drive between the Midway Plaisance and Hayes Drive.
The northbound section of Cornell Drive between 65th and 68th streets.
Marquette Drive between Stony Island Avenue and Richards Drive.
The eastbound portion of Midway Plaisance between Stony Island Avenue and Cornell Drive.

Changes to other roadways, bike paths and walkways in and around Jackson Park.
South Side neighbors have said for months that the road work has severely impacted their commutes along DuSable Lake Shore Drive and other major roads near the Obama Center site.
The project's second phase will focus on road work south of 64th Street and take place until 2025.
The third phase starting in 2025 will focus on building pedestrian underpasses south of 64th Street, including ones at Jeffery Boulevard and South Shore Drive.
The city's transportation department is set to spend $174 million in state funds on the road projects.
For more information on Obama Center-related road work, visit the city's website for Jackson Park.
Listen to "It's All Good: A Block Club Chicago Podcast":