LINCOLN PARK — Some of Ald. Timmy Knudsen's previous critics and an opponent have thrown their support behind him as he vies to win his first full City Council term in an increasingly contentious 43rd Ward runoff.
Wendi Taylor Nations, a public affairs consultant who finished fourth in the Feb. 28 race, announced last week she is endorsing Knudsen over challenger Brian Comer, president of the Sheffield Neighborhood Association.
Taylor Nations and Knudsen traded fierce barbs during the general election but said she and the alderman were able to talk things out.
Ald. Michele Smith, who endorsed Taylor Nations in the Feb. 28 election, also has joined several Lincoln Park alderpeople to back Knudsen. Smith retired mid-term in August, and Knudsen was appointed to her seat.
Knudsen got 27 percent of the vote Feb. 28 while Comer got 24 percent. Since no one candidate had more than 50 percent of the vote, the race is going to a runoff April 4.
About 45 percent of voters turned out in the 43rd Ward, which encompasses most of Lincoln Park, Old Town and the Gold Coast.
Of the ward's 23 voting precincts, Knudsen led in the areas encompassing Old Town, the Mid-North District and Park West, while Comer won in precincts that included the Sheffield Neighbors, Wrightwood Neighbors and DePaul University.
Former Alderpeople, Rivals Line Up Behind Knudsen
The general election saw mud-slinging between Knudsen's and Taylor Nations' campaigns, but Taylor Nations said in her endorsement the two had a "long conversation that included a sincere apology."
Knudsen blasted Taylor Nations after she made social media posts referring to the alderman as "Tax-Hike Timmy" and seemingly comparing him to Jason Voorhees of "Friday the 13th." Knudsen's camp responded by making a website accusing Taylor Nations of being a cyberbully.
Taylor Nations said after discussing the "very specific campaign attacks, I have determined that Timmy is the best choice to lead our community."
"I want all my supporters to know that I do not make this decision lightly," Taylor Nations said. "I have spoken with many voters in the ward supporting each of the two candidates and heard them out before making my decision."
Taylor Nations is the second former candidate to endorse Knudsen after Rebecca Janowitz, an attorney and alternative energy investor who put more than $750,000 of her own money into her campaign, endorsed Knudsen in early March. She came in third with 20 percent of the vote, dominating in the four precincts along the lakefront.
Taylor Nations' endorsement came hours after former alderpeople Smith and Marty Oberman announced their support for Knudsen in the runoff.
Both politicians had criticized Knudsen before the Feb. 28 election for being too closely aligned with Mayor Lori Lightfoot, who appointed him chair of the Zoning Board of Appeals before giving him the alderman's office.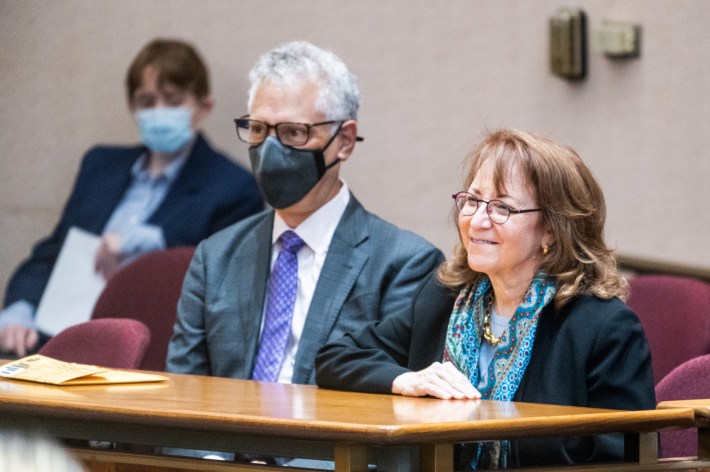 Smith and Oberman did not address these criticisms in their statement.
Former 43rd Ward aldermen Chuck Bernardini, Edwin Eisendrath and Bill Singer also endorsed Knudsen on Thursday. The five alderpeople have represented the ward for 39 years.
"I follow in the footsteps of great leaders in our community and am incredibly honored to have their support and to carry the torch forward for the next generation," Knudsen said in a statement. "I have had countless conversations with each of the alders that came before me, taking their advice to heart and leading in a community-centric way."
Steve Botsford, a real estate developer who came in fifth place, and Steven McClellan, an after-school program founder who came in last, have not endorsed anyone in the runoff, but Taylor Nations said all former candidates personally met with Knudsen.
Taylor Nations, who advocated during her campaign to begin planning for a new high school in Lincoln Park, promised to remain "actively involved" on that issue.
Comer said he also met with each candidate who did not make the runoff to share his "vision of building a partnership to move the 43rd Ward forward." He said he was not deterred by Taylor Nations' and Janowitz' endorsements of Knudsen.
"My opponent's list of endorsements from ex-officials to current officials was there in the municipal election, where he had all the power of the incumbency and $300,000, but we were in a virtual tie with him on Feb. 28," Comer said. "Voters care about many things, and the message I'm broadcasting rings true, which is why the Chicago Tribune endorsed me."
A Scuffle Involving A Police Officer Stokes Criticism
Comer has been criticized for his response to a struggle between a police officer and someone accused of trying to steal their gun March 10 in Lincoln Park. Comer, who was at an event Downtown when he heard about the incident, showed up to the crime scene and filmed a video sharing unsubstantiated claims the officer had been shot.
Police were responding to a call of someone damaging property around 8:50 p.m. in an alley in the 2100 block of North Cleveland Avenue, where the scuffle ensued, police said.
During the altercation, the person accused of the damage got a hold of the officer's gun and fired it, but no one was wounded, police said.
The officer regained control of their gun and the suspect tried to run away but was arrested, police said. The officer was taken to a nearby hospital with minor injuries.
Thomas Tucker, 29, was charged with aggravated battery of an officer, disarming an officer, aggravated assault, resisting a peace officer and reckless discharge of a gun in connection to the incident, police said.
Comer, wearing a campaign pin, filmed a video with a squad car in the background, claiming an officer had been shot. Comer posted it to his campaign's Facebook page.
"Sad night here in our ward," Comer says in his video, which was still up on his campaign's Facebook page Friday. "An officer was shot right in front of Carnival Foods. [I] came over right when I heard the announcement. I wanted to make sure the officer was OK."
Knudsen spliced the clip in an attack ad that juxtaposes Comer's claims about a wounded officer against news clips sharing that no one was shot in the incident. It accuses Comer of "spreading fear, not facts."
Several neighbors and officers expressed "grave concern" over Comer's video, which showed poor judgment, Knudsen and his campaign manager said.
"Comer should know better than to rush to a crime scene and share misinformation while police are still conducting their investigation," said Alex Hanns, Knudsen's campaign manager. "Especially when residents are rightfully concerned about their safety, the last thing we need is for an uninformed civilian to stoke fears while police are trying to do their jobs."
Taylor Nations also said Comer's video was one of the key reasons she chose not to endorse him in the runoff. Comer caused "angst and confusion for residents" and made a "tough situation tougher for our Chicago Police officers," she said.
She also criticized Comer for using her name in a fundraising text message without her knowledge or permission. The message mentioned Taylor Nations while referring to Knudsen's "childish, sexist" attacks before the Feb. 28 election.
"Both these actions indicate that Brian Comer does not have the character or credibility to serve in public office," Taylor Nations said.
Comer defended his response to the incident, saying he made the video based on what people at the scene thought happened. He said he would always rush to the scene any time an officer is in danger to show the aldermanic office's support.
"When on the scene, where I did not see the appointed alderman, and in speaking with the 18th District officers that I know, we knew there was a gunshot, the officer's gun was the one that went off and the officer was sent to the hospital," Comer said. "So everyone on the scene thought the officer had been shot, and we wanted to make sure the neighborhood knew that something like this could have happened."
Comer called 18th Police District (Near North) Cmdr. Jon Hein to reiterate that to him, he said.
"We're relieved that the officer wasn't shot, but it doesn't change," Comer said. "His weapon was discharged in a battle with the assailant and had to go to the hospital. That's as close to life and death as these officers face, and I want to make sure that not just these officers know, but their families know that when they go to work, they'll come home safely."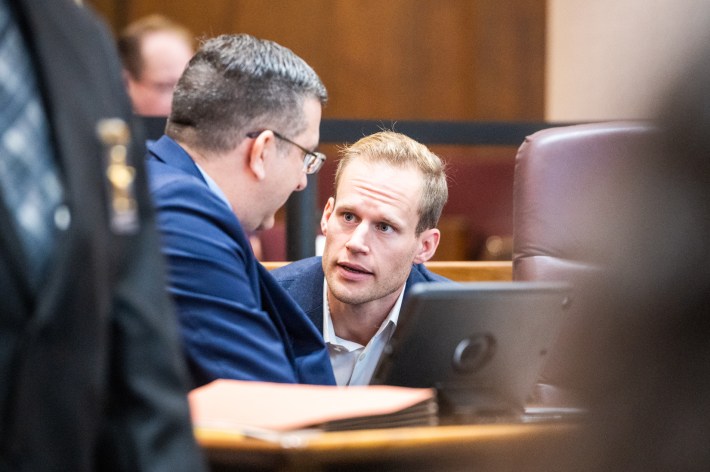 Comer Fires Back After Knudsen Sends 'Misleading' Poll
Comer fired back at Knudsen, accusing the alderman of a "pattern of poor tactics and negative treatment of his opponents" in order to win the election.
Comer referred to a "misleading" poll Knudsen's team sent out last week containing leading questions that accuse Comer of living outside the ward, cozying up with developer Sterling Bay and mismanaging the Sheffield Neighborhood Association's finances.
Each question asks the respondent to determine whether the information presented gives them very serious, somewhat serious or no real concerns about Comer.
Comer's current address was redistricted into the 2nd Ward when City Council overhauled the maps in May. Comer's home lies directly across the street from the 43rd Ward, where he's lived for over four decades, aside from a few years spent in the Southport Corridor, he said.
Anyone who lived in what was the 43rd Ward under the old map could run for alderman in the 2nd, 32nd or 43rd wards, according to state election law. No one challenged residency requirements for the 43rd Ward candidates with the city's elections board.
Comer is already making plans to move within the 43rd Ward's new boundaries, he said.
"It's a non-issue," Comer said. "It just shows poor judgment and a pattern of subversive behavior by the appointed alderman and negative treatment toward a candidate about issues that don't matter."
On Sterling Bay, Comer said he has regular conversations with the developer to make sure the megadevelopment doesn't "cannibalize" Lincoln Park.
"We have to protect not only what we have in Sheffield Neighbors but also in RANCH, Wrightwood Neighbors and the entire North Side, including Lakeview," Comer said. "Sterling Bay's property Lincoln Yards is in between us and the interstate, so I would be deficient in my role as president of the Sheffield Neighborhood Association directly east if I wasn't in constant communication with them."
Knudsen's poll asserts the Sheffield Neighborhood Association has lost money every year Comer has been president.
Publicly available tax filings obtained by ProPublica show the neighborhood organization has been losing money for most of the last decade, but Comer was only president during the 2020 year, during which the organization reported losing $8,023. The filings for 2021 and 2022 were not yet available.
Aside from 2010 and 2017, the Sheffield Neighborhood Association has lost $4,000-$93,000 annually, according to the tax filings.
The loss in money is because the organization's annual Sheffield Garden Walk, which has a street festival portion, was no longer profitable, Comer said. The organization changed event producers last year in order to save money.
"That was our big cash cow for decades, but the neighborhood has changed," Comer said. "The SNA had been losing money for years beforehand, but when I was elected in February 2020, we increased and made a really good path with our planter program by getting more donations than we ever have."
The neighborhood group also just received a $700,000 state grant to help with its community improvement projects, Comer said.
"At the end of the day, the public needs to ask what has Timmy done for the neighborhood," Comer said.
Hanns did not address Comer's assertion of Knudsen using poor tactics and again blasted Comer for the crime scene video.
"We have only made one claim about Brian Comer, and the facts are indisputable," Hanns said. "Brian Comer spread false and dangerous misinformation about an officer being shot, and then refused to remove the video from his Facebook page."
Both candidates are set to speak at a forum 6:30 p.m. Monday at Lincoln Park High School, 2001 N. Orchard. A second forum is planned for Thursday in Old Town, but details are still being worked out.
Subscribe to Block Club Chicago, an independent, 501(c)(3), journalist-run newsroom. Every dime we make funds reporting from Chicago's neighborhoods.
Click here to support Block Club with a tax-deductible donation. 
Thanks for subscribing to Block Club Chicago, an independent, 501(c)(3), journalist-run newsroom. Every dime we make funds reporting from Chicago's neighborhoods. Click here to support Block Club with a tax-deductible donation.
Listen to "The Ballot: A Block Club Chicago Podcast":