BRIDGEPORT — The race to represent the 11th Ward is heating up as Ald. Nicole Lee faces police officer Anthony Ciaravino in the runoff.
Lee and Ciaravino emerged from a crowded field of 11th Ward aldermanic candidates to secure 30.9 percent and 29.4 percent of the vote Feb. 28, respectively. The two will go to a runoff April 4.
Lee took the seat in 2022 when Ald. Patrick Thompson Daley resigned after being convicted for tax fraud.
The 11th Ward — which includes Chinatown, Bridgeport, Armour Square and Canaryville — has long been influential in city politics; five mayors have come from the community, including Richard M. Daley and his father, Richard J. Daley.
Lee's family has connections with the powerful Daleys, who backed her in the February election, while this is Ciaravino's first bid for public office.
More on the candidates: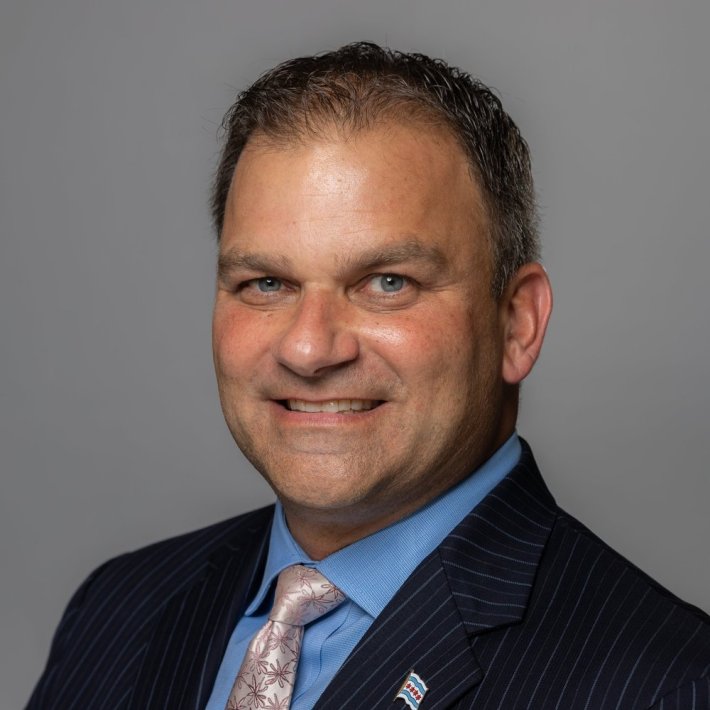 Anthony Ciaravino
As a police officer, Ciaravino said his primary concern as alderman will be reducing crime.
Ciaravino is a lifelong Bridgeport resident who works in the Police Department's crisis intervention team. He trains officers on mental health protocols and is a member of Chicago's Alternative Policing Strategy.
Ciaravino said he hopes his longstanding community ties and law enforcement expertise will convince voters he is the better choice.
"The No. 1 thing that thousands of [11th ward voters] are concerned about is crime and their safety, and it's very aligned with the 75 percent of Chicago residents surveyed citywide. It's crime. It's public safety. That's all I hear," Ciaravino said.
According to a recent WBEZ report, 63 percent of Chicagoans don't feel safe in the city with gun violence, robberies and carjackings being top of mind. The police veteran believes that other issues facing the ward — like economic development — are severely impacted by city violence and will only be resolved once it's under control.
Ciaravino also supports the enforcement of the consent decree and continuing a pilot program introduced three years ago where mental health professionals accompany police officers as "co-responders" on calls involving mental health crises.
The University of Wisconsin alumnus sees community policing as a key tool in reducing crime and as a way to hold officers accountable, he said.
If he wins the runoff, Ciaravino said his first course of action is to meet with the new police superintendent and the 9th District commander to work on strategy.
"I want an overnight crime daily sitting on my desk every morning, and I want to see which one of my residents were involved in some violent crime. I want to contact them, make sure they're ok, connect them to resources if they need," said Ciaravino. "I'll drive to them personally because this is what I do, protect and serve."
Ciaravino joined the Police Department in 1997. The Citizens Police Data Project shows he has received a number of awards throughout his career, and he's faced at least two allegations of misconduct, one of which was sustained. He was suspended for 11 days for "operation/personnel violations" in 2017.
Ciaravino received about $20,000 in support from the Fraternal Order of Police in February.
He and Lee appeared at a weekend forum hosted by the Coalition for a Better Chinese American Community, where they were asked about a controversial plan to build a $150 million high school on the former Harold Ickes Homes site.
While some in the ward disagree on whether the high school is needed, Chinatown and Bronzeville organizers have aligned to oppose the location, saying it continues a long history of the Chicago Housing Authority failing to rebuild long-promised low-income housing.
Neither Ciaravino or Lee said if they'd continue to support using CHA land for the school, but Ciaravino said he was committed to working with the next mayor to bring the high school to fruition.
"We need a high school here and I support it 100 percent," Ciaravino said. "The next mayor, hopefully, he supports it as well and we get it done." 
The police veteran said he's endorsing former Chicago Public Schools Supt. Paul Vallas — whom he has known for 30 years — in the mayor's race.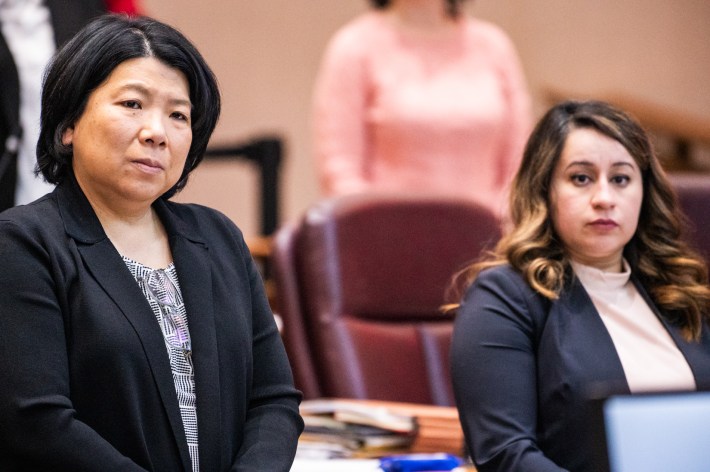 Nicole Lee
Lee became the first Chinese-American alderperson when Mayor Lori Lightfoot appointed her to the seat. The rookie alderwoman said she remains committed to the work.
"This is the work that needs to be done. That's what I'm here for; that's what my staff is here for," she said.
Lee, who has scored major endorsements from Gov. JB Pritzker and former Mayor Richard M. Daley, said she's diligently worked to make the 11th Ward office — and herself — more accessible to residents.
Lee said she'll continue those efforts if she wins a full term. She said being more visible in the neighborhood has resonated with residents, who tell her they aren't used to seeing their alderperson "out in the wild."
Lee has supported the controversial high school project, even as organizers increasingly urge city leaders to find a new location. Lee has said she is willing to work out a compromise to benefit all parties and said at Saturday's forum she would convince other elected officials to support the high school by elevating the voices of the community. 
A new school that specifically addresses the unique needs of the ward—particularly surrounding English language learning support—has been necessary for decades, she said. But, Lee doesn't want the school to be created "in isolation" and wants to ensure the schools that already exist are properly funded as well, she said.
"There's not a doubt in anyone's mind about the need for a high school and that idea has existed for a long time, for decades," Lee said. "The difference now, is all of you sitting here in this room, everyone who's come together to raise their voices about this need and that it has to be now. We can't wait another 25 years to have the conversation." 
Chinatown leaders applauded Lee's work in the ward at a recent news conference, saying 13 officers have been added to the area through her efforts. The mother of two told Block Club in a statement that she's been working with local commanders and City Hall leaders to bring more safety resources to the 11th Ward, regularly attending CAPS meetings to listen to resident concerns.
"I demanded more officers on the ground in the 9th District and made sure CPD added an additional patrol to Chinatown to combat robberies and other issues. There's more work to do and I am ready to keep fighting to make our community safe," said Lee.
The alderwoman also pointed to her efforts to boost the local economy, including the $1 million from the Small Business Improvement Fund used to help 11th Ward businesses and $2.2 million she secured for the Ramova Theater project.
"We have an Asian-majority ward now. I stand on so many shoulders, and now we have the opportunity together to show our strength for our community and through our votes," Lee told supporters.
Lee, a former United Airlines executive, is the daughter of former mayoral aide Gene Lee, who served under Richard M. Daley as his deputy chief of staff before being convicted of embezzlement in 2014.
Lee's philanthropic efforts includes several organizations: the University of Illinois Chicago Asian American Advisory Council, the Asian Giving Circle, OCA Chicago, the Chinese Mutual Aid Association and the Chicago Dragon's Athletic Organization.
Some of Lee's top donors include SEIU and the Realtor Political Action Committee.
Lee has endorsed Paul Vallas in the mayoral race.
Block Club's Kayleigh Padar contributed.
Listen to "It's All Good: A Block Club Chicago Podcast":