CHINATOWN — Ald. Nicole Lee and Anthony Ciaravino agreed public safety is the biggest issue facing the 11th Ward but criticized each other's plans to address it at a contentious forum Saturday. 
The two are headed to a runoff April 4 after they won the most votes Feb. 28 in the crowded 11th Ward aldermanic race, with Lee receiving about 31 percent of the votes and Ciaravino taking 29.4 percent. 
Lee, the city's first Chinese-American alderperson, was appointed by Mayor Lori Lightfoot in 2022, replacing Patrick Daley Thompson after a federal tax fraud conviction forced him to resign. Her father, Gene Lee, served under Richard M. Daley as his deputy chief of staff before he was convicted of embezzlement in 2014. 
Ciaravino is a police officer who's lived in the community for more than 30 years. He now trains officers on how to handle mental health situations and is a member of Chicago's Alternative Policing Strategy.
Mayoral candidate Brandon Johnson also attended Saturday's forum at Chinese Christian Union Church, 2301 S. Wentworth Ave., hosted by Coalition for a Better Chinese American Community. Paul Vallas wasn't able to attend due to scheduling conflicts, organizers said. 
Asian Americans Advancing Justice, Chinatown Chamber of Commerce and Chinese American Service League were among several other groups who helped organize the forum.
Lee, Ciaravino and Johnson answered questions from attendees about improving education, providing city services in multiple languages and their differing public safety plans.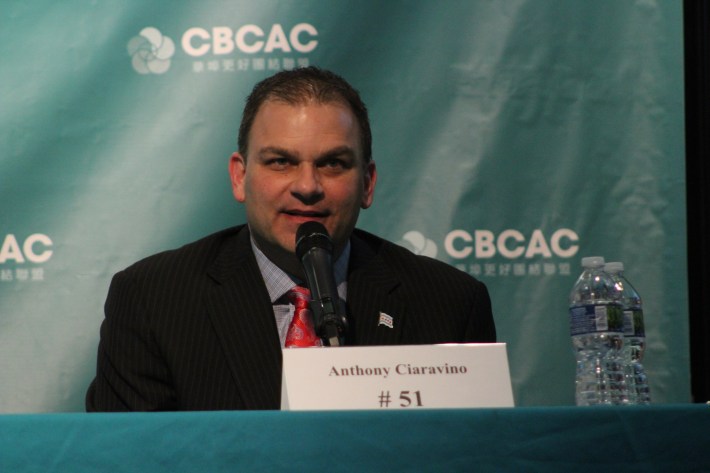 A longtime police officer, Ciaravino's public safety plan relies heavily on providing more resources for the police and ensuring there are more cops patrolling the area, he said.
"Crime reduction is the key," Ciaravino said. "If we reduce the crime, we can bring businesses back and fill the ugly, despicable, vacant properties along Halsted and Archer. When the businesses come back, taxes will get lower." 
Ciaravino criticized Lee for an increase in crime during the last year and said residents need an alderperson "with more expertise in the subject matter."  
Lee agreed police should be fully resourced but said the citywide increase in crime is a "forest fire" that "you can't fight with a water gun." 
Lee emphasized the importance of simultaneously providing resources for young people to prevent crime from occurring. 
"We want to support the police and give them the resources they need, but we also want accountability," Lee said. "I want to make sure we're addressing all needs from every corner of the neighborhood." 
In the past year, Lee has served as alderperson, she said she's worked closely with police leadership in the area, she said. Lee has attended every CAPS meeting in addition to hosting her own meetings with the community to ensure neighbors could contribute to police efforts, she said. 
The crowd cheered when Lee said she hasn't seen Ciaravino at a single CAPS meeting, but Ciaravino said he has close working relationships with police leadership, as well. 
"A good alderman is at all the meetings," Ciaravino said. "Advocating is about going above and beyond the call of duty. Advocating is not just showing up to the beat meeting, it's working on real solutions."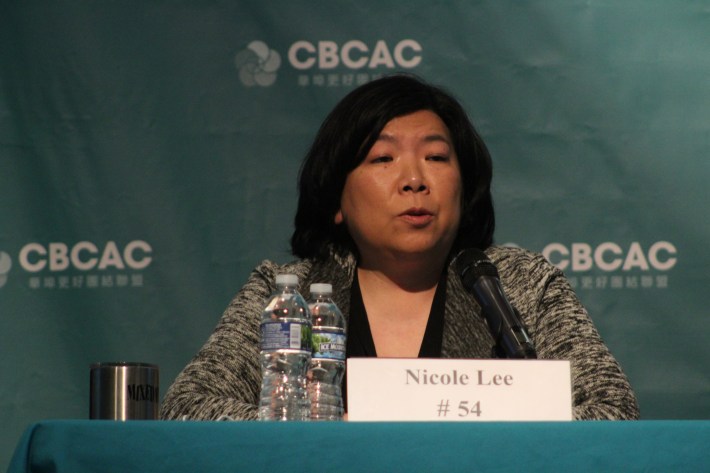 In addition to addressing public safety concerns, both aldermanic candidates said they'll prioritize improving education throughout the ward. 
Lee and Ciaravino both support building a new community school for the Near South Side, a controversial $150 million project the Chicago Board of Education is expected to make a final decision about in June. 
Some residents believe a new school is necessary, but others worry its creation could cause further disinvestment in nearby neighborhood schools like, Dunbar, Phillips and Tilden. 
The candidates didn't say whether they'd support using land acquired from Chicago's Housing Authority as a site for the new school, a part of the plan organizers have criticized since it would prevent displaced residents from the demolished Harold Ickes Homes from returning to the land they were promised. 
A forum attendee asked the candidates how they'll work with the next mayor to ensure the high school is created. 
"We need a high school here and I support it 100 percent," Ciaravino said. "The next mayor, hopefully, he supports it as well and we get it done." 
Lee said she'll convince other elected officials to support the high school by elevating the voices of the community. 
A new school that specifically addresses the unique needs of the ward—particularly surrounding English language learning support—has been necessary for decades, she said. But, Lee doesn't want the school to be created "in isolation" and wants to ensure the schools that already exist are properly funded as well, she said.
"There's not a doubt in anyone's mind about the need for a high school and that idea has existed for a long time, for decades," Lee said. "The difference now, is all of you sitting here in this room, everyone who's come together to raise their voices about this need and that it has to be now. We can't wait another 25 years to have the conversation." 
Each of the candidates also addressed their plans for ensuring city services are available to everyone, regardless of their primary languages. 
Organizers distributed a multilingual voter's guide with information about the aldermanic and mayoral candidates as well as polling places and voter registration.
A neighbor who's lived in Chinatown for more than 30 years asked about the candidates' plan to expand translation services on behalf of a group of senior attendees who rely on them. 
Ciaravino said he would ensure his ward office is staffed with a diverse group of people who can speak a variety of languages. He also said he'd support more cultural events and street fairs that showcase the ward's diversity and vibrant cultures. 
Then Lee called Ciaravino out for thanking the resident for her question in Mandarin when she had asked the question in Cantonese. 
"If you can't meet people where they are, they're not likely to tell you what they need," Lee said. "This is why language access is so vitally important to a community like ours, as diverse as it is, with different languages being spoken. … There are many different dialects here, so you can't assume we're all alike."  
Lee spoke about her experience translating for her grandmother when she was growing up and said she's advocated for all city services to be provided in Cantonese. All communication from her office is currently offered in English, Spanish, Mandarin and Cantonese, Lee said.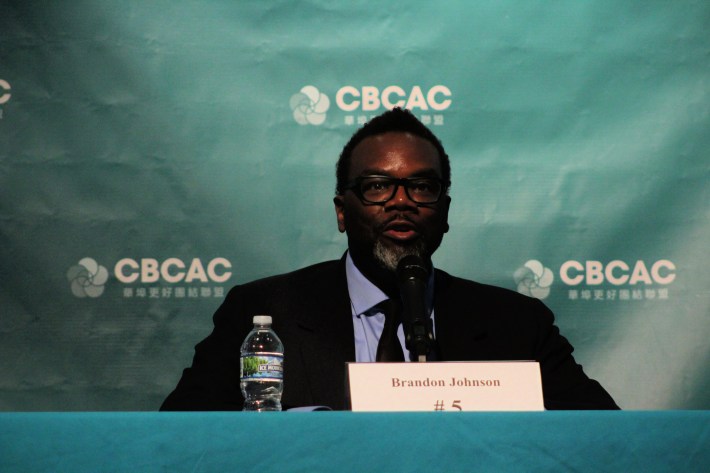 For his part, Johnson didn't directly say whether he supported the creation of a new school.  
"I'm in support of a community-led process to make sure no one loses at the expense of someone else winning," Johnson said. 
Johnson went on to speak about his support for public neighborhood schools and described his proposed funding formula that would ensure schools receive resources based on a community's specific needs. 
In response to the need to provide city services in multiple languages, Johnson said he worked to ensure Cook County resources were multilingual during his time as commissioner. The current state of translation services in the city is "not good enough," he said. 
"One of the worst things that can happen to a group of people is when our language is taken away from us," Johnson said. "I'm aware of that as a descendent of slaves. When our people were brought into captivity, the first thing that was done was to prevent us from communicating.
"As mayor of the city of Chicago, I'm committed to ensuring that we have language access in all of the services we provide because it's a matter of not just preserving culture, but also protecting the interests of the cultures that be." 
Subscribe to Block Club Chicago, an independent, 501(c)(3), journalist-run newsroom. Every dime we make funds reporting from Chicago's neighborhoods.
Click here to support Block Club with a tax-deductible donation. 
Thanks for subscribing to Block Club Chicago, an independent, 501(c)(3), journalist-run newsroom. Every dime we make funds reporting from Chicago's neighborhoods. Click here to support Block Club with a tax-deductible donation.
Listen to "The Ballot: A Block Club Chicago Podcast":