CHICAGO — Once you've tasted a tomato from a plant you grew, it's nearly impossible to go back to the person you were before, Bob Zeni said. 
Zeni experienced this transformation firsthand when he started growing heirloom tomatoes in his backyard about 20 years ago. His wife had suggested it as a hobby.
Now, this year, the "Tomato Man" expects to sell more than 5,000 plants as he continues his quest to help as many people as possible experience the delicious taste of a fresh tomato.
"The one from the supermarket is a tasteless travesty, and the other is a taste explosion in your mouth," said Zeni, of suburban LaGrange Park. "They're smooth. They're sweet. They're deep. The flavor is truly a magnificent experience. Night and day doesn't even begin to describe the difference between a tomato from the store and one fresh off the vine." 
Chicagoans who want to grow their own tomatoes can place orders online and pick up their plants at pop-up shops throughout the city in May. Evanston and Hyde Park will have pop-up shops for the first time this year, Zeni said.
Click here for a full list of locations and hours. 
Plants cost $6-$10. For the best selection, gardeners should place their orders as soon as possible because some plants have already started selling out, Zeni said. 
Each year, Zeni donates hundreds of plants to community gardens in neighborhoods with limited access to fresh food. He's given to the Gardeneers, a nonprofit that helps Chicago combat food deserts by building school gardens and teaching young people how to grow vegetables.
Uptown's community garden, Ginkgo Organic Gardens, Hyde Park Neighborhood Club and other organizations will also receive plants, Zeni said.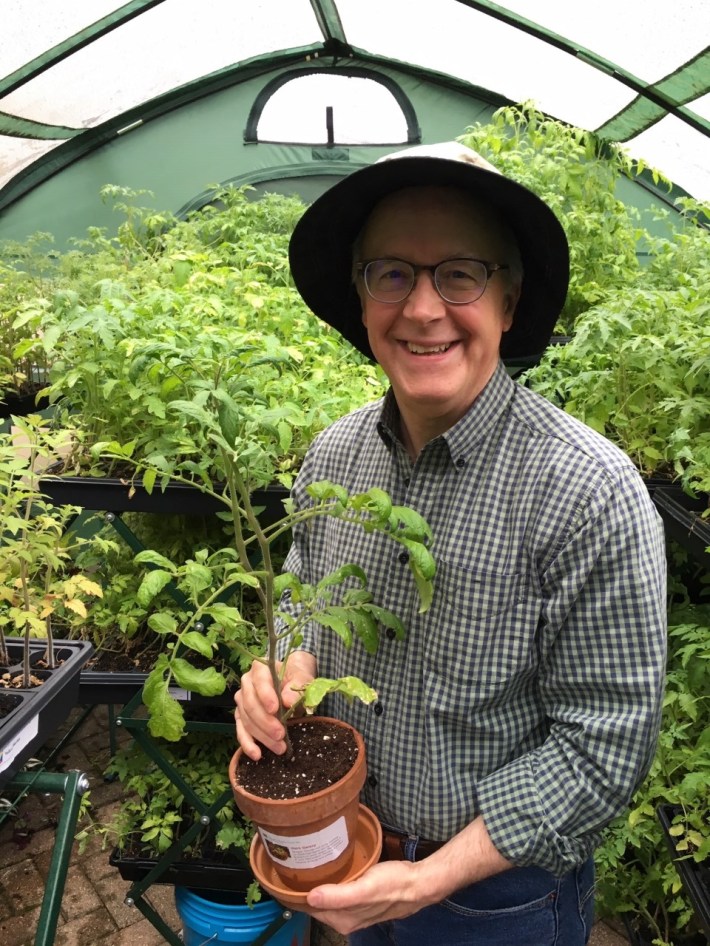 Zeni's selection includes more than 120 varieties of heirloom tomato plants. There are the big red kind people are familiar with, small purple ones that taste especially sweet and every type in between. 
"People tend to think there's maybe two kinds of tomatoes because of what they see in grocery stores and at restaurants," Zeni said. "They're either the size of a grape or a baseball. They're red and perfectly round with flawless skin. But that's not true; there are thousands of tomatoes in all shapes and sizes." 
Each variety of heirloom tomato came to be naturally — without any "tinkering in a lab" — using the "heirloom technique," Zeni said.
To create heirloom tomatoes, farmers grow two tomato plants near each other and hope they breed with each other, creating a seed with traits from each, Zeni said. 
The new plant produces its own unique tomato with seeds that can be used to grow that specific kind again year after year. Nobody actually knows how many varieties of tomatoes exist in the world, but guesses range from eight to 10,000, Zeni said. 
If you're looking for a big, juicy, red tomato to slice up for sandwiches, Zeni's most popular is the Abe Lincoln, which is especially tasty on BLTs, he said. Another popular slicer is called the Mortgage Lifter, which got its name after the farmer who invented it paid off his mortgage because he sold so many, Zeni said. 
For people who want to try a tomato that doesn't resemble the "big red water balloons" found at grocery stores, Atomic Grape is a solid option, Zeni said. Developed by a Californian tomato enthusiast, the plant produces multicolor tomatoes the size of a large cherry or plum, and they are sweet. 
The family-favorite Zeni still grows in the backyard is called Black Cherry. It can yield hundreds of super-sweet, round, mahogany-brown cherry tomatoes in just one season. 
But for Zeni, no tomato tops Green Zebra. Tart but sweet, the baseball-sized tomato has green and yellow stripes. 
"When I think about what a tomato should taste like, that's the one," Zeni said. 
Another way to differentiate tomatoes in Zeni's extensive selection is by the size of the plants, he said. 
Standard heirloom tomato plants are about 6-7 feet tall but can easily reach 10-12 feet if properly cared for. For gardeners without a ton of extra space, Zeni offers dwarf plants that grow to be about 3-4 tall and can live inside a pot.
When it comes down to it, nearly any variety of fresh tomato can create a memorable experience that leaves people wanting more, Zeni said. 
"I hear this story from everyone, people from 20 to 90 years old, and it's always the same," Zeni said. "They say, 'My father, aunt, uncle, grandmother, grandfather had a garden in Wisconsin, downstate Illinois, Michigan, Indiana, Iowa, and we'd go out in the fall to pick tomatoes off the plants and eat them right there. They were so good they never reached the table.'
"I don't have to advertise; people buy tomatoes from me because they've had that wondrous experience. I just want everyone to have that chance to try a great-tasting tomato." 
Listen to "It's All Good: A Block Club Chicago Podcast":