EDGEWATER— A mother-and-son-run apothecary destroyed in a flood last year will reopen this weekend thanks to community support. 
DMApothecary, 5230 N. Sheridan Road, will reopen March 18, co-owner Deirdre Austin said. Customers will receive a 15 percent discount for the first two weeks after it reopens, Austin said. 
"It's been emotional for us, but we have been pushing through it and trying to get ahead of it all. Our goal was to come back, no matter how long it took," Austin said.
Austin opened the store in September with her son, Matthew Walcott. It flooded Dec. 28 when a pipe burst in a neighboring store and left the shop with 18 inches of standing water.
The majority of the apothecary's natural, plant-based soaps, candles, body butters and face masks were destroyed by the water or stolen during the cleanup, Austin said. 
This included all of the products Austin and Walcott had left over from the holidays, as well as the items they had ready for Valentine's Day. They've had to continue paying rent, even though the store wasn't open, Austin said.  
"We had just opened and were doing so well, then everything was just washed away," Austin said. "It was devastating, but the community showed up right away."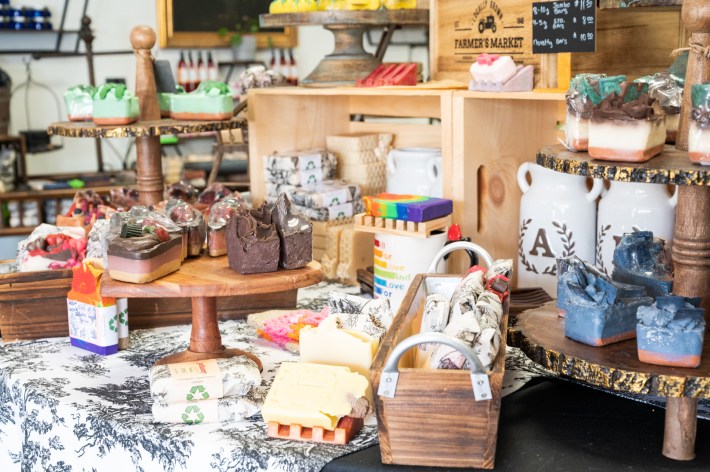 Neighbors who heard about the flood arrived almost immediately and offered to help with the cleanup, Austin said. The Edgewater Chamber of Commerce offered to bring volunteers and to help find a temporary store, Austin said. 
More than 100 people donated to the store's GoFundMe, which raised more than $7,000. 
"The support of this community has been overwhelming and has, without a doubt, given us the hope we've needed to keep ourselves … moving in the right direction toward recovery," Austin said. "It's given us the validation we need to keep going; it's been the wind beneath our sales." 
Although the store is reopening, Austin and Walcott cannot resume soap-making classes because they can't afford to replace the equipment. People can continue to donate to the GoFundMe to restore the shop's programs. 
Austin and Walcott have spent the past few months creating products to replace what was lost, which has taken a significant amount of time because nearly everything in the shop is handmade, Austin said. 
"To see my son with his boots on the ground, catching this firsthand experience by dealing with all of this, it's liberating for me," Austin said. "That was always my goal." 
In the meantime, the pair has filled a few "emergency orders" from loyal customers who were panicked about running out of their favorite products before the store reopened, Austin said. 
"I told my son when we first started that, once we get repeat customers we know we're doing something right," Austin said. "And when we got those orders, he said to me, 'I guess we're doing something right.' It made my heart warm and fuzzy." 
Listen to "It's All Good: A Block Club Chicago Podcast":