CHICAGO — Eric Carter will lead the Police Department as its interim superintendent, officials announced Thursday.
Carter, who had been first deputy superintendent, is taking over after former Supt. David Brown's unceremonious departure Thursday. Brown announced earlier this month he was resigning after Mayor Lori Lightfoot lost her reelection bid.
Carter had been first deputy superintendent — the agency's second-in-command — since July 2020. He's been with the department for 30 years, according to a city news release.
Carter previously led the department's Bureau of Counterterrorism and Special Operations and has worked in other divisions. He spent the majority of his career in patrol and investigative positions and has worked on the FBI and DEA federal task forces, according to the city.
Brown was handpicked by Lightfoot to lead the department in 2020 after former Supt. Eddie Johnson was fired amid scandal.
Brown struggled throughout his term, though. He left Chicago quietly on Thursday.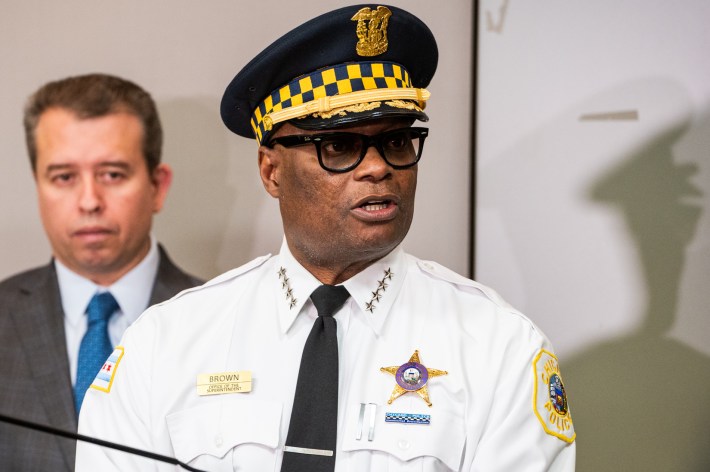 Brown is a Dallas native who served as that city's police chief before coming to Chicago. The city saw crime fall to 50-year lows under Brown's leadership, Lightfoot said when hiring him.
Brown and Lightfoot said they wanted to see crime fall here, too.
Instead, homicides and shootings skyrocketed in Chicago — and nationally — amid the pandemic, reaching their highest points in years. At the same time, the department saw record lows in arrests in 2021.
Homicides and shootings have fallen since 2020 and 2021 — something Lightfoot and Brown have repeatedly touted — but they remain high.
And the two leaders faced extreme pushback from many Chicagoans during summer 2020 as they struggled to control protests and riots that erupted after Minneapolis police murdered George Floyd.
Amid the turmoil, Brown and Lightfoot faced heavy criticism for their responses: lifting the Downtown bridges, stranding protesters; implementing a curfew for days; shutting down the CTA and blocking off Downtown for days. Looting spread into the more residential neighborhoods, where some businesses were burned and numerous were burglarized.
Residents questioned if their actions were legal and said they had trapped and inconvenienced Chicagoans and prioritized Downtown over other neighborhoods.
A watchdog also criticized how officials handled the unrest and noted even officers thought it was a bad idea to raise the bridges.
Brown has also faced criticism from the rank-and-file for canceling days off as the department has struggled to maintain staffing. Officers have cited burnout, low morale and a lack of support from the top and mental health resources as one of the reasons officer suicides have increased in recent years.
Critics have also said the Police Department has remained slow to implement reform under Brown's leadership, though he had vowed to commit to changes mandated under the consent degree.
Lightfoot continued to stick by Brown, refusing to say she'd fire him if reelected — even though all her challengers vowed to ditch him. Lightfoot lost her reelection bid Feb. 28, and Brown resigned the next day.
After Brown announced his resignation, Lightfoot praised Brown in a news release, noting his administration had seen more women promoted to senior ranks than ever before in the agency's history and officers had taken a record number of illegal guns off the streets for two years under his leadership.
Carter will lead the department in an interim role for now. City Council and the next mayor — either Paul Vallas or Brandon Johnson, who will face off in the April 4 runoff — will determine who takes over the top job permanently.
Listen to "It's All Good: A Block Club Chicago Podcast":