CITY HALL — City Council approved a measure to accept millions in state dollars to care for migrants in Chicago — but not before several alderpeople rebuked how Mayor Lori Lightfoot's administration has communicated decisions surrounding the thousands of migrants who have arrived in the city since this summer.
The $20 million appropriation from the state of Illinois will be used to help migrants who have been bused to Chicago mostly from Texas.
Council members voted 32-15 to accept the funding. Ald. Gil Villegas (36th) was out of the chamber during the vote but later said he supports accepting the money.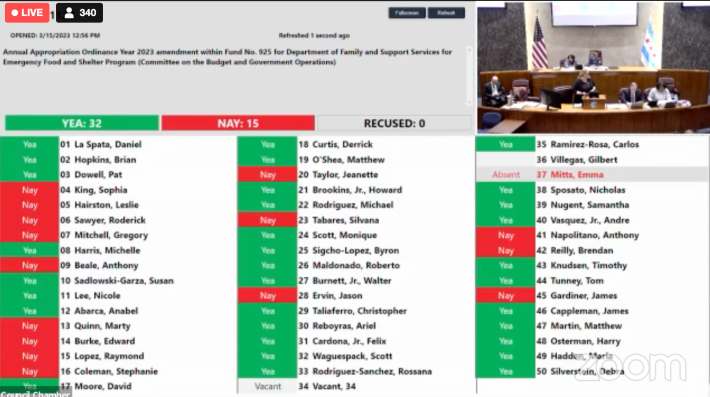 About 5,150 migrants have arrived in Chicago since Aug. 31, when Texas Gov. Greg Abbott, a Republican, began busing them to Democrat-led cities to protest federal immigration policies.
Texas and Colorado — the latter of which is led by a Democratic governor — have since sent more than 100 buses to Chicago, along with 1,500 migrants who arrived in the city separately, Brandie Knazze, Department of Family and Support Services commissioner, said in January.
While local officials pledged to welcome and support migrants, the city is quickly running out of space in city shelters. That has led to controversial decisions on where to house migrants — with Lightfoot's administration sometimes making decisions with little notice to neighbors and the alderperson.
Ald. Jeanette Taylor (20th) has spoken out against using a former elementary school in Woodlawn as a shelter. The shelter at Wadsworth Elementary School, 6420 S. University Ave., opened Feb. 2 despite previous denials by Lightfoot's office and a confusing rollout process, for which Knazze apologized.
The rollout has led to severe pushback from Taylor and Woodlawn residents, some of whom have protested and spoken en masse at tense public meetings, a situation Taylor likened to Lightfoot throwing "a grenade into our community." Despite the controversy, South Siders have organized to help migrants.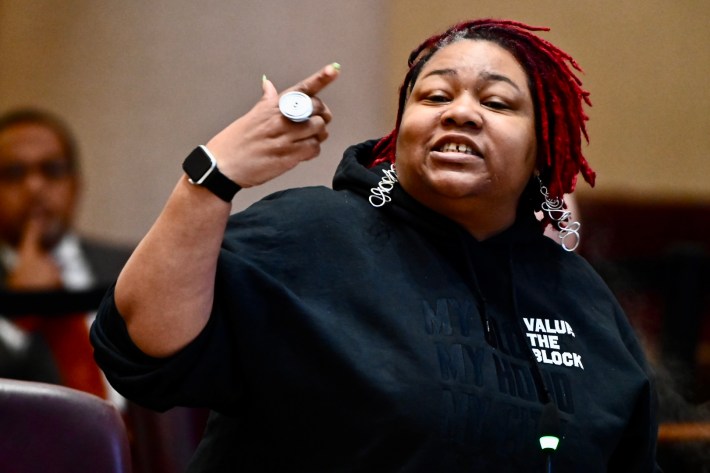 When the $20 million measure came for a vote at Wednesday's City Council meeting, Taylor again criticized the overall process and communication from city officials, and she attempted to defer a vote on the ordinance to a later meeting.
"All due respect, there should have been a conversation with us. As a matter of fact, this was a conversation that I asked for back in October, and I'm confused as to how we're here again, trying to pass something without still having a conversation," she said. "And so I'm asking my coworkers not to vote for this because we should be having a conversation. It's not too late."
Taylor said she had suggested a separate location in her ward where she believes migrants would be better situated, an idea she said was ignored by the Lightfoot administration.
"I made it clear to this administration in October, I had a part of the ward that I felt like could accommodate folks, because they're Latinx-speaking folks, and part of my ward is Latinx. But I wasn't listened to. It felt like nobody heard me and it went on deaf ears," she said.
Lightfoot replied that "most of what" Taylor had said was not correct, and that her administration had looked at the location the alderperson recommended but found it unfit to house people.
"The narrow issue is do we accept the $20 million that the state has provided for us or not? That's the issue on the table," Lightfoot said.
But other alderpeople weighed in with their own opposition to accepting the money, including alds. Leslie Hairston (5th), Ray Lopez (15th) and Jason Ervin (28th), who said he's heard from constituents asking why the city is supporting migrants over longtime residents.
"Some folks will tell us it seems like, and this is what we hear in our community, the Black community, that we're doing more for people that not from here than the folks that are here. And I think this is the frustration that you are hearing from a lot of individuals," Ervin said.
Several supporters of accepting the money agreed Taylor had not been adequately included in decisions surrounding the Wadsworth shelter — but said, ultimately, the city still needs the money to care for migrants.
"I agree with a lot of my colleagues," Ald. Mike Rodriguez (22nd) said. But "the fact is, we need this $20 million. The nonprofits have spoken very clearly that this money needs to come in and we need to bring it in, to support migrants who are coming to the city, asylum seekers coming to the city. I think we need to act on this today."
Far North Side Ald. Maria Hadden (49th) said Taylor "has been done wrong. … What happened with the facility in Ald. Taylor's ward and the way that it happened was not the way it should have happened, so I understand her frustration."
But Hadden said rejecting the $20 million would only hurt the city's Department of Family and Support Services, the same agency working to house people experiencing homelessness in her ward and across the city.
"Turning away this money now would be unwise, to put it kindly, and I think would bode poorly for a council that looks to show itself to be independent and smart and fiscally responsible," Hadden said. "Turning away $20 million because you haven't felt like you're part of the conversation yet would be very foolish."
Listen to "It's All Good: A Block Club Chicago Podcast":