CHICAGO — The pandemic forced many Chicago businesses to change the way they operate — and for some restaurants, the socially-distant offerings are sticking around.
A measure aimed at allowing more restaurants to sell food out of walk-up windows was advanced Tuesday by a key City Council committee.
The Committee on Zoning, Landmarks and Building Standards approved the ordinance, as well as landmark designation for a West Humboldt Park building and zoning changes for a proposed Old Town restaurant, an expanded U-Haul facility in South Shore, a coffee shop in East Side and other measures.
Each measure must still be passed by the full City Council, which meets Wednesday.
Introduced by Ald. Matt Martin (47th), the walk-up window ordinance would allow restaurants with certain neighborhood zoning classifications to install to-go windows without seeking a rezoning from City Hall.
The ordinance does not allow most businesses to sell liquor out of the windows, with exceptions along the Lakefront, Riverwalk and at Navy Pier. It would limit walk-up window hours to between 7 a.m. and midnight.
"There are planned developments, and there are…developments in Downtown zoning that can [already] proceed with this activity, absent this ordinance, by right," planning official Patrick Murphey said. "So it is allowed in certain locations. This just allows it in all of our business and commercial districts throughout the city."
The sale of tobacco products is also prohibited under the measure, and businesses seeking to install a walk-up window must have sufficient space on the property or a nearby public way for people to line up, subject to city approval.
"This is the sort of thing that will allow businesses to adapt to the circumstances that COVID has brought," Martin said at Tuesday's zoning meeting. "And while knock on wood the worst of the pandemic is behind us, there is a new normal in place and I think this represents a compromise, will provide businesses flexibility but still ensures our offices and our communities will have a say in terms of how businesses are operating."
Ald. David Moore (17th) was the only zoning committee member who opposed the measure, citing concerns that some businesses on the South and West sides could use it to limit indoor dining and only serve customers out of a window.
"I could just see it, in certain communities, people taking advantage of this for the wrong reasons," Moore said.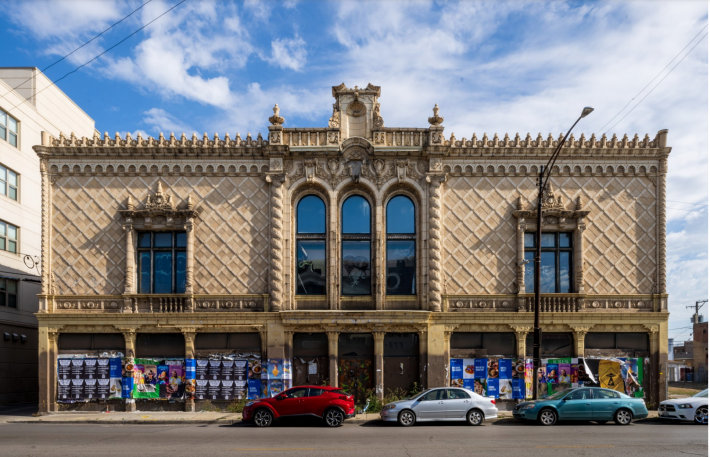 The committee also unanimously approved landmarking the Pioneer Arcade building at 1535 N. Pulaski Road in West Humboldt Park.
Designed by famous architect Jens Jensen, the terra cotta-clad former arcade represents a valuable part of Chicago's heritage, planning official Kandalyn Hahn said.
"From its opening in 1925, the Pioneer Arcade thrived as a bowling alley and billiard hall, regularly hosting private and employer-sponsored league tournaments and citywide competitions," Hahn said. "The Pioneer Arcade is also one of Chicago's grandest urban sports halls, surviving from the 1920s. The richly decorated terra cotta facade imparts the feel of an exotic Spanish palace."
The building has also been proposed for an affordable housing redevelopment, although the measure recently stalled, according to the Tribune.
The zoning committee deferred votes Tuesday on a seven-story apartment building in Pilsen, an all-affordable development in South Chicago and a measure to allow urban farms and community gardens to sell produce directly on their properties.
Listen to "It's All Good: A Block Club Chicago Podcast":
Listen to "It's All Good: A Block Club Chicago Podcast":