CHICAGO — A law that would end cash bail throughout Illinois is headed to the state's Supreme Court Tuesday.
As part of the pretrial release provision of the SAFE-T Act, Illinois was set to eliminate the use of cash bail at the start of the year — only to have the change put on pause in the final hours as sheriffs and prosecutors across the state floated legal challenges.
A downstate judge in late December sided with arguments that lawmakers interfered with the judiciary process by eliminating cash bail. State Attorney General Kwame Raoul filed an appeal. The case is now at the state's Supreme Court.
RELATED: There Is No 'Purge Law' In Illinois. Here Are The Facts About Ending Cash Bail
Proponents of ending cash bail say the measure is necessary to erase discriminatory practices that keep a disproportionate number of lower-income people locked up while awaiting trial.
The act would also make it harder for those charged with violent crimes — who might normally be able to post bail and get released — to get back on the street, supporters say.
Despite widespread misinformation on social media, the SAFE-T Act does not mean jails would empty out or judges would lose their authority to detain someone they believe is a danger to the public or a flight risk. It removes cash bail as a standard in pre-trial procedures.
Instead of a judge assigning bail, the law would trigger rigorous detention hearings that involve a judge deciding whether a defendant should be detained before trial, supporters said.
Victim rights groups and criminal justice advocates have rallied around the change.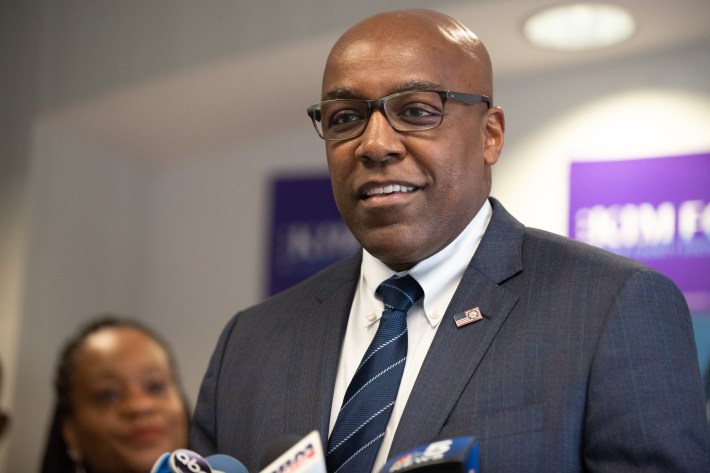 Gov. JB Pritzker, who passed the SAFE-T Act before the legal challenges, told reporters in January there is a "common and comfortable belief that this is constitutional."
"I'm disappointed there is a delay in the implementation," Pritzker said in January. "Someone who's wealthier shouldn't just be able to buy their way out of jail when they commit a violent crime."
Jeffrey Clayton, executive director of the American Bail Coalition, said it's a "fundamental right" to have "a number set for you to get out of jail." Bail agents, law enforcement and prosecutors have been vocal critics of a cash bail abolishment.
"If we don't have bail, we have a bureaucratic state that may or may not release somebody," Clayton said.
As crime takes center stage in the city's mayoral debate, candidate Paul Vallas has voiced similar concerns about eliminating cash bail, while Brandon Johnson has supported the SAFE-T Act, saying people "languish in our criminal justice system simply because they cannot afford to pay bail," according to the WBEZ Chicago.
New Jersey mostly scrapped cash bail in 2017, acknowledging its court system had long discriminated against the poor.
Listen to "It's All Good: A Block Club Chicago Podcast":