NORTH CENTER — Burning Bush Brewery has expanded, adding an event venue facing the north branch of the Chicago River.
The River Room at Burning Bush Brewery is a 5,500-square-foot extension of the brewery, 4018 N. Rockwell Ave. Construction on the new venue is complete and will open the the public in time for the brewery's third anniversary party the weekend of March 24-25.  
The new venue features a full caterer's kitchen, private suite that doubles as a green room, state-of-the-art sound system and full liquor package options. The River Room also has a 1,200 square foot outdoor deck overlooking the North Branch of the Chicago River, Horner Park's revitalized shoreline and 312RiverRun Trail. 
Burning Bush owner Brent Raska partnered with real estate investor Michael Decker to expand the brewery and the pair hope the new venue will be a unique event space offering a classic, industrial Chicago feel with luxury finishes and modern amenities, Decker said.
"Working with Brent to build out our dream and seeing the space come together has been a delight. We are ecstatic to open the space this spring and begin hosting our community," Decker said.
Before becoming a professional brewer, Raska was a pastor for a suburban church. When the church closed in 2017, he spent his free time making beer — and ultimately decided to pursue his passion full-time.
In 2020, Raska hosted Burning Bush's grand opening about two weeks before the COVID-10 pandemic hit Chicago and Gov. JB Pritzker ordered all Illinois bars and restaurants closed for in-person dining to help slow the spread of the virus.  
The brewery was able to survive its stressful first year open and in the years since has helped raise funds for charities like the Leukemia Research Foundation and hosted events like a festival showcasing local filmmakers.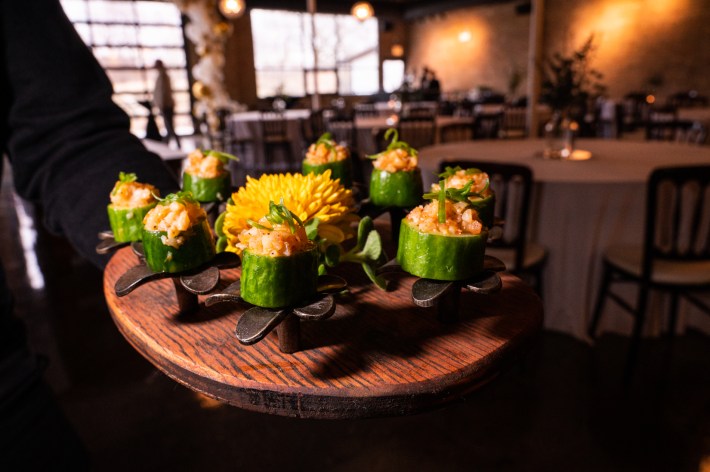 Before being converted to a brewery, the 4018 N. Rockwell Ave. property housed an industrial bakery on the riverfront of the North Branch of the Chicago River and Raska was attracted to the space because of North Center's density, ample free parking and proximity to bike paths.
When Raska first opened the brewery, he had an idea to create a new venue, but at the time the shoreline was undergoing heavy construction to build the new Irving Park Road bridge, 312RiverRun Trail and river shoreline restoration project at Horner Park, he said. 
With those projects now complete, Raska and Decker are inviting local nonprofits, community groups and businesses to host events at the new venue, they said. 
"Now with the bridge and the bike path being done it's been really cool to see it all come together," he said.
Listen to "It's All Good: A Block Club Chicago Podcast":