LAKEVIEW — An avid runner, St. Andrew School teacher Rachel Werderits went the extra mile during the early days of the pandemic to leave messages in chalk in front of her students' homes.
The Catholic school at 1710 W. Addison St. in Lakeview was closed from March 2020 through the end of that school year, so students went three months without seeing Werderits and their classmates in person.
"I wanted them to know that I was still thinking of them and that we were still together even though we couldn't be near each other," Werderits said. "So I made a map on my phone of every student's home, and I ran to every kid's house in a week."
Werderits would chalk the moon with a question or write a math equation for students to solve, she said.
"The next day, they'd log on and say, 'I saw your message outside!'" Werderits said. "The other kids would get excited and start looking out their windows to see when they'd get their message. One parent texted me and told me it made her son's day."
Werderits, who also mentors other teachers and oversees the school's student newspaper, was recently named a finalist for the Golden Apple Award for Excellence in Teaching.
Werderits is one of 30 teachers across the country to be named a finalist for the award, which comes with $5,000 and a spring sabbatical at Northwestern University, according to Golden Apple.
Ten of the 30 teaching finalists will receive the award. The winners will be surprised sometime this spring.
"I'm still in disbelief," Werderits said. "I know I'm a good teacher, but I would never say I'm the best or exemplary and that people should watch me. But I'm floored, and seeing the response from the community and other colleagues is very humbling."
Werderits grew up in Chicago and knew she wanted to become a teacher as early as fifth grade, she said. As a 10-year-old, she'd borrow chalk from her school teacher and write all over her bedroom door while pretending to be in class.
"I would write all over this purple door, and my mom hated it," Werderits said. "But I loved playing school."
After studying education at DePaul University, Werderits started as an associate teacher at a school in suburban Winnetka, where she worked for two years before landing her job at St. Andrew 14 years ago, she said.
Werderits teaches sixth-grade religion, language arts, science and math, she said.
Principal Sarah Cassavechia said Werderits is "a treasure" who "sets the bar really high for all of her students and does everything to get them to where they need to be."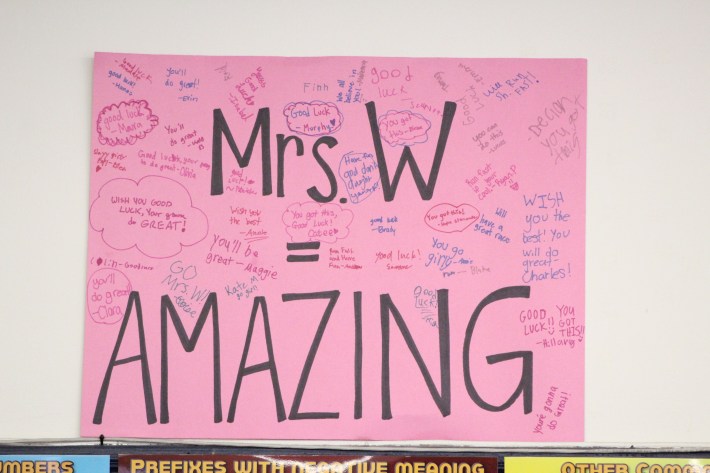 Werderits is also adored by her students: Last week, the kids surprised her by holding up posters they made during lunch and recess thanking her for being a great teacher.
"It was really fun because everyone chipped in because we all think Ms. Werderits deserves this," said Cate Loomos, 12. "We wanted to make it even more fun for her and add more happiness to the experience."
Will Shaffer, 11, held up a sign reading "Ms. Werderits is Awesome" that was signed by his classmates. He said students also surprised Werderits for her birthday in December.
"She really likes pink, so we put up these pink streamers, banners and a bunch of posters wishing her a happy birthday," Shaffer said. "She was really surprised and happy, and it just brightened the mood for everyone. The whole day was very fun."
The school recently had a "Dress Like a Teacher Day" for its spirit week, and the kids went all out to imitate Werderits, she said. Students got their nails done with pink glitter nail polish, wore wigs, put on glitter eye shadow and dressed like her.
"I had no idea they'd make signs or decorate my classroom," Werderits said. "They pick up on these teeny things and notice everything about you, and you're like a rockstar to them. It's so flattering to know how much of an impact you have on kids."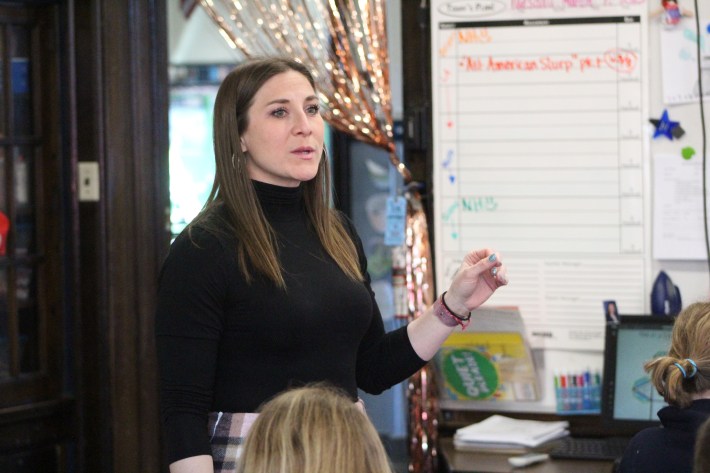 Shaffer said he appreciates Werderits because she's helped him appreciate new subjects.
"She keeps me engaged with subjects that I wasn't really engaged in before," Shaffer said. "I did not really like science last year, but this year we're getting into groups and doing experiments. Science is fun."
Shaffer's favorite lesson was about Newton's three laws of motion, which the kids learned about by making balloon-powered cars out of scraps like water bottles, Pringles cans or cardboard boxes, he said.
The car had to travel at least 2 meters for students to get full points, but Werderits set up a bracket tournament for kids to go head-to-head with their race cars, he said.
"My friend won and it was really great," Shaffer said. "I also learned that a teardrop shape is the most ideal shape for a car because it's aerodynamic, and then it all tied back to Newton's third law with equal and opposite reactions."
Eamon Daly, 12, said he appreciates how Werderits makes learning fun by playing games like Scattergories to practice spelling or vocabulary or Zonk to practice math equations.
"That's always the highlight of our week," Daly said. "She makes learning very fun, and she works so hard."
Werderits said her favorite part of teaching is seeing that "ah-hah" moment when students realize something or have a moment of discovery, she said.
"I ultimately just want my students to learn," Werderits said. "My classroom is a place where I want them to be comfortable to ask questions, take risks, be successful and not be afraid to learn from their failures."
Watch our "On The Block" TV show on The U, CW26 and MeTV.
Listen to "It's All Good: A Block Club Chicago Podcast":